After Charlie Lee bears, LTC sellers are picking up from where they left. Not only did they close lower but that multi-level support break out is significant.
Will sell pressure continue? Definitely and judging from the kind of statement yesterday, volatility might slow down but we all know sellers are in charge.
Let's have a look at other alt coin charts
NEM BEAR BREAK OUT CLEAR IN THE DAILY CHART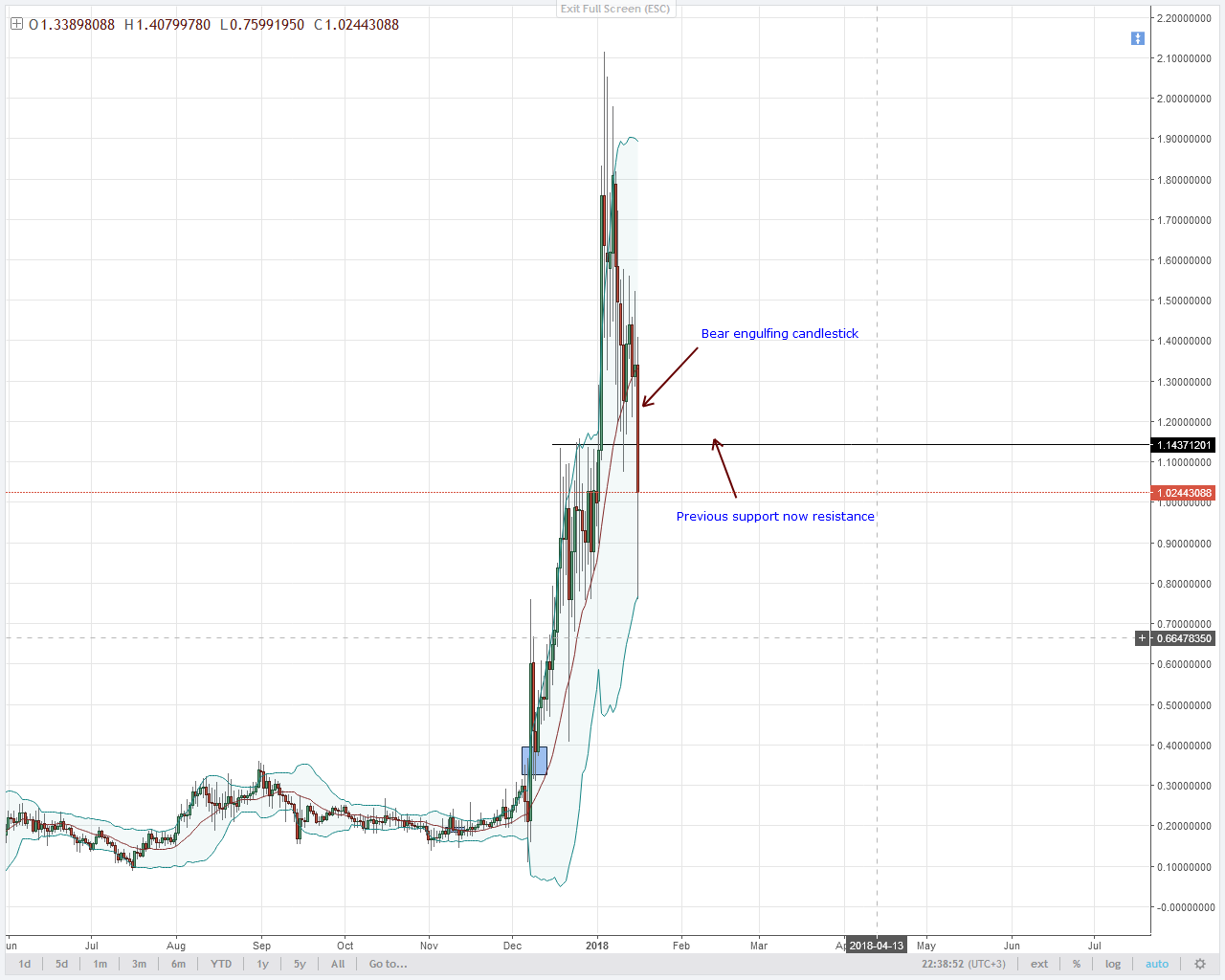 For us to get a gist of NEM price action, let's move our analysis to the daily chart.
Here, you notice that last week's double bar bear reversal pattern is on course and it is likely that bears will confirm that sell pressure.
I mean, it can't be rocket science to know why. Check out that close below middle BB which we have known to be our support and the breach of yesterday's main support at $1.14.
Zooming out to the 4HR chart and we have a sign, it's a bear break out and we are looking for corrections back to the $1.14 before loading shorts.
LUMENS DROPPING WITH TESTS AT $0.43 SUPPORT
When our support at $0.55 was sliced like butter, the middle BB in the daily chart caved in. Guys, this is bad for Lumens valuation and buyers should consider exiting your positions.
Even though we need a close below $0.43 before hammering that last nail on buy pressure, it is likely that prices will retrace towards $0.55 as a retest before sinking back below $0.43.
Word of caution: Even though prices are extremely bearish in the daily and weekly chart, we cannot completely discount chances of price consolidation.
Remember, $0.55 was our first support line but $0.43 is turning out to be significant.
Already we are seeing hints of bear rejection but if indeed bears are in charge, we need a bear bolt right now. A clear incision with close below $0.38 will clear all our doubts.
IOTA PRICES DANGLING AT THE CLIFF AS BEARS CHARGE
Bear momentum is strong in IOTA and you can check out that distance between the middle BB and the lower BB. If that is not enough notice the candlestick banding along the lower BB.
One thing can happen today, either a break out below $3.0 or rejection of lower prices. Undoubtedly, yesterday was bearish but $3 is also a strong support as highlighted on the chart.
Evidently, IOTA bears have been testing this price tag in four different occasions over the last 3 or 4 weeks.
It remains strong but given the set up in the weekly chart, break below might happen as prices try to wriggle out of consolidation.
Let's not forget, any convincing close below $3 and we set our eyes on $2.2 and even $1.1 in the coming days.
DASH BEAR BREAK OUT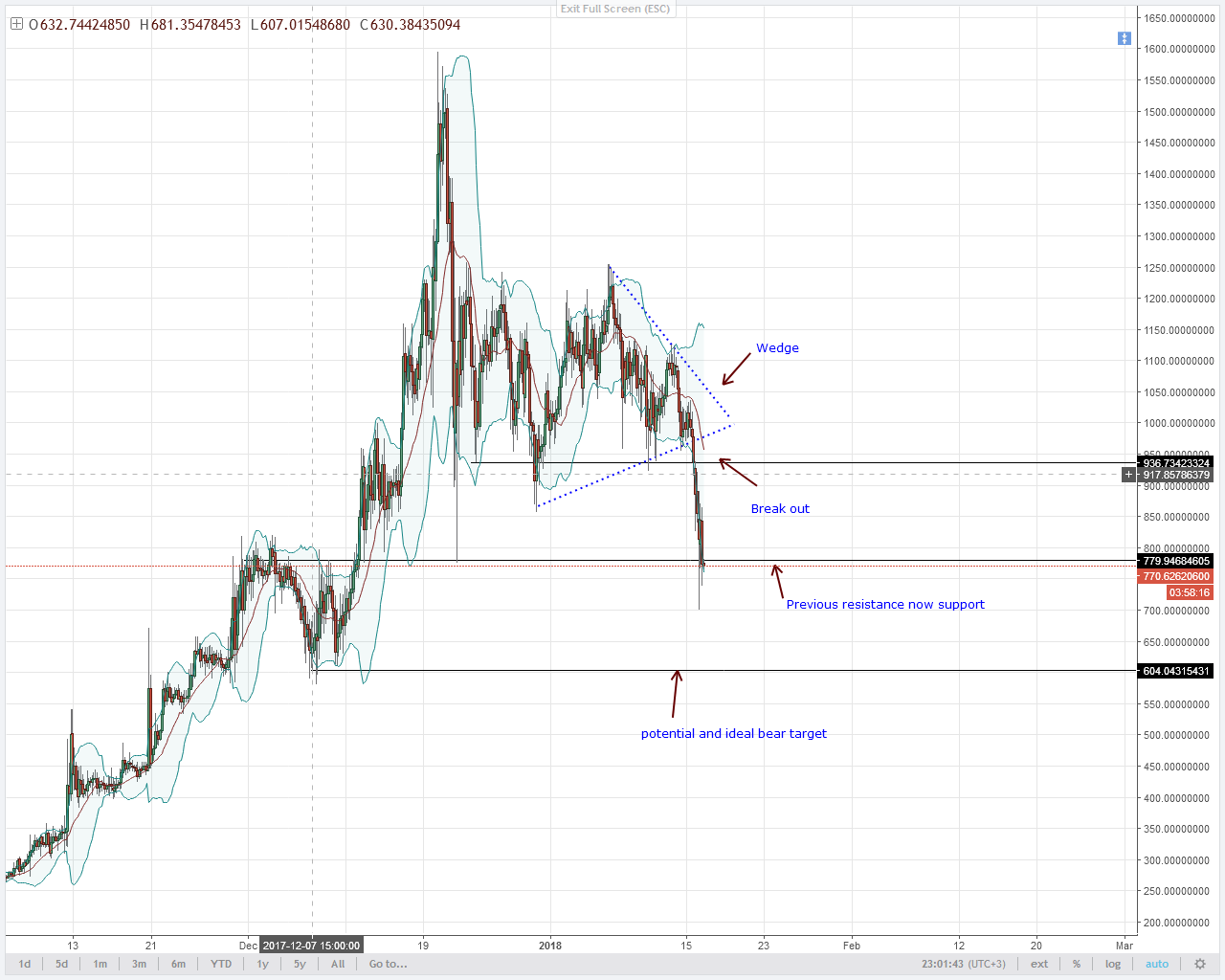 Boom! Bears are are on a rampage and with that classic break out, we just have no option but to short and trade with the trend.
However, at current prices, DASH is trading at around $780 and looking left, that is previous resistance now support. If price erosion continues, then sellers should aim at $600.
AFTER CHARLIE LEE, ANOTHER BEAR WAVES BEGINS FOR LTC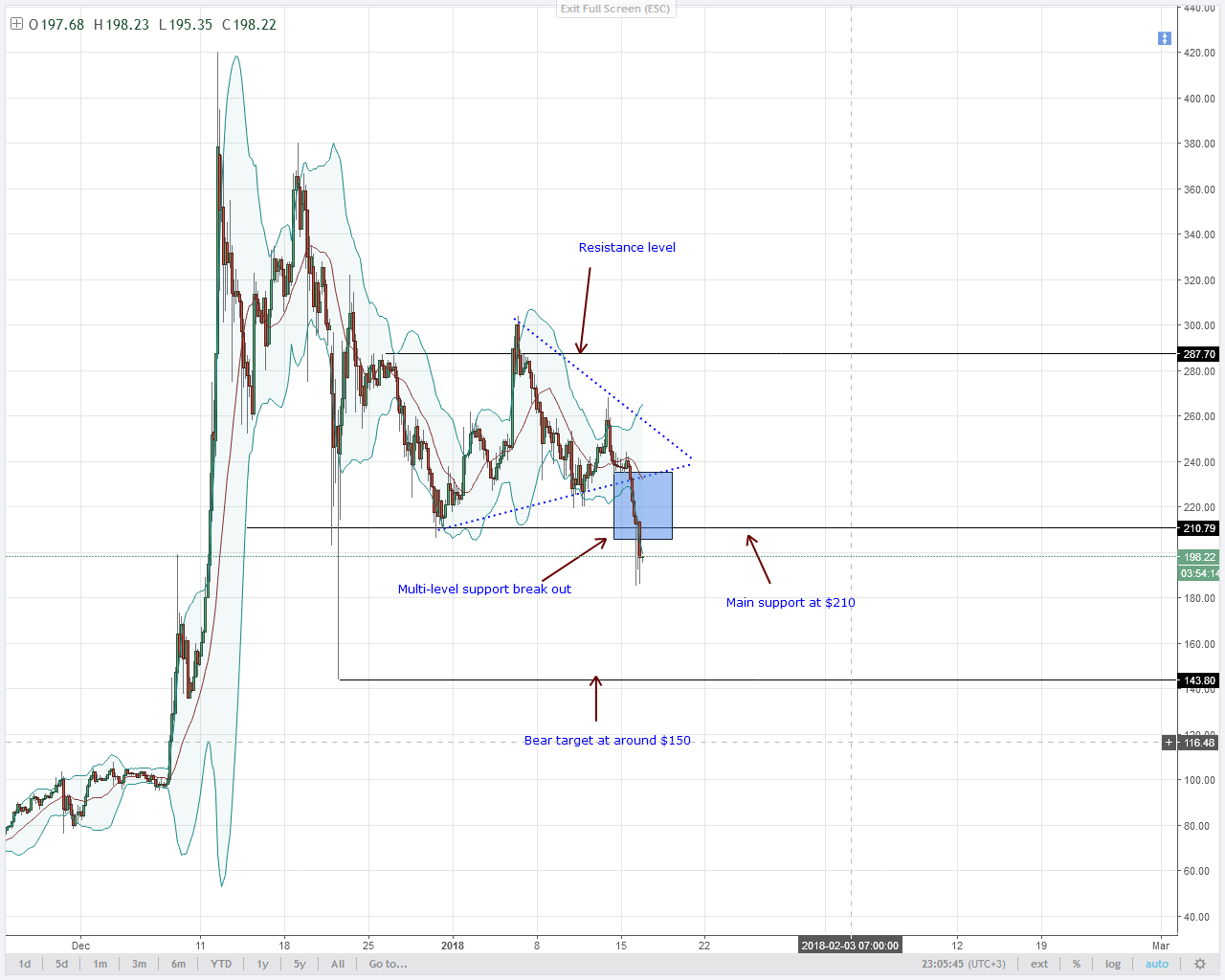 Yesterday, LTC sellers broke two levels of support meaning sell pressure is high. We are off consolidation for another bear break out and that is why our ideal sell target is back at $150.
All charts courtesy of Trading View