The total crypto market cap recovered after it dived towards the $250.0B support area.
Bitcoin price also corrected higher above the $10,500 and $10,800 resistance levels.
EOS price is currently consolidating above the $4.100 support area.
Binance Coin (BNB) settled below the $30.00 level and it is currently trading near $28.00.
BCH price is up more than 10% and it broke the $280 and $300 resistance levels.
Tron (TRX) price is slowly recovering and it recently broke the $0.0250 resistance area.
Bitcoin and the crypto market cap started a decent upside correction, but facing many hurdles. Ethereum (ETH), binance coin (BNB), BCH, ripple, tron (TRX), litecoin and EOS could resume their decline.
Bitcoin Cash Price Analysis
After a significant decline, BCH price found support near the $260 level against the US Dollar. The BCH/USD pair started a decent upward move and broke the $275 and $280 resistance levels. The price is up more than 10% and it recently broke the $300 resistance level.
The next resistance on the upside is near the $320 level. If the price fails to continue higher, it could decline once again towards the $280 support level in the near term.
Binance Coin (BNB), EOS, Tron (TRX) Price Analysis
EOS price spiked towards the $4.000 support area during the recent slide. Recently, the price started an upside correction and moved above $4.100. The price is currently consolidating near $4.200, with a strong resistance near the $4.400 and $4.450 levels. On the downside, the $4.100 and $4.000 levels are important supports for the current wave.
Tron price declined heavily and even broke the $0.0240 support area. TRX price tested the $0.0230 level and it recently corrected higher. The price is now trading above the $0.0250 level, but it might struggle to move above the $0.0265 and $0.0272 resistance levels in the near term.
Binance coin (BNB) settled below the key $30.00 support area. BNB price is now consolidating near the $28.00 level and it could struggle to climb above the $28.50 and $29.20 resistance levels. The main resistances are near the $30.00 and $30.20 levels.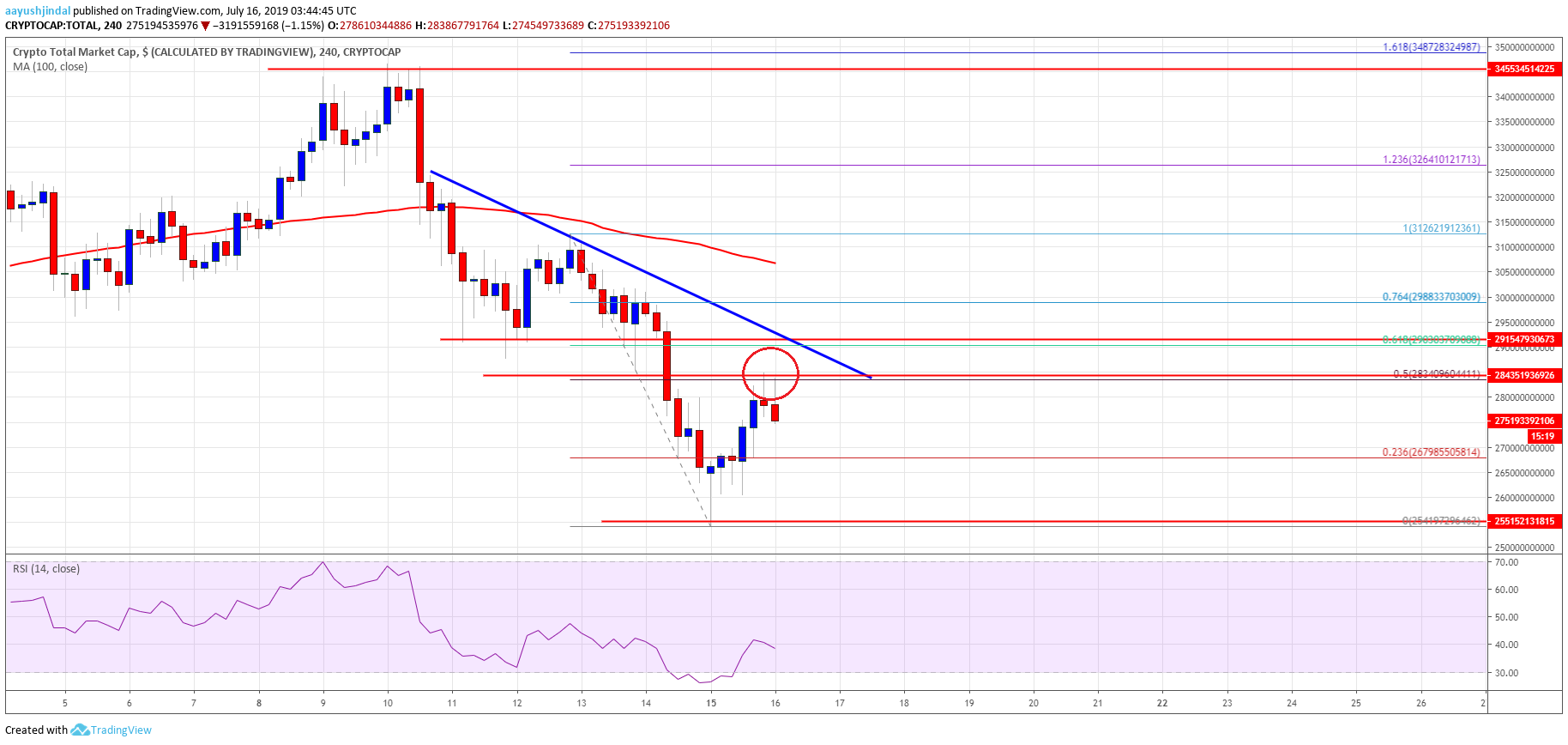 Looking at the total cryptocurrency market cap 4-hours chart, there was a sharp decline below the $300.0B support area. The market cap even broke the $280.0B support and moved close to the $250.0B support area. A swing low was formed near $254.0B and the market cap recently recovered higher. It broke the $260.0B and $270.0B levels, but the previous support near the $280.0B and $285.0B levels acted as a strong hurdle. The current technical structure suggests that there could be more declines in the market cap. Therefore, bitcoin, Ethereum, TRX, LTC, EOS, ripple, ADA, XLM, WTC, BCH, and ICX are likely to struggle to continue higher.