The total crypto market cap failed to break the $270.0B resistance and recently declined below $260.0B.
Bitcoin price is down around 4% and it recently broke the $10,000 support area.
EOS price is somehow holding gains and it could find support near the $4.400 level.
BCH price failed to stay above the $300 support and traded towards the $295 level.
Tron (TRX) price is down 5% and it may soon test the $0.0220 support area.
Cardano (ADA) price failed to climb above the $0.0600 resistance and declined below $0.0580.
Bitcoin price and the crypto market cap are currently declining with a bearish structure. Ethereum (ETH), EOS, Tron (TRX), BCH, ripple, ADA and BNB are likely to extend losses.
Bitcoin Cash Price Analysis
Recently, bitcoin cash price managed to climb above the $290 and $300 resistance levels against the US Dollar. However, the BCH/USD pair failed to gain momentum above the $310 level. As a result, there was a downside reaction and the pair broke the $300 support level.
An immediate support is near the $290 level, below which there is a risk of more losses towards the $270 support level. On the upside, the $310 level is a major resistance, followed by the $330 level.
EOS, Tron (TRX) and ADA Price Analysis
EOS price gained traction recently and climbed above the $4.500 resistance levels. However, the recent decline in bitcoin stopped the upward move and pushed EOS price lower. The price is currently approaching the $4.400 support, below which it could accelerate declines in the near future.
Tron price failed to stay above the $0.0250 support and recently declined below the $0.0240 support. TRX price is down around 5% and it even broke the $0.0230 support. It seems like the price may soon revisit the $0.0220 support area.
Cardano price climbed higher recently, but it faced a strong resistance near the $0.0600 level. ADA price started a fresh decline and it broke the $0.0580 support level. The next main support for the bulls is near the $0.0565 level. On the upside, the $0.0600 level is a solid resistance.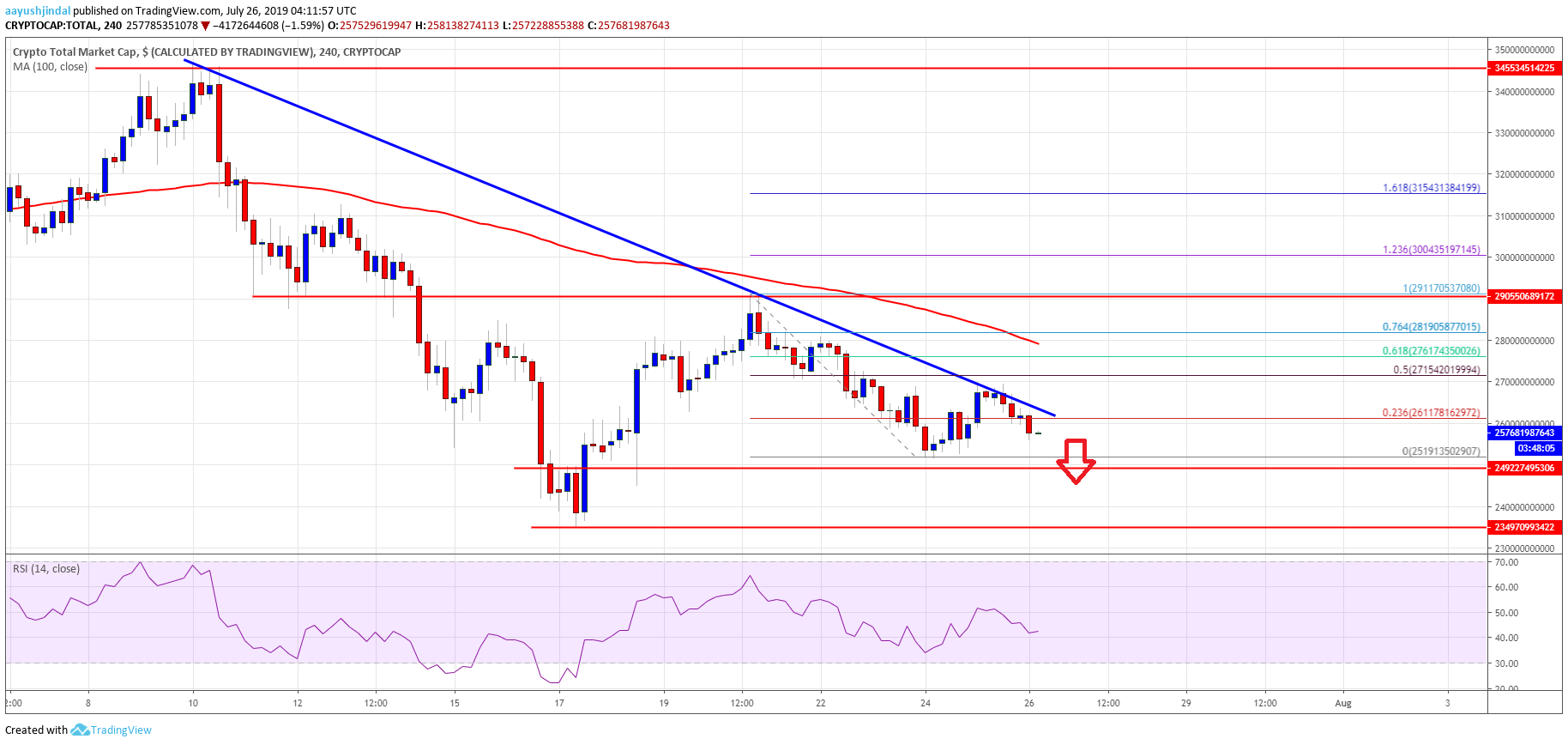 Looking at the total cryptocurrency market cap 4-hours chart, there was a short term upward move from the $250.0B support area. The market cap climbed above the $260.0B resistance. However, the upward move was capped by the $270.0B resistance and a connecting bearish trend line on the same chart. It is now declining and it seems like the market cap could revisit the $250.0B support. If there is a downside break below $250.0B, there could be sharp losses in bitcoin, ETH, XRP, TRX, ADA, bitcoin cash, litecoin, EOS, stellar, IOTA, ICX, WAN, and other altcoins in the near term.