The total crypto market cap surged higher and tested the $325.0B level before correcting lower.
Bitcoin price spiked above the $11,000 resistance level and it is currently consolidating gains.
EOS price is back below the $7.200 level and it might test the $7.050 or $7.000 support.
BCH price rallied significantly in the past few days and it is currently trading near $475.
Tron (TRX) price broke the key $0.0350 resistance and it is currently near $0.0370.
Cardano (ADA) price is slowly climbing higher towards the key $0.1000 resistance area.
The crypto market cap is currently correcting, with light bearish moves in bitcoin (BTC) and Ethereum (ETH). EOS, Tron (TRX), BCH, ripple, ADA, BNB, and other altcoins could consolidate before higher.
Bitcoin Cash Price Analysis
Recently, there were strong moves and gains in bitcoin cash price above the $400 and $450 levels against the US Dollar. The BCH/USD pair even broke the $500 barrier and spiked towards the $550 level. However, the pair failed to hold gains and declined sharply below $500.
The price is now trading below $480 and is testing the $470 support area. If there are more losses, the price may even test the next important support near the $460 level.
EOS, Tron (TRX) and ADA Price Analysis
EOS price managed to settle above the $7.000 resistance area. It traded towards the $7.50 level, but it failed to gain momentum. As a result, the price corrected lower below $7.300 and it is currently trading near the $7.120 level. The main supports on the downside are near the $7.050 and $7.000 levels.
Tron price slowly climbed higher and it recently broke the key $0.0350 resistance area. TRX price even climbed above the $0.0360 level and it is now trading near $0.0370. If there are more gains, the price might test the $0.0385 and $0.0390 resistance levels before running into the $0.0400 barrier.
Cardano price stayed above the $0.0850 support and recently broke the $0.0900 and $0.0920 resistances. ADA price is trading nicely above $0.0940, with many hurdles near the $0.0980 and $0.1000 levels.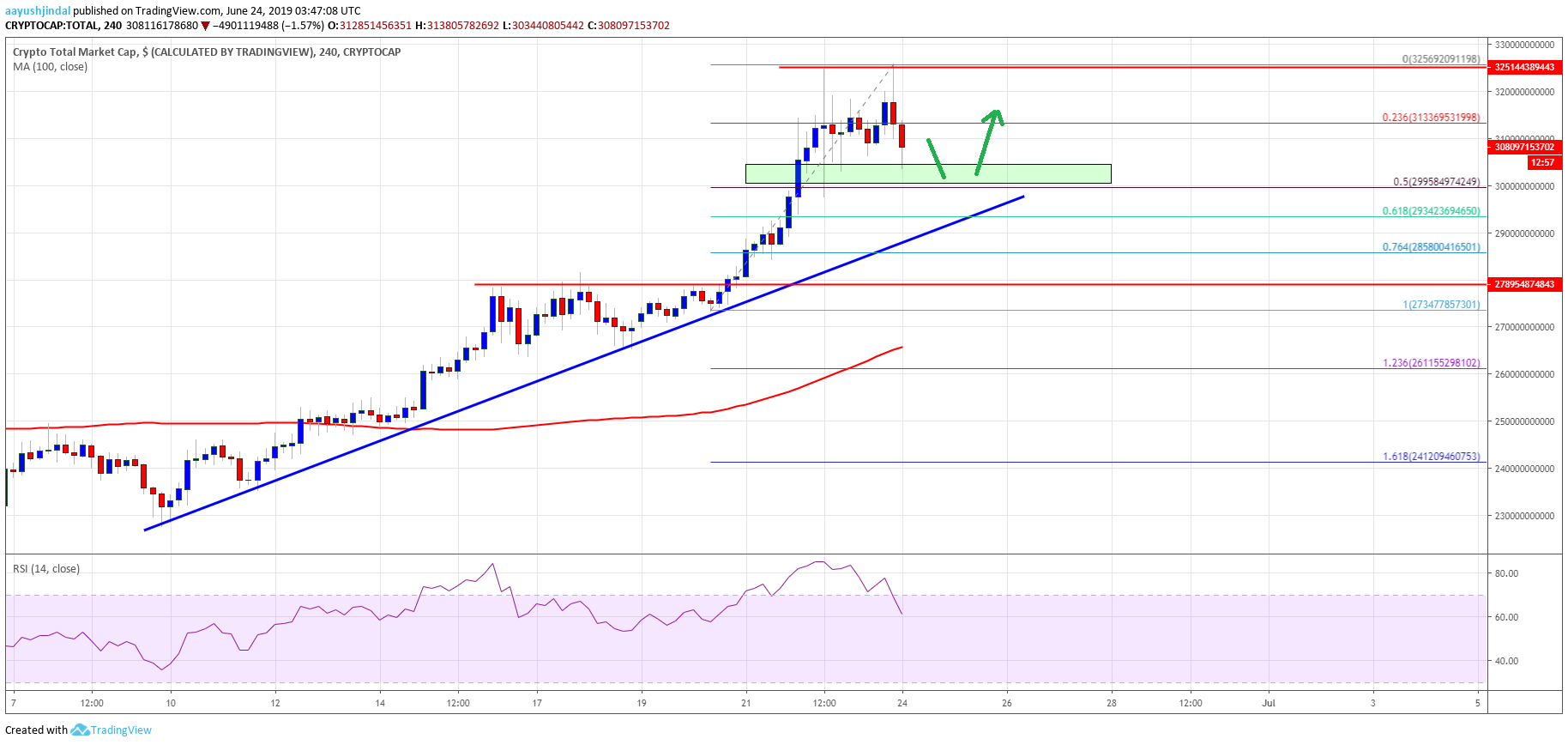 Looking at the total cryptocurrency market cap hourly chart, there was a strong rally above the $290.0B and $300.0B resistance levels. The market cap even surpassed the $315.0B level and climbed towards the $325.0B level. A new monthly high was formed near $325.0B before it started a downside correction. There was a break below the $315.0B support, but the $305.0B and $300.00B levels are acting as solid supports. As long as the market cap is holding the $300.0B support, there could be a fresh increase in bitcoin, ETH, XRP, TRX, ADA, bitcoin cash, litecoin, EOS, stellar, IOTA, ICX, WAN, and other altcoins in the coming sessions.