The total crypto market cap found a strong support near $122.0B and recently climbed higher.
Bitcoin price bounced back above the $7,700 and $7,800 resistance levels.
Bitcoin cash price gained a strong bullish momentum and jumped back above $400.
EOS price is recovered above the key $6.00 and $6.05 resistance levels.
Stellar (XLM) price is currently consolidating below the $0.1250 and $0.1300 resistance levels.
Tron (TRX) price is holding the key $0.0265 and $0.0272 support levels.
The crypto market cap is showing positive signs, with bullish moves in bitcoin (BTC) and Ethereum (ETH). BCH, stellar (XLM), ADA, EOS, ripple, and tron (TRX) could climb higher in the near term.
Bitcoin Cash Price Analysis
Bitcoin cash price found a strong support near the $370 and $375 levels against the US Dollar. The BCH/USD pair started a fresh increase and broke the $390 and $395 resistance levels. The pair even traded above the $400 level and it is currently consolidating gains.
On the upside, an immediate resistance is near the $410 level, above which the price may continue higher towards the $420 level. On the downside, the key supports are near the $395 and $390 levels.
Stellar (XLM), EOS and Tron (TRX) Price Analysis
EOS price found support near $5.80 and recently recovered above the $5.85 and $5.95 levels. The price even broke the $6.00 barrier and it may continue to rise towards the $6.15 and $6.20 resistance levels.
Stellar price tested the $0.1200 support level and it is slowly moving higher. An immediate resistance is at $0.1250, above which XLM price might surge towards the $0.1300 or $0.1320 resistance. On the downside, the main supports are $0.1200 and $0.1150.
Tron price settled below the key $0.0285 support area and recently tested the $0.0270 level. TRX price is currently moving higher and it could revisit the $0.0280 and $0.0285 levels. However, a convincing break above the $0.0290 level is needed for more gains in the near term.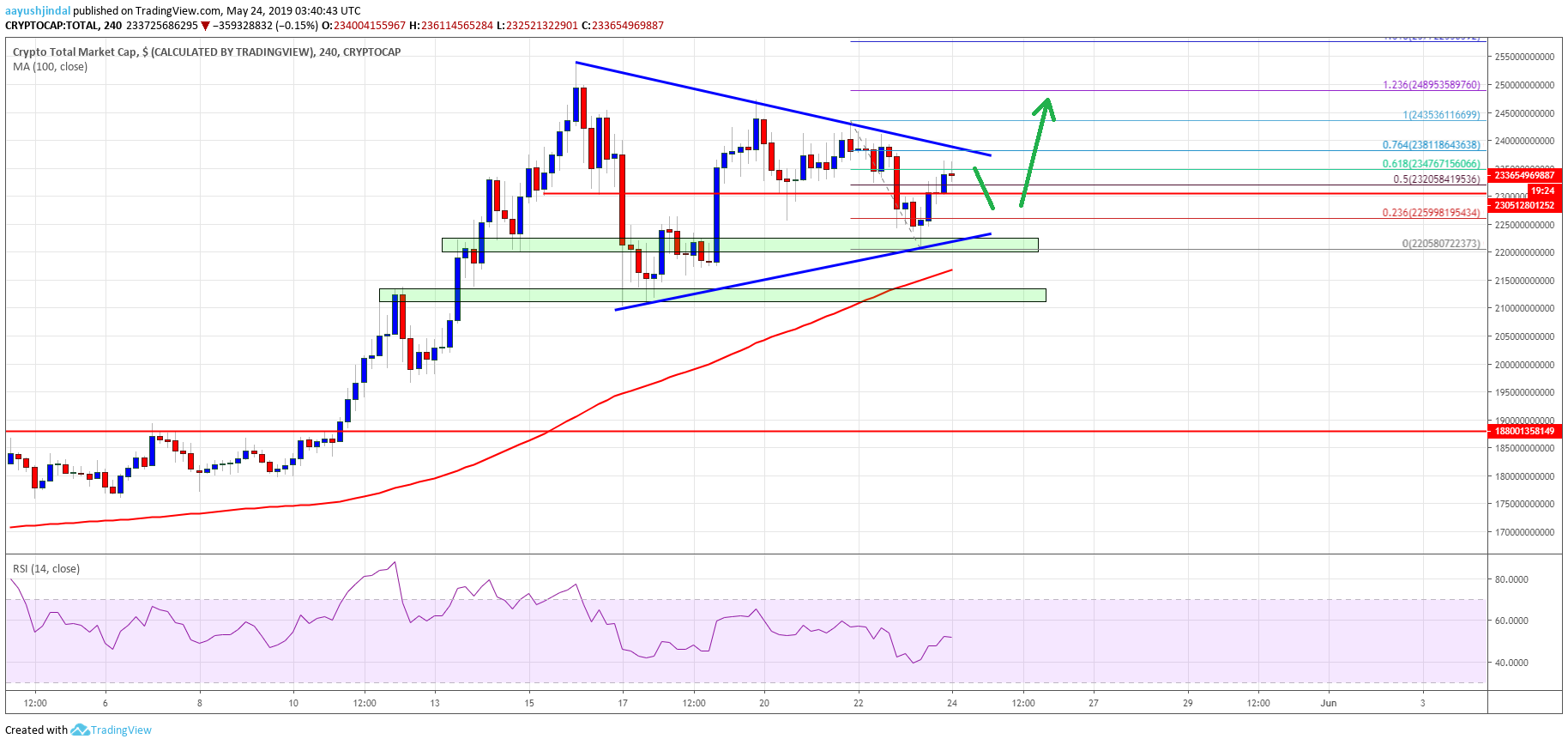 Looking at the total cryptocurrency market cap hourly chart, there was a downside correction from the $244.0B resistance area. The market cap decline below the $230.0B support area and recently tested the $220.0B support area. It recovered recently and climbed above the $230.0B resistance. It seems like there is a major contracting triangle forming with resistance near the $240.0B level. A successful close above the $240.0B resistance may perhaps open the doors for more gains. The next key resistance is near $245.0B, above which the market cap could accelerate towards the $250.0B level. On the downside, the main supports are near the $225.0B and $222.0B levels. Overall, there are could be more upsides in bitcoin, Ethereum, EOS, ripple, litecoin, bitcoin cash, XLM, TRX, BNB, WAN, WTC, ICX, and other altcoins in the near term.