The total crypto market cap is trading nicely above the $128.0B support level.
Bitcoin cash price recovered recently and traded above the $132 resistance.
EOS price is currently placed nicely above the $3.70 support level.
Stellar (XLM) price rallied more than 10% and broke the key $0.1000 resistance area.
Tron (TRX) is currently consolidating near the $0.0230 support level.
The crypto market seems to be eyeing an upside break, with bullish moves in bitcoin (BTC) and Ethereum (ETH). Stellar (XLM) rallies recently, while BCH, EOS, ripple and tron (TRX) remain supported.
Bitcoin Cash Price Analysis
Bitcoin cash price rebounded nicely this past week and moved above the $128 and $130 resistances against the US Dollar. The BCH/USD pair is currently trading above the $132 level and it seems like there could be more gains towards the $135 resistance in the near term.
However, the main resistance is near the $138-140 zone for a larger upward move. If the pair fails to climb higher, there are chances of a downside correction below the $130 support.
Stellar (XLM), EOS and Tron (TRX) Price Analysis
EOS price gained traction this past week and broke the $3.50 and $3.60 resistance levels. The price even broke the $3.70 and $3.75 resistance levels before starting a short term correction. It is currently trading well above the $3.70 support, with chances of a move towards the $3.80 or $3.85 resistance level in the near term.
Stellar price performed really well and rallied above the $0.0900 and $0.0950 resistance levels. XLM price is up more than 10% and it even surpassed the $0.1000 resistance level to move into a positive zone. The current price action is positive and it seems like the price could rise towards the $0.1100 resistance level.
Tron price remained confined in a range above the $0.0220 support level. TRX price recently moved above $0.0230, but it faced a strong resistance near the $0.0235 and $0.0240 resistance levels. It seems like the price is preparing for the next key break either above $0.0240 or below $0.0220.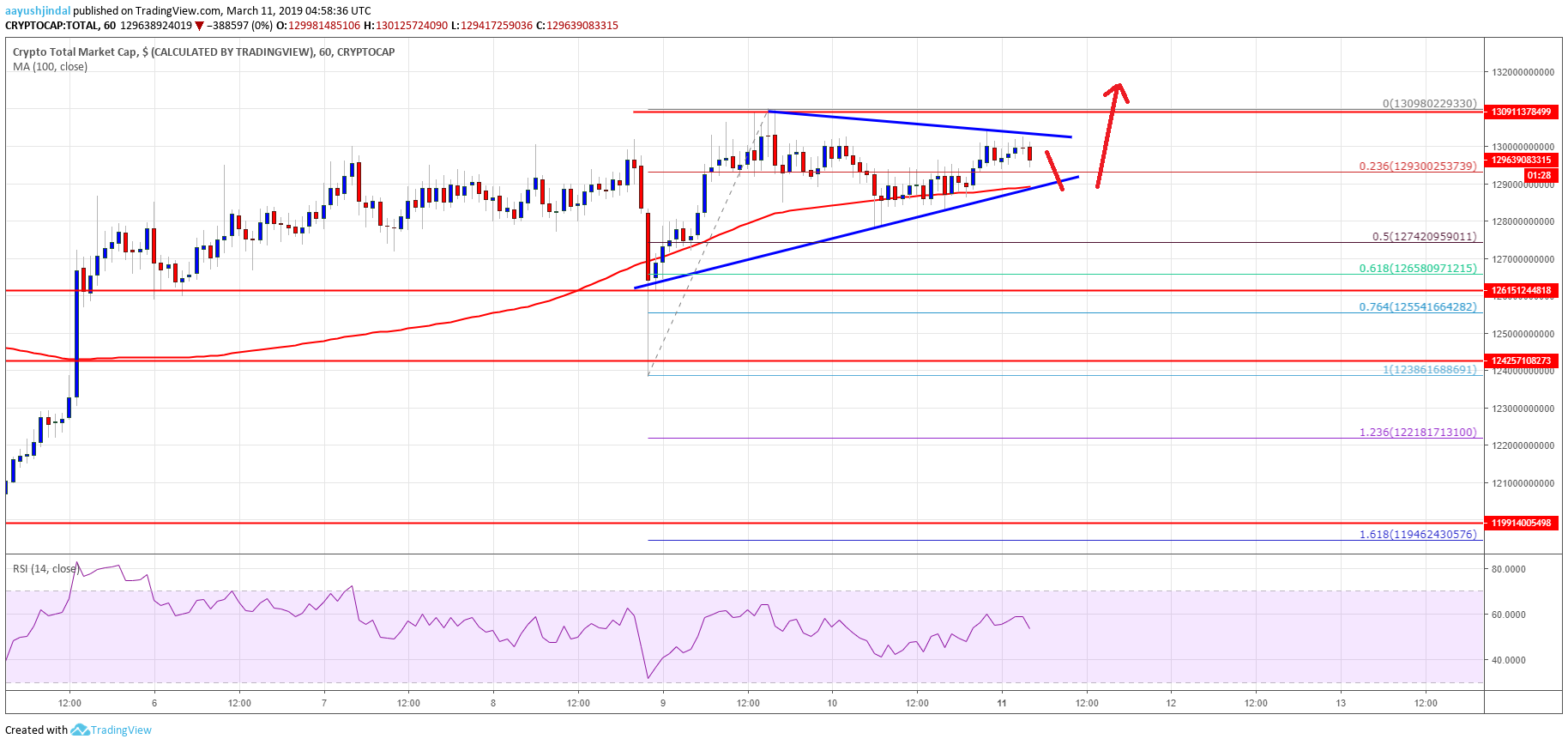 Looking at the total cryptocurrency market cap hourly chart, there was a sharp upward move after a test of the $124.0B support level. The market cap jumped above the $126.0B and $128.0B resistance levels. However, the $130.0B level is acting as a strong resistance and preventing further gains. In the short term, there could be a downside correction before there could be another attempt to surpass the $130.0B resistance. On the downside, the key supports are near the $128.0B and $126.0B levels. Overall, dips remain supported in bitcoin, Ethereum, EOS, ripple, LTC, bitcoin cash, XLM, TRX, and other altcoins in the near term.