The total crypto market cap corrected lower recently and tested the $132.0B support area.
Bitcoin cash price started a downside correction after testing the $165 resistance.
EOS price is slowly moving lower towards the $3.70 support level.
Stellar (XLM) price is up more than 4% and broke the $0.1120 and $0.1140 resistances.
Tron (TRX) is currently flat near the $0.0230 support level.
The crypto market is trading above key supports, with range moves in bitcoin (BTC) and Ethereum (ETH). Stellar (XLM) gained traction, while BCH, EOS, ripple and tron (TRX) remain supported on dips.
Bitcoin Cash Price Analysis
Bitcoin cash price climbed higher recently and settled above the $150 and $160 resistances against the US Dollar. The BCH/USD pair tested the $165 resistance and later started a downside correction. The price tested the $162 level and it seems like it could test the $160 support in the near term.
If there is a downside break below the $160 support, the price may decline towards the $150 swing support. On the upside, the $165 level is a strong resistance, above which the price may test the $170 level.
Stellar (XLM), EOS and Tron (TRX) Price Analysis
EOS price failed to stay above the $3.80 pivot level and corrected lower recently. It traded below the $3.78 level and tested the $3.75 support. If there are additional downside, the price could revisit the key $3.70 support level before another increase.
Stellar price was one of the best performers as it gained traction above the $0.1110 resistance level. XLM price broke the $0.1120 and $0.1140 resistance levels to move into a positive zone. It is currently up around 4% and it may continue to climb towards the $0.1160 and $0.1180 levels.
Tron price extended range moves below the $0.0240 resistance level. TRX price recovered recently and moved above the $0.0230 level. At the moment, it is trading in a tight range, with an immediate resistance at $0.0232. The main resistances are near the $0.0235 and $0.0240 levels.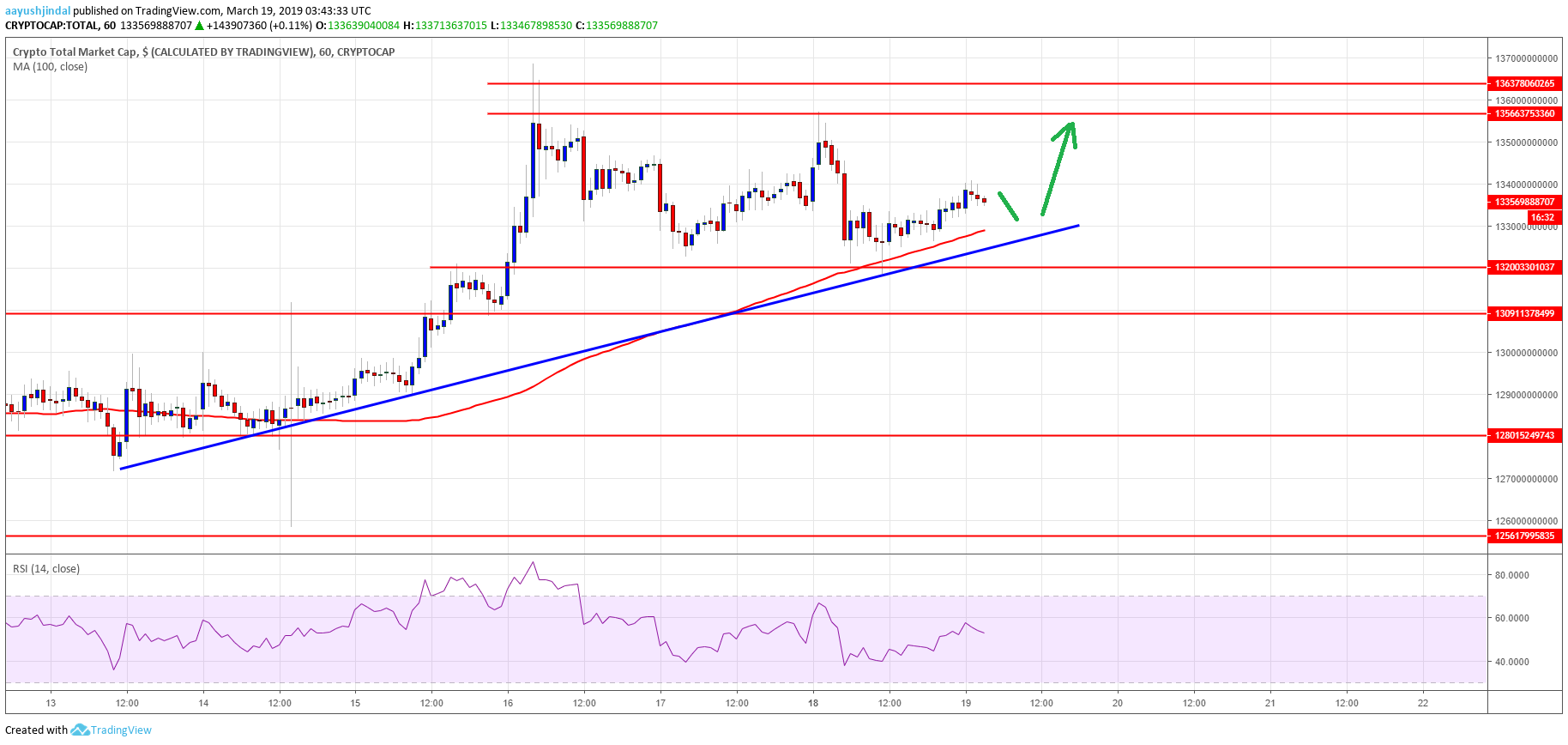 Looking at the total cryptocurrency market cap hourly chart, there was a downside correction from the $137.0B swing high. The market cap declined below the $135.0B support level. However, the $132.0B support and the 100 hourly simple moving average acted as strong supports. Besides, there is a key connecting bullish trend line in place with current support at $133.0B on the same chart.
If there is a downside break below $133.0B and $132.0B, the crypto market could gain bearish momentum. On the upside, a break above the $135.0B and $137.0B resistance levels is must for a fresh upward move in bitcoin, Ethereum, EOS, ripple, LTC, bitcoin cash, XLM, TRX, and other altcoins in the near term.