The total crypto market cap is struggling to gain pace above the $112.00B resistance.
EOS price failed to break the $2.50 resistance recently and declined.
Bitcoin cash price just moved below the $120 support level, with a bearish angle.
Tron (TRX) price is down more than 2% and it could test the $0.0250 support level.
Cardano (ADA) price struggle to clear the $0.0400 resistance and declined below $0.0385.
The crypto market is facing a lot of hurdles, putting pressure on bitcoin (BTC). Moreover, Ethereum (ETH). EOS, BCH, ripple, tron, ADA and other altcoins are currently trading with a bearish tone.
Bitcoin Cash Price Analysis
Bitcoin cash price traded higher this past week and broke the $115 and $118 resistance level against the US Dollar. BCH/USD also moved above the $120 level, but it failed to hold gains. As a result, the price moved below $120 and it seems like it could continue to move down.
An initial support is at $118, below which there is a risk of a drop to $115. On the upside, the main resistances are $120 and $122.
EOS, Tron (TRX) and ADA Price Analysis
EOS price failed to gain momentum above the $2.45 and $2.50 resistance levels. Sellers gained control and pushed the price below the $2.40 support. The next key supports on the downside are at $2.35 and $2.32.
Tron price started a fresh downward move and declined more than 2%. TRX price broke the $0.0265 support and it may continue to move down towards the $0.0250 support level, where buyers are likely to emerge.
Cardano price also followed a bearish path in the past few hours and declined below the $0.0385 support. ADA is currently trading below $0.0380 and it might soon test the $0.0372 support level.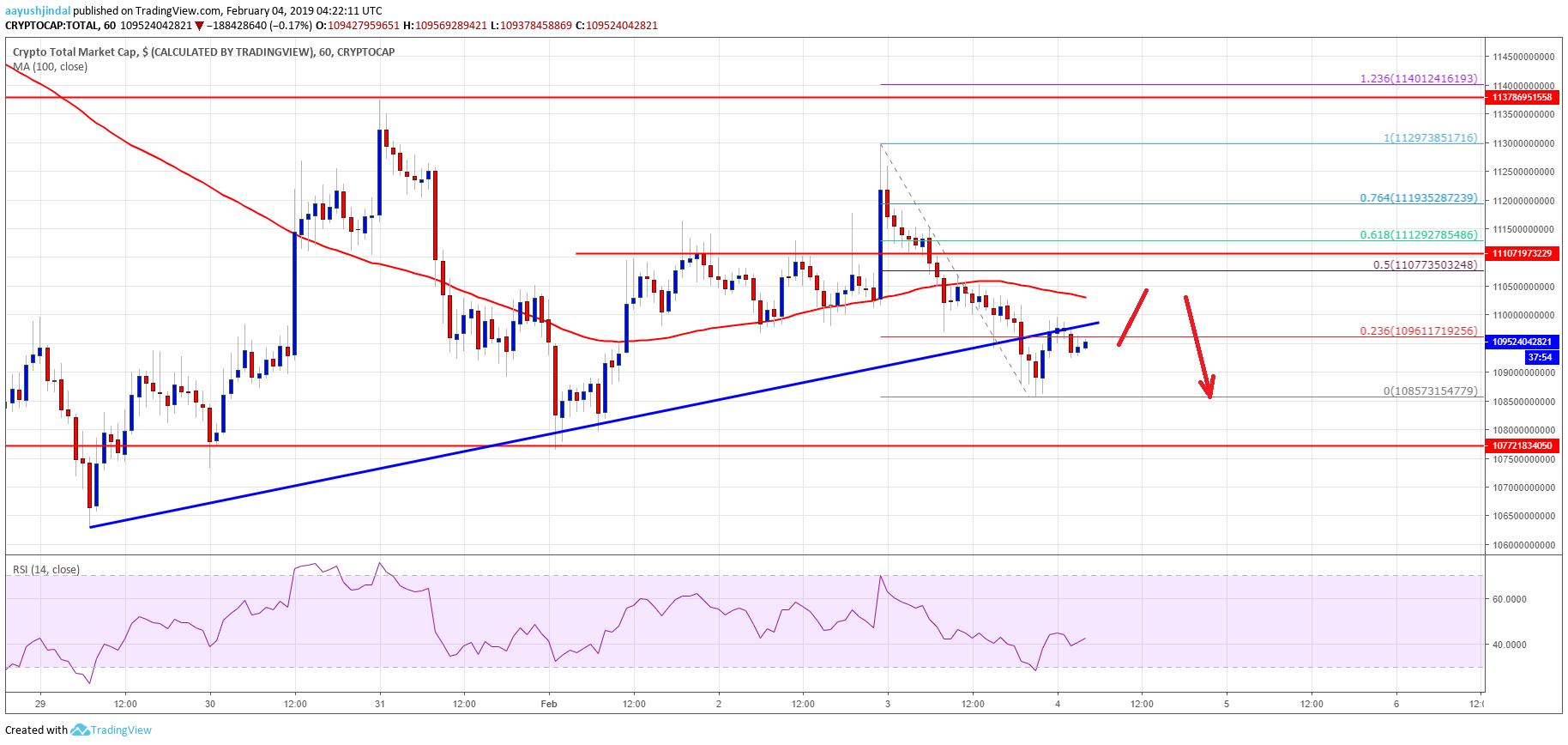 Looking at the total cryptocurrency market cap hourly chart, there was a major drop from well above the $112.00B level. The market cap declined below the $110.00B support and a connecting bullish trend line on the same chart. In the short term, there could be bullish moves, but a proper break above $112.00B is needed for a decent upward move. Until then, bitcoin, ETH, XRP, tron, litecoin, EOS, stellar, IOTA and other altcoins could remain under pressure.