Key Points
The total crypto market cap topped near the $144.00B level and declined sharply.
Stellar (XLM) price retreated from highs and traded back towards the $0.1200 support.
Bitcoin cash price is down more than 20% and it broke the $180 supports.
Tron (TRX) is down more than 10% and it broke the $0.0200 support.
Cardano (ADA) price is still holding the key $0.0400 support level.
Bitcoin cash declined heavily after a sharp upward move above $200. BTC, Ethereum, XRP, Stellar (XLM), Tron (TRX) and Cardano (ADA) are currently correcting lower.
Bitcoin Cash Price Analysis
This past week, we saw a nasty upward move above the $175 and $200 resistance levels in bitcoin cash against the US Dollar. BCH/USD even broke the $210 level, but it struggled to stay above the $220 level and later started a sharp downward move.
It declined more than 25% and broke the $200 and $180 support levels. Buyers are currently protecting the $150 support level, but there is a risk of more losses in the near term.
Stellar (XLM), Tron (TRX) and ADA Price Analysis
Stellar price jumped above the $0.1300 and $0.1320 resistance levels, but it struggled near the $0.1360 level. XLM declined and broke the $0.1300 support. It is currently testing the $0.1200 support area, which could spark a fresh rally.
Tron price climbed above the $0.0200 and $0.0220 resistance levels. Later, TRX price started a downside correction and cleared the $0.0200 support. The next key support awaits near the $0.0175 level.
Cardano price traded higher sharply above $0.0450 and almost tested the $0.0500 resistance. Later, ADA price declined, broke the $0.0450 support and it is currently approaching the $0.0400 support.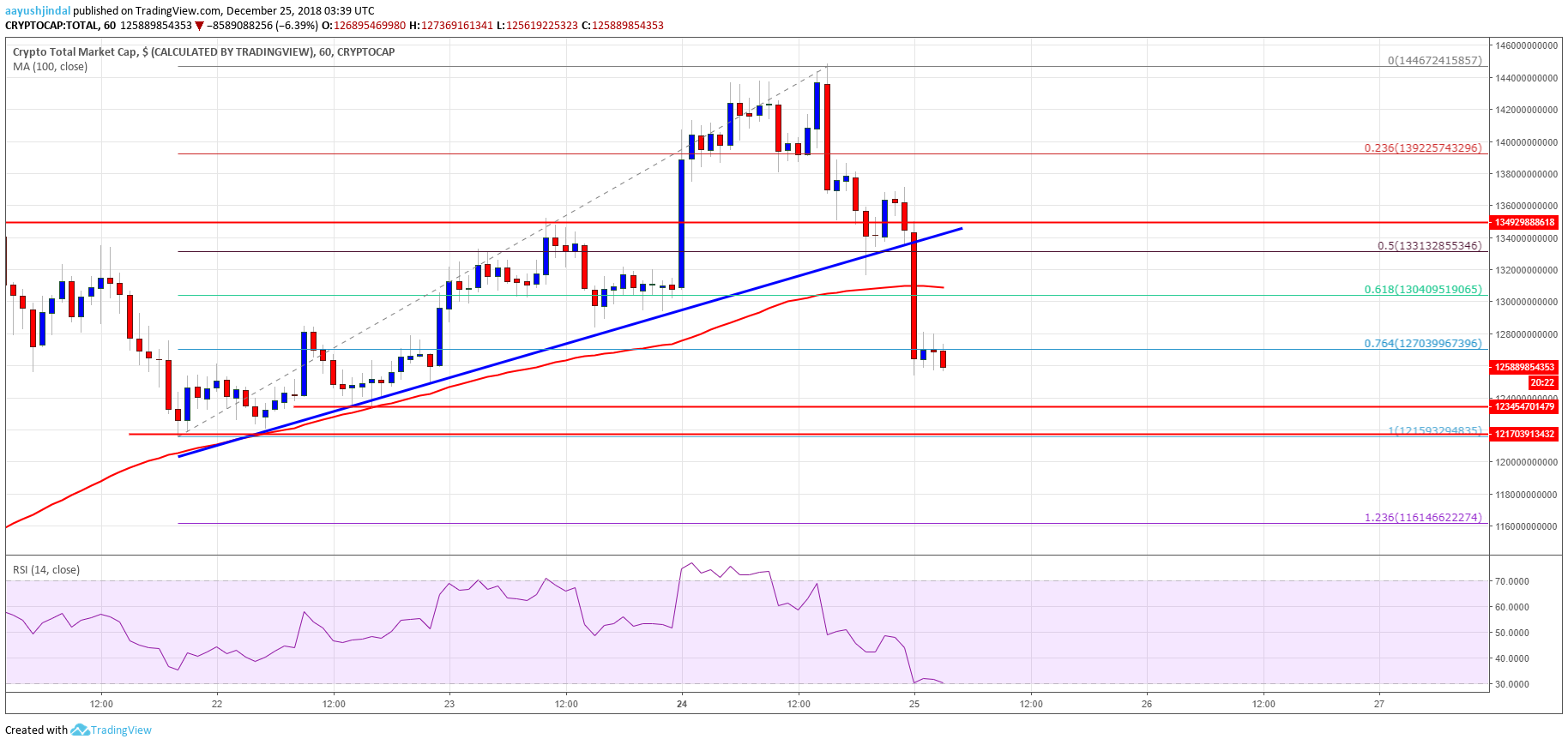 Looking at the total cryptocurrency market cap hourly chart, there was an upside extension above the $140.00B and $142.00B level. However, the $144.00B level acted as a strong resistance, resulting in a downside move in the market cap. More importantly, there was a break below a bullish trend line with support at $135.00B on the same chart. Therefore, there are chances of more declines in Bitcoin, Ethereum, monero, stellar, litecoin, ripple, and other altcoins in the short term.