Key Points
The total crypto market cap spiked towards $125.00B before correcting lower.
Stratis (STRAT) rallied more than 40% and traded above the $1.30 resistance.
Bitcoin cash surged higher and broke the $120 and $128 resistance levels.
Stellar (XLM) price traded above the $0.1250 resistance before correcting lower.
Cardano (ADA) price rallied and settled above the $0.0350 resistance.
Bitcoin cash rallied above the $125-130 resistance and it may continue higher. Stratis (STRAT) surged roughly 40%, and Ethereum, ripple, Stellar (XLM), EOS and Cardano (ADA) remain above key supports.
Bitcoin Cash Price Analysis
The past two days were super bullish for bitcoin cash as it rallied above the $100 and $120 resistance levels. Today, it gained more than 20% and broke the $130 and $135 resistances. BCH is currently trading near the $140 level and it remains supported on dips.
After a minor downside correction, it seems like the price may accelerate above the $140 and $145 resistance levels. On the downside, the key supports are at $132 and $125.
Stratis, Stellar (XLM), Bitcoin Cash, ADA Price Analysis
Stratis performed really well recently and rallied more than 40%. STRAT broke the $1.15 and $1.25 resistance levels to move into a positive zone. It is currently trading above $1.30 and it may continue to rise towards $1.35 or $1.40.
Stellar price gained bullish momentum above the $0.1200 resistance level. XLM traded above the $0.1220 and $0.1250 resistance levels, but it faced a strong resistance near $0.1265. It later corrected below $0.1200 and currently consolidating above the $0.1150 support.
Cardano price pumped above the $0.0320 and $0.0350 resistance levels. ADA traded close to the $0.0380 level and later corrected lower. It remains well supported near the $0.0350 and $0.0320 levels.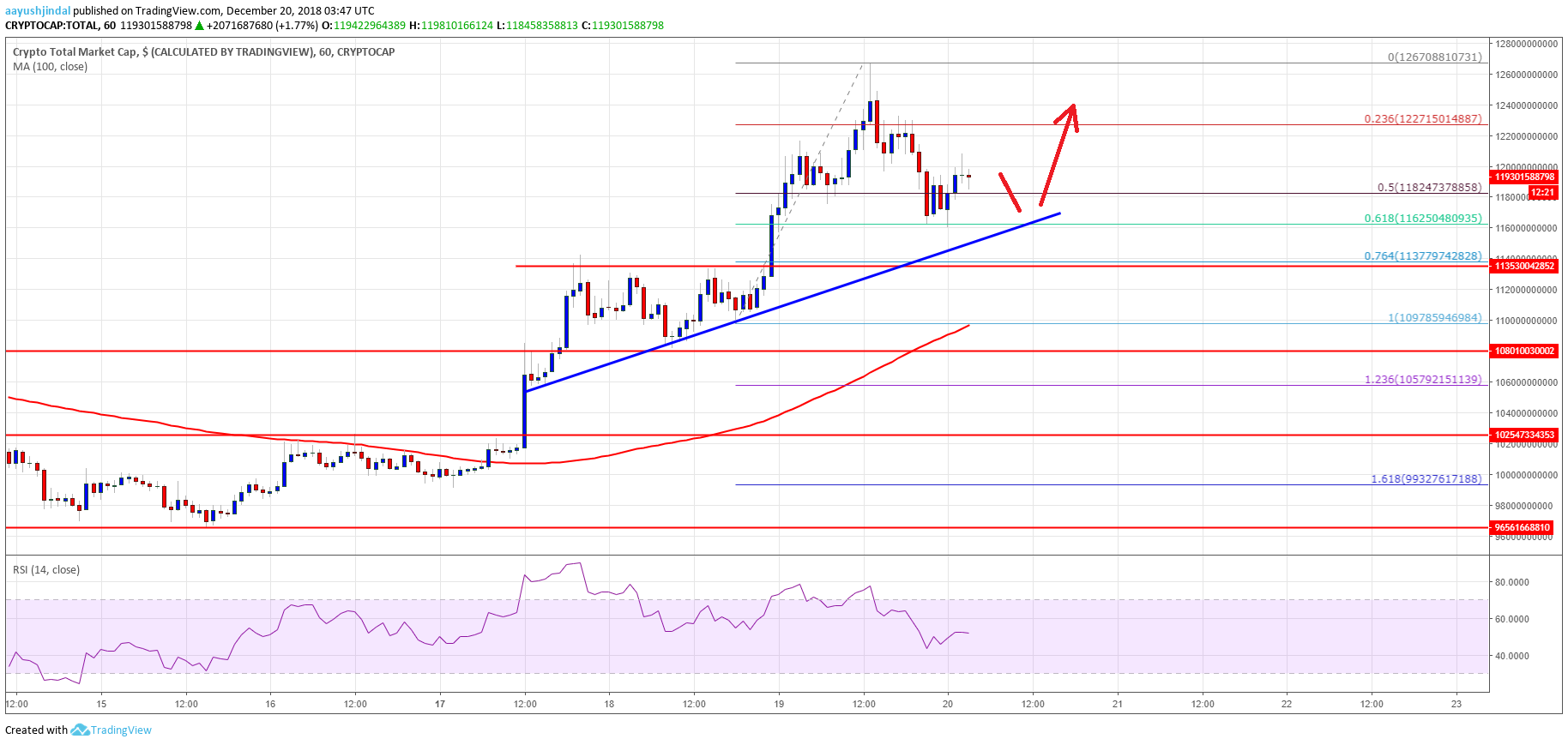 Looking at the total cryptocurrency market cap hourly chart, there was a significant upward move above the $115.00B and $120.00B resistance levels. The market cap touched the $126.70B level and later corrected lower. However, there are many support supports on the downside near $116.00B and a bullish trend line on the same chart. Therefore, it seems like dips remain supported in Bitcoin, Ethereum, litecoin, EOS, stellar, ripple, and other altcoins in the short term.