Compared to other alt coins, DASH has been resilient and is making higher highs. NEO and NEM on the other hand are rebounding from key support levels and should NEO break below that level then it will herald a new phase of bears.
On the other hand NEM traders should watch out $0.20 support.
Let's look at the charts:
NEM PRICES TEST LOWS OF $0.20 AND REVERSES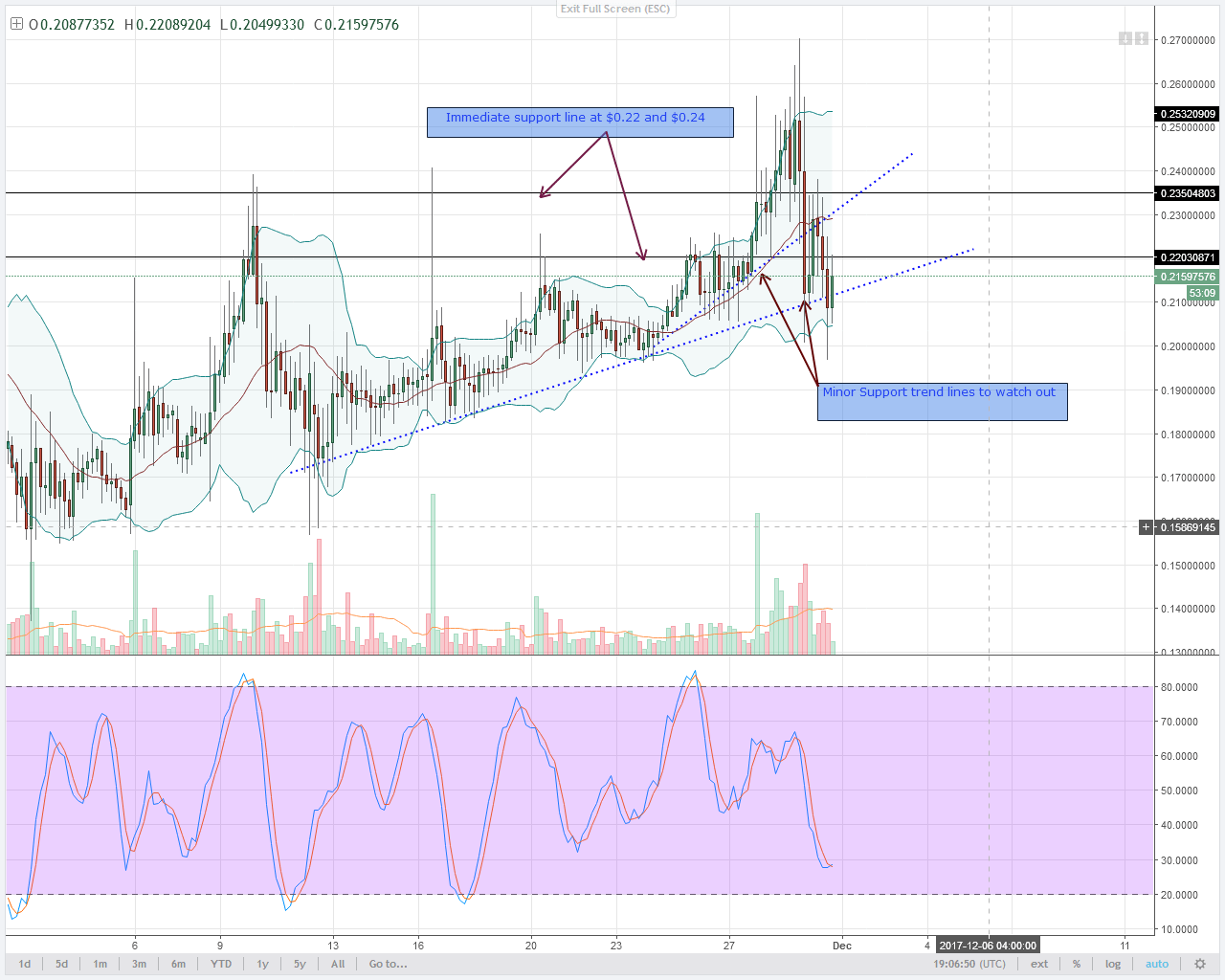 NEM bulls and sellers are equally matched and despite yesterday's strong bear candlestick that saw prices close strongly below $0.26 highs, today NEM prices might end up appreciating.
As price action shows, NEM prices are still above the main resistance trend line of the wedge in the daily chart and clearly, there is no follow through of yesterday bears.
In the 4HR chart, November 30 lows tested $0.20 but then the minor support trend line is preventing further depreciation.
If prices reverses and close above the minor support trend line then bulls should re-enter this trade and aim at November 29 highs of $0.26.
DASH BULLS CLEARS $786 HEADING TOWARDS $1,000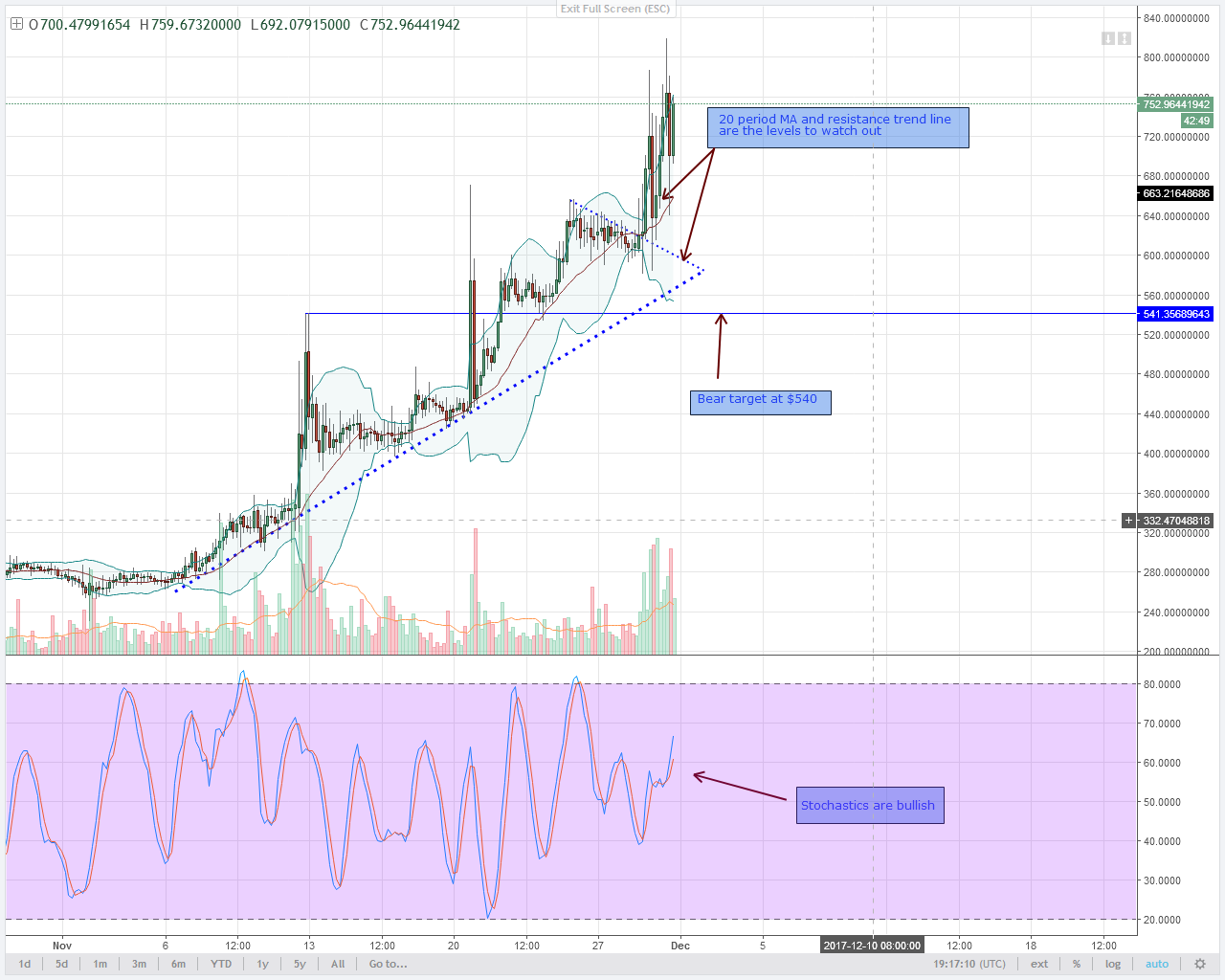 Even if there have been two fake bear double reversal patterns in within 24 hours, DASH bulls are still in charge.
The thing is, as long as price action is above the 20 period MA then we enter long at any retest. That happened on November 29 and 30. As a result of this bounce, our buy stops set at $640 are live as bulls drove prices above November 29 highs at $786.
Stochastics are bullish so we only take long positions with main support at %660.
Ultimate bull target is at $1075 as the Fibonacci extension level in the weekly chart shows.
IOTA CORRECTS AFTER HITTING $1.3 HIGHS
After 4 days of IOTA bull pressure, USD bulls managed to push prices below the 20 period MA.
Of course this correction was expected now that the record highs at $1.3 had been cleared when prices printed highs of $1.4 on Wednesday.
The thing now is to see if the Middle BB in the 4HR chart might act as resistance. As we can see, $1.3 which was also a take profit level no longer holds as per Fibonacci retracement and reversal guidelines.
Reversals were from below the 78.6% Fibonacci retracement. In light of this, $1.3 would have been the highest price IOTA could muster.
However, momentum wise, we expect this bull pressure to continue and given the strong buy pressure in the weekly chart.
We shall set a buy stop around the round number at $1.4 to take advantage of the overall bull momentum.
MONERO BULLS AND BEARS CANCEL EACH OTHER OUT AS A DOJI CANDLESTICK FORMS.
In the daily chart, November 30 closed as a doji candlestick meaning bulls and bears kept on cancelling each other.
Zooming in to the 4HR chart and we notice that Monero price action is trending inside our support zones. In fact the lower limit of this zone at $154 has been tested. At the moment, patience is our key asset.
We shall wait until a clear short term trend develops. That will happen either by bears pushing prices below $154 or by a close above $170. The latter would confirm our bullish trend.
NEO CLOSE BELOW $28 MEANS BEARS ARE IN CHARGE
Now that NEO prices are trading below our main support trend line of $34.
Bear momentum is visible in the daily chart and last week's bear momentum is still on. Should this bear momentum continue, the the resistance trend line connecting October 8 and 23 highs should be our next support trend line. This in line with the bearish break out pattern which begun after October 19.
We shall now watch if price action shall close below the minor support line in the 4HR chart. This would in turn confirm our bearish trend.
If prices reverse from it, the better for bulls and we wait until December 2 to enter.
All charts courtesy of Trading View