Before Charlie Lee, we had DASH, Monero hodlers and early adopters being promoted into the millionaire's club.
Monero added $50 while his cousin DASH added $500, same ambition different speeds I guess. Should you buy all these three BTC alt coins starting with BCH and LTC before spicing it with DASH and Monero?
You should have I say when the prices were right but we can learn from Bitcoin. Experts said it would crash but it crushed them instead.
NEM LOOKS BORING AND BEARS MIGHT PUSH PRICES LOWER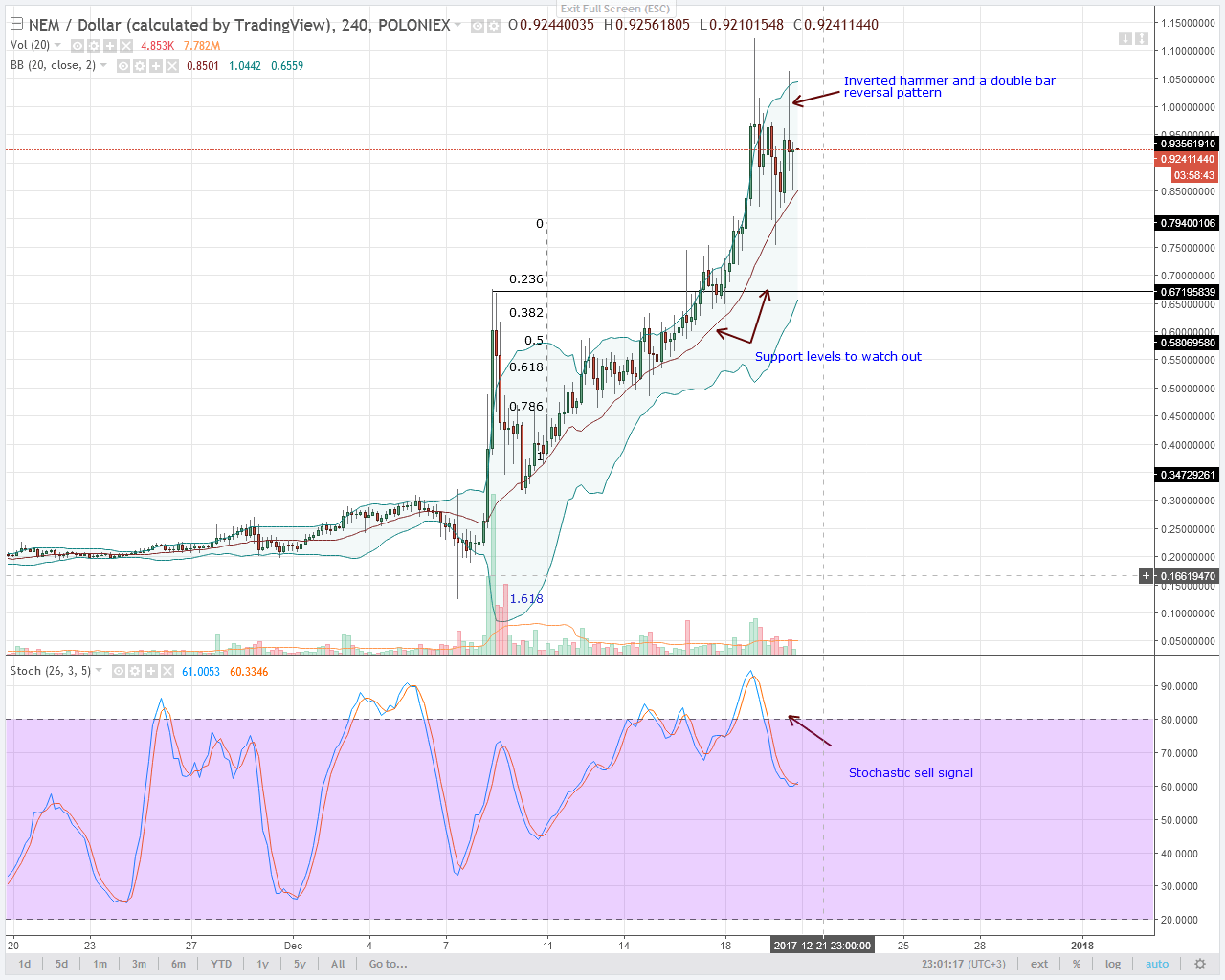 Between watching paint dry and tracking today's NEM movement, I would gladly choose the former. Reason? I don't want to feel edgy and get wrenched every time a bear candlestick prints.
Yesterday, I mentioned the likelihood of $0.67 being tested. If by any chance the 20 period MA is breached and USD bears close below it, then I may consider exiting this trade for $0.05 gain. That's 6% for holding 48 hours or so. You won't get that even from the best banks out there.
Now, we remain buyers but what I'm seeing here is not bull pressure at all. Those lower highs relative to the upper BB is messing this set up big time. As I said, any close below the middle BB, $0.67 or the 61.8%-on the lower end mean we anticipate expect some brakes around that price range.
I'm not saying this is with certainty. Give yourself +/- 5% around $0.53 as a room for margin. If there's a stochastic buy signal around then, the better.
WE WERE WRONG DASH ADDS $500 IN 24 HOURS
After all the talk and Charlie Lee cashing out on his stash, DASH and BCH are rallying. DASH demand is so high, $500 was added and that also meant our third take profit level as projected by Fibonacci extension level was taken down.
Now, I'm just giving an observation which should not substitute your gut feeling. Personally, I'm not looking to buy unless after I see some technical evidence in the daily or 4HR chart.
A reversal of some sort is what I'm waiting and after all, its better be safe than buy at peaks. Fundamentals are definitely behind this move and as such, technicals become useless.
This is where I need to see what you guys think of DASH! TA is null and void when emotions kick in.
SHOULD THAT IOTA OVER-EXTENSION IN THE WEEKLY CHART CONCERN BUYERS?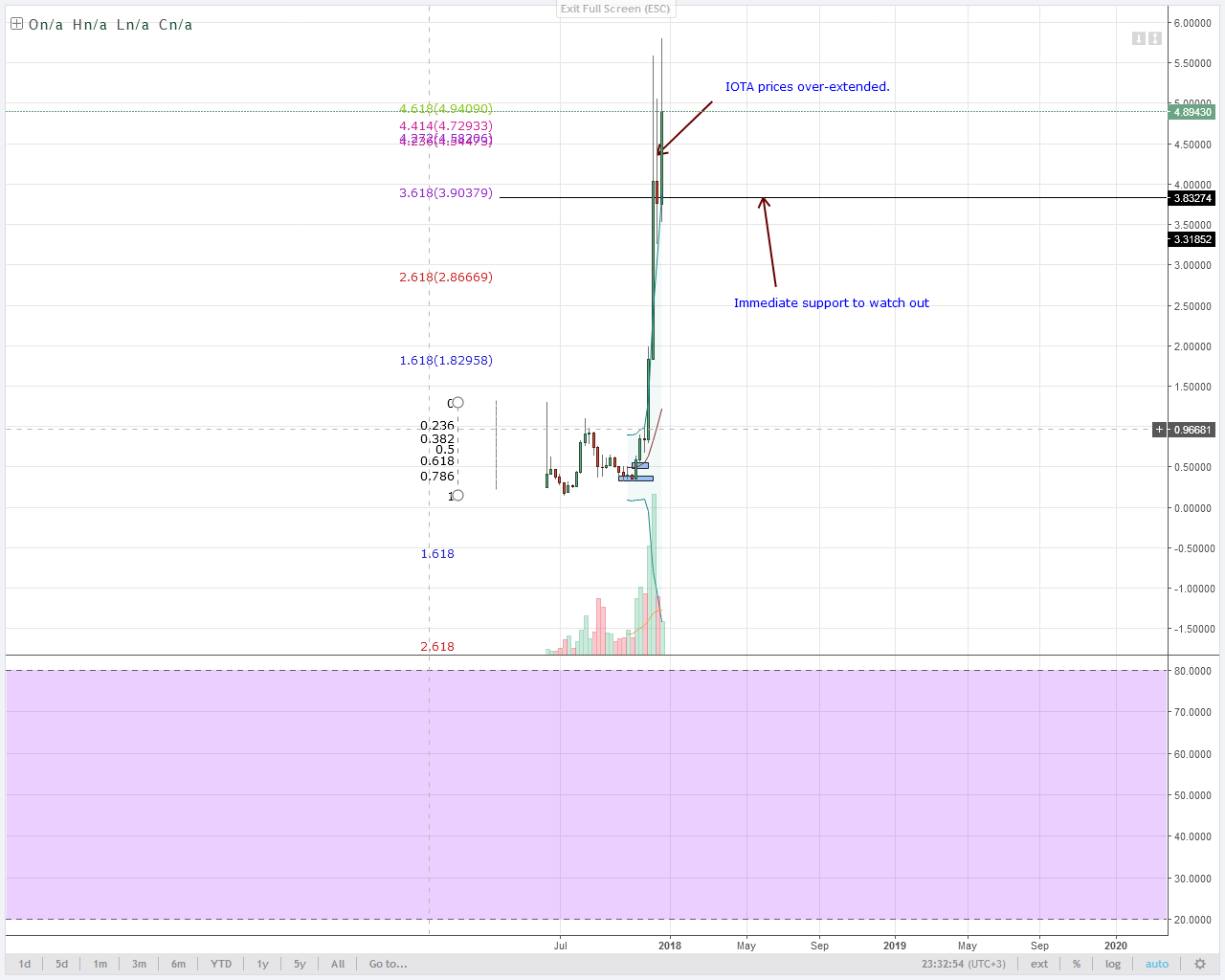 Guys, I will come across as self contradicting but I'm about to throw a bombshell here. Why don't you exit your longs and wait for better entries especially if:
After today, IOTA prices fail to close above yesterday's highs of $5.68 and confirm that double tops of the 4HR chart, and
IOTA bears strongly close below the middle BB.
Slack me if you want but I just noticed a couple of interesting formation that may introduce some bearish pressure on this I.o.T lubricant.
Zoom in the 4HR chart and check the minor double tops and later check that over-extension on the weekly chart. A whole damn bear candlestick closed as an inverted hammer ABOVE the upper BB after last week close.
We are in a strong buy trend yes but that is a very important formation. Remember with a (20, 2, 2) BB setting which we are using, 95% of the prices are supposed to close INSIDE the envelope.
Check out this example. A different asset class but what happened next after over-extension lead to a retest of middle BB: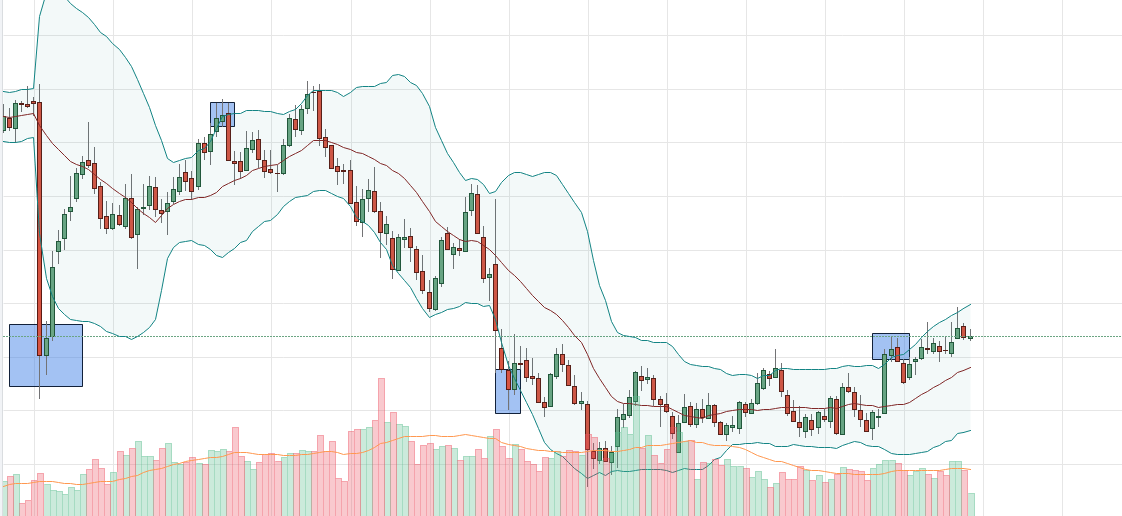 Relate this to IOTA prices above:
When that happened, it fell in the 5% category and BB guidelines assign 80% chance of equilibrium in subsequent sessions.
That equilibrium is the middle BB. See those long upper wicks this week? Now guess what might happen and decide for yourself if you want to hold or not.
BUT,
If none of the above conditions happen, then our stop loss at $3.5 will remain as it is.
THIS IS BUT A CONCERN IOTA BUYERS SHOULD CONSIDER. IT'S NOT A DIRECTIVE TO SELL IMMEDIATELY. I NEED TO KNOW WHAT YOU THINK
MONERO HODLERS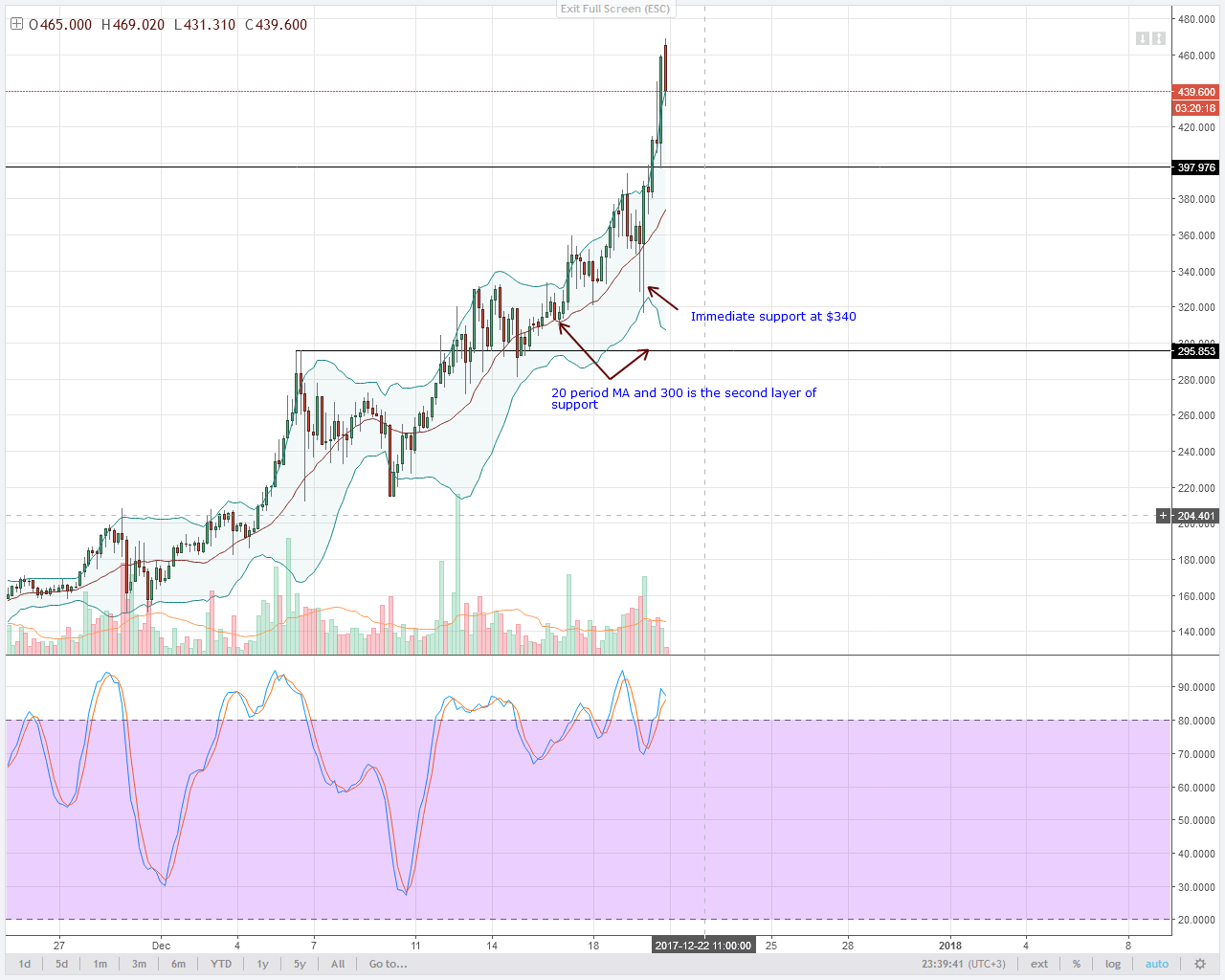 The middle BB showed its significance and now you see why.
Notice how Monero bears couldn't close below it as we had expected and the end result? $60 added and 10 more millionaires churned from Monero hodlers.
Stop losses from December 19 are still intact and so we continue hodling.
LTC AND HIS CREATOR COMPETE FOR ATTENTION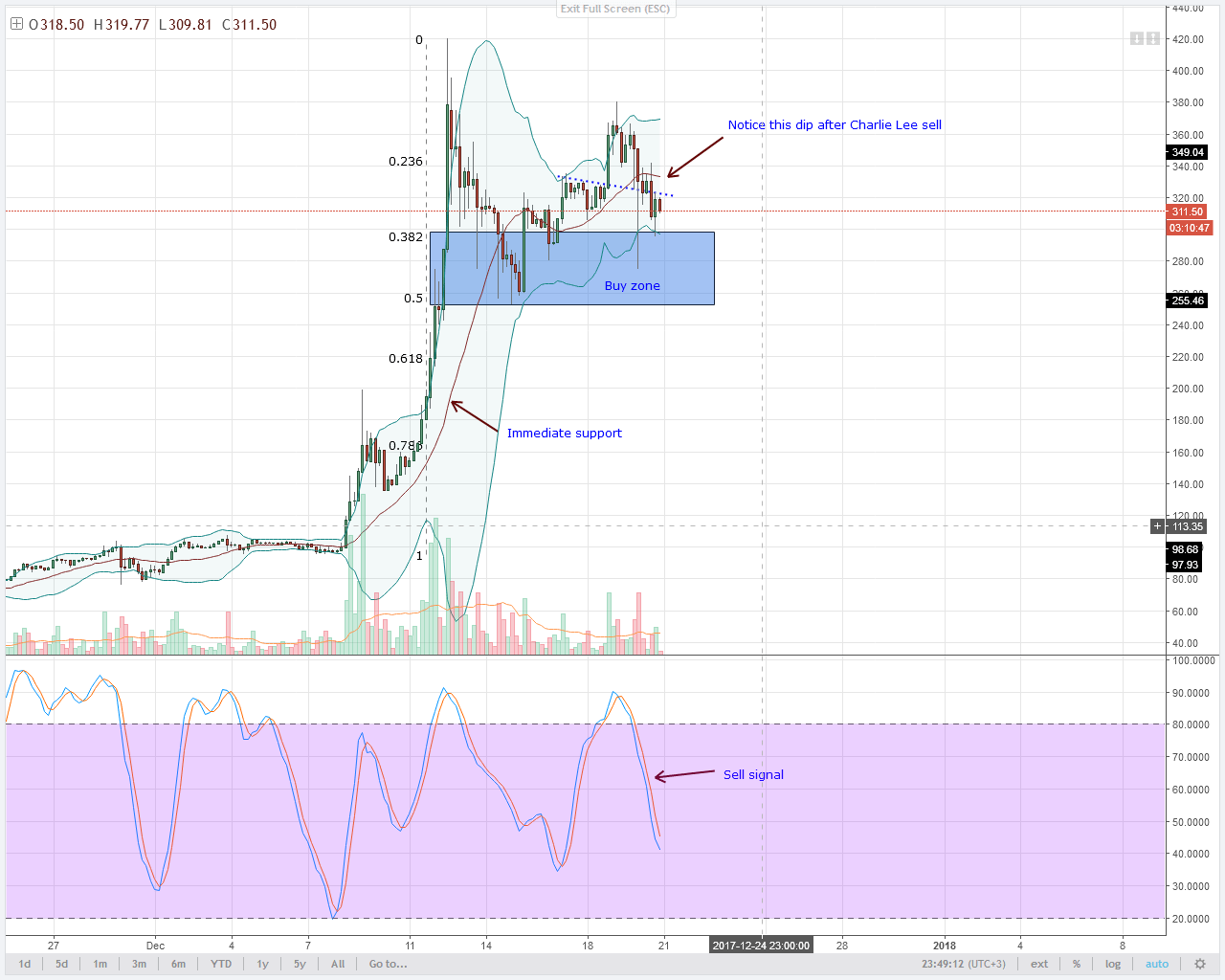 Charlie? What's this? Damn! When you sell, we all sell because you don't believe in the product.
I now appreciate why Satoshi Nakamoto preferred staying anonymous.
Charlie sold is LTC and that is fundamental but it affects technical patterns too. See how $75 of LTC evaporates after simple tweets? That also meant prices are back below the 20 period MA and I don't know.
All I want to see is a strong LTC candlestick and perhaps a stochastic buy signal before maybe I call upon my friend ShapeShift to do the onus for me.
All charts courtesy of Trading View