From yesterday's alt coin technical analysis, we note that DASH Price and other pairs are still consolidating or correcting lower. This correction was expected as history shows similar trends after a sudden spike in prices.  Let's review price action of other alt coins as it happened yesterday:
ALT COIN LSK PRICE ACTION ANALYSIS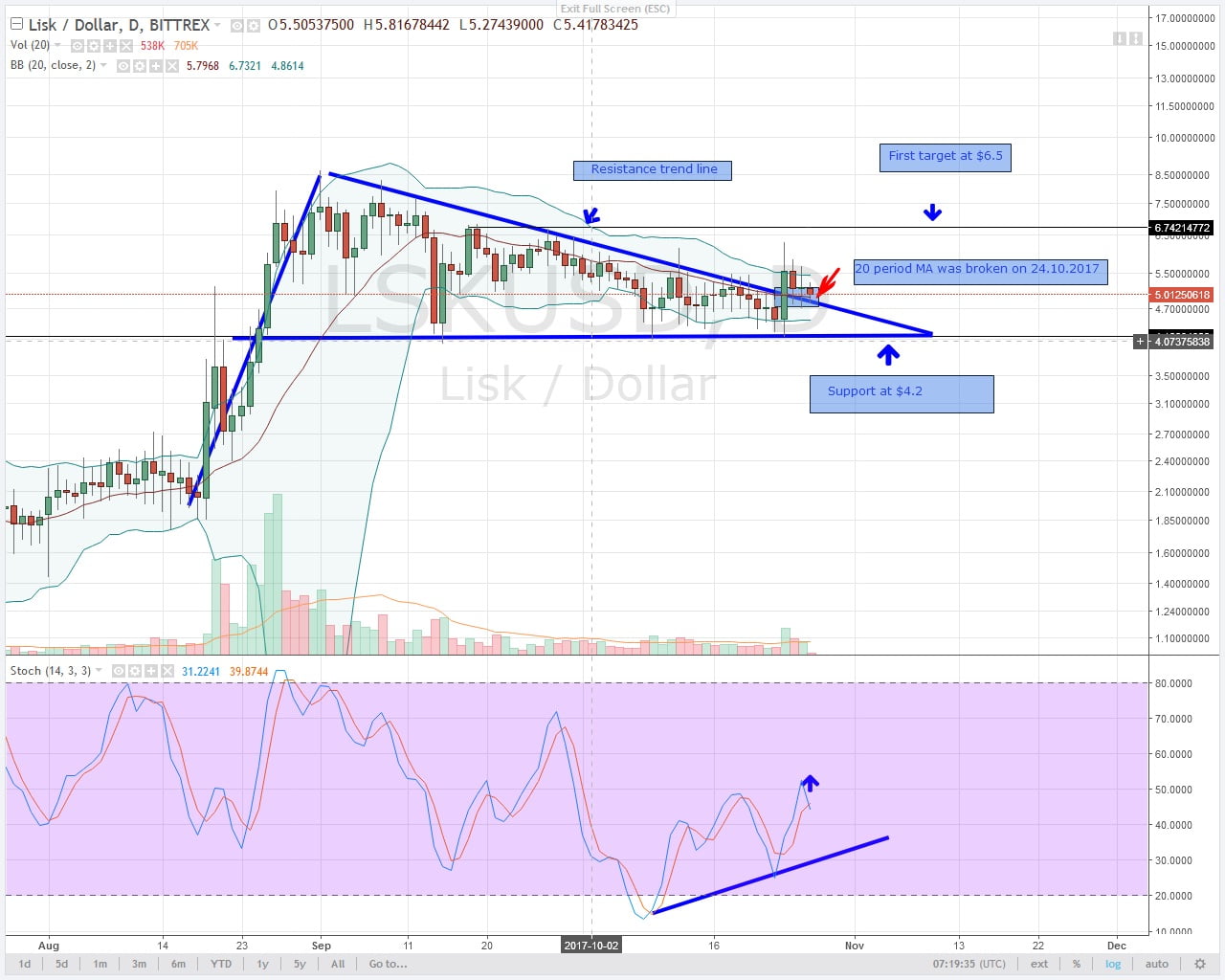 For two trading days after alt coin LSK broke above resistance trend line and the 20 period MA, LSK prices have been actively retesting the same resistance zone it broke on 24.10.2017. One has to note those long lower wicks of 25.10.2017 and 26.10.2017 hinting LSK bull pressure. LSK price action is still within a $2 range and a break above $6.3 or 24.10.2017 highs will be significant. If USD bears actually does that, our next economical target will be on 01.09.2017 highs of $8.5. For now, we still hold on to LSK bullish view.
ALT COIN DASH PRICE ACTION ANALYSIS
DASH price continues to consolidate horizontally, benefiting scalpers. If anything, there is a clear three falling method candlestick pattern with price action held within a $68 range marked by 24.10.2017 Hi-Los. By 26.10.2017 close, the significance of the 20 period MA as a reliable resistance line became clear. As mentioned yesterday, that was the 26th trading day of candlestick close below that flexible resistance line after 01.10.2017 close below. DASH price trigger will depend if there is bullish pressure pushing prices above $310 or sustained DASH pressure below 25.10.2017 lows of $260. Either way, this consolidation and correction low after Tuesday 3 day reversal pattern still justifies our bullish projection unless maybe USD bulls trend higher and push DASH prices below $260.
ALT COIN IOTA PRICE ACTION ANALYSIS
In this pair, IOTA prices have corrected lower while cautiously trending within a $0.05 and forming short days. This IOTA price correction also confirmed a falling three-method pattern along the 20 period MA line over a three day span. Furthermore, IOT prices have failed to confirm 24.10.2017 expected Bull Run as price action is consistently closing below the resistance trend line. Going forward, IOT prices need to close above $0.47 if there is any hope of IOTA rally. Additionally, since we are in the 3rd quarter and the base of a bull flag, we shall take a wait and see approach and observe what happens to IOT prices as it reacts to that dragon fly doji of 23.10.2017 at $0.34.
ALT COIN MONERO PRICE ACTION ANALYSIS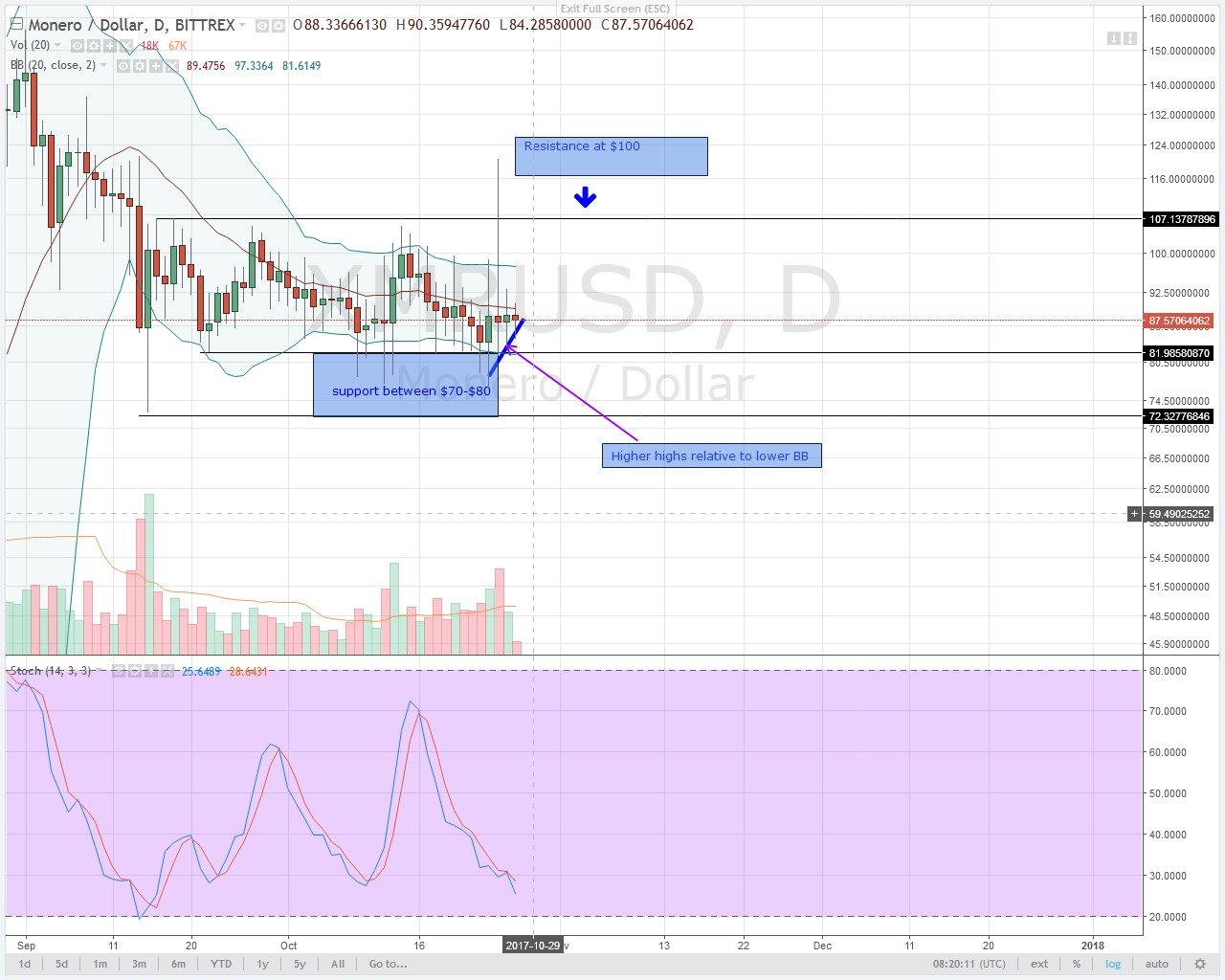 Monero is definitely in  consolidation mode. Despite that double bar reversal pattern on 23 and 24.10.2017, USD bulls have been successful in preventing Monero price appreciation. That 20 period MA is acting as a reliable resistance line. In fact a clear gravestone doji was formed on 25.10.2017 hinting USD bull pressure. However, if you had entered long after close of 24.10.2017 Monero bull candlestick, your take profit target at $100 would have been hit. Current Monero prices offer a wonderful buy opportunity. In the last two trading days, we can see those long legged dojis signaling Monero buy pressure. Additionally, those series of Monero higher highs relative to the lower BB hints more buy pressure. So, with these technical combinations, there is a propensity of a Monero price appreciation.
ALT COIN NEO PRICE ACTION ANALYSIS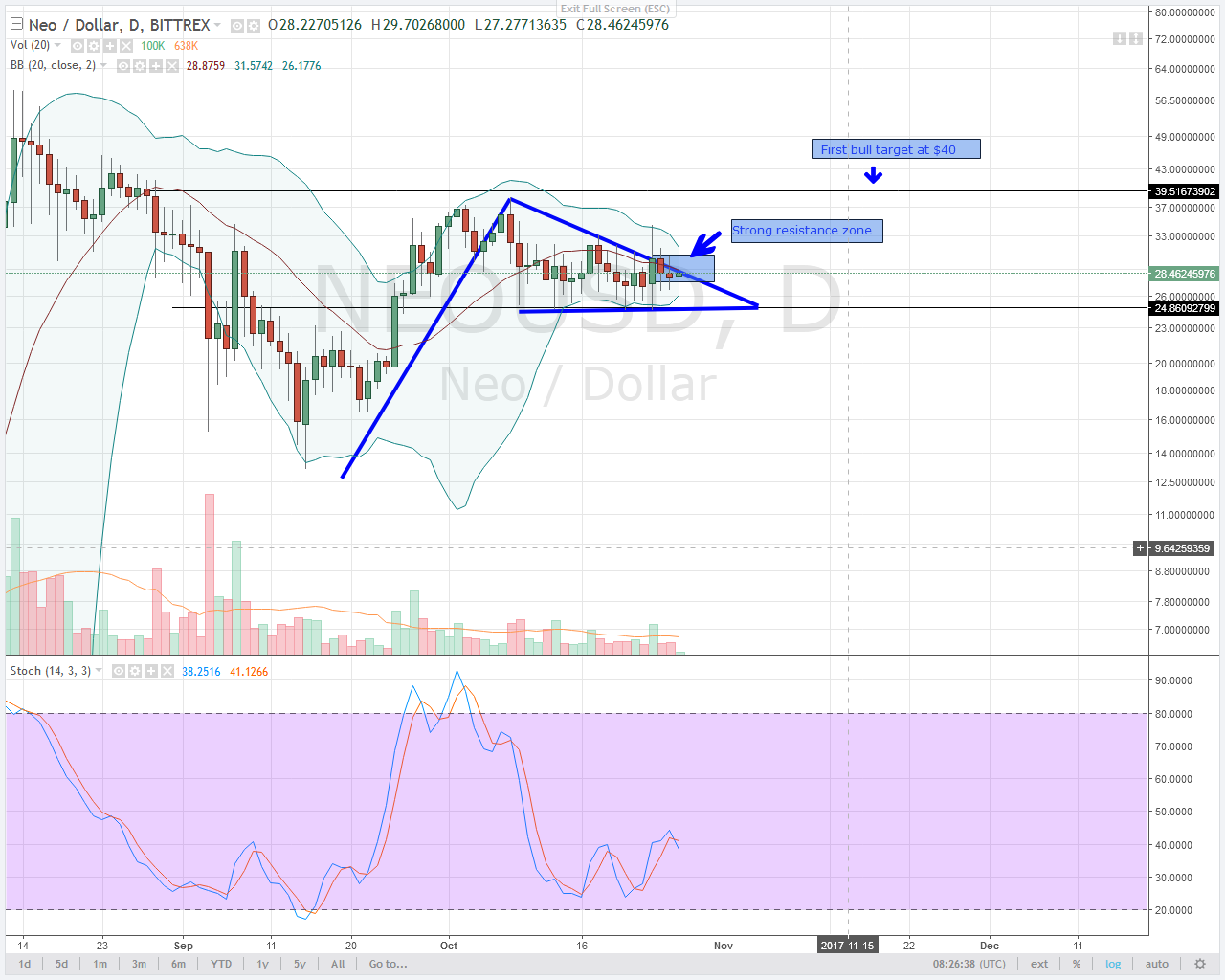 NEO price action is still in a $10 range. As long as there is no dip below $24, bulls are in charge.  So far, stochastics are mixed with bullish skew. Therefore, we still maintain that $28-$30 range is a wonderful buying zone. Other than that strong break out on 24.10.2017, NEO bulls dropped sharply with yesterday's candlestick closing as a bear at $28 but ended up testing $26. Close above $30 or above 24.10.2017 highs means NEO bulls are in charge.
All charts courtesy of Trading View
SaveSave
SaveSave
SaveSave