In my previous analysis, I had discussed that a breakout from the long-held trading range would strike Dash; what followed is that the price crumbled to lower lows and is now retesting the previous support level. Since the resistance has converged with the (broken) support, the bears are increasing their pressure.
With a loss of 2.95%, Dash is trading at 0.01363BTC.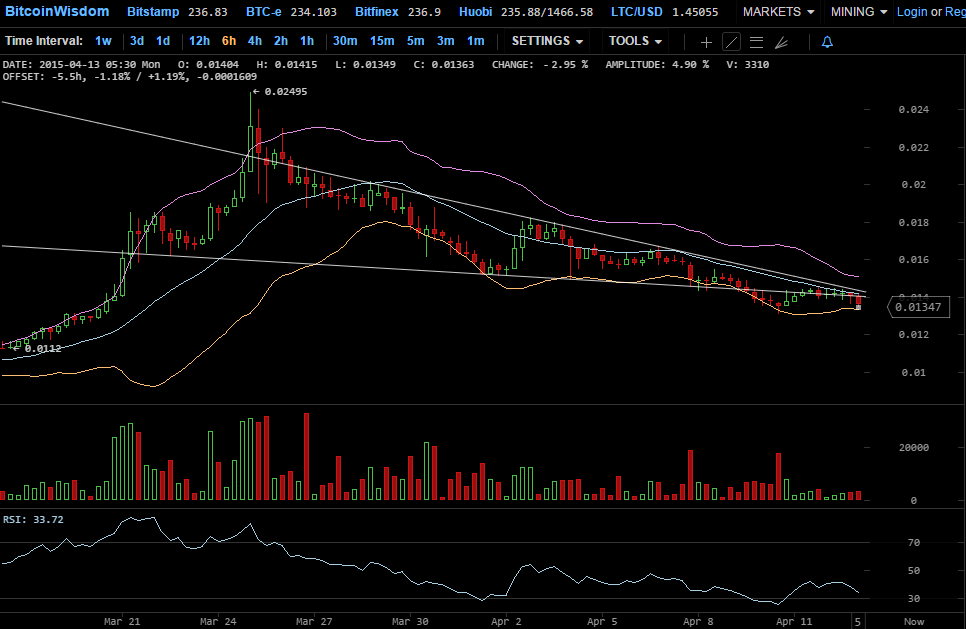 Technical analysis implemented on the 360-minute DRK/BTC price chart reveals that more losses may follow in the cryptocurrency and that buyers may get the opportunity to enter Dash at much lower levels.
Chart Structure – The structure is still bearish with every upmove being suppressed by the consistent selling pressure which has brought down the price to a low of 0.01349BTC. With bulls failing at every attempt, continuation of lower-top price action cannot be ruled out. The price has cracked the floor (see the chart) and is now attempting to regain the lost ground. However, with resistance in close vicinity, the rise in Dash may fail again.
Bollinger Bands – The lower range of the BB at 0.01310BTC is acting as the support while the 20-6h simple moving average is acting as the pressure point for Dash. Interestingly, the 20-6h SMA of 0.01415BTC has aligned with the downward resistance.
Volume – Volume has been below than average in the latest bullish attempt, indicating that the market may be trying to trap the buyers.
Relative Strength Index – The RSI reading of 33.72 aptly reflects the underlying bearish mood. A further decline in the strength value may lead to a collapse in the price.
Buyers are advised to remain on the sidelines as the price may fall considerably in the coming sessions. Technical indicators continue to favor the sellers and hence, any rise should be used to sell the cryptocurrency. Short positions can be built at current levels for a target of 0.012BTC by maintaining a stop-loss above 0.01415BTC.