Investors in Dash can breathe a sigh of relief as the cryptocurrency seems to be staging a comeback after dropping roughly 40% from the 1-month high of 0.02495BTC achieved in March. This is in stark contrast to the bearish undertone that I had been following in my earlier analyses however, this is not to say that Dash is completely out of the woods yet.
Each Dash is currently valued at 0.01403BTC.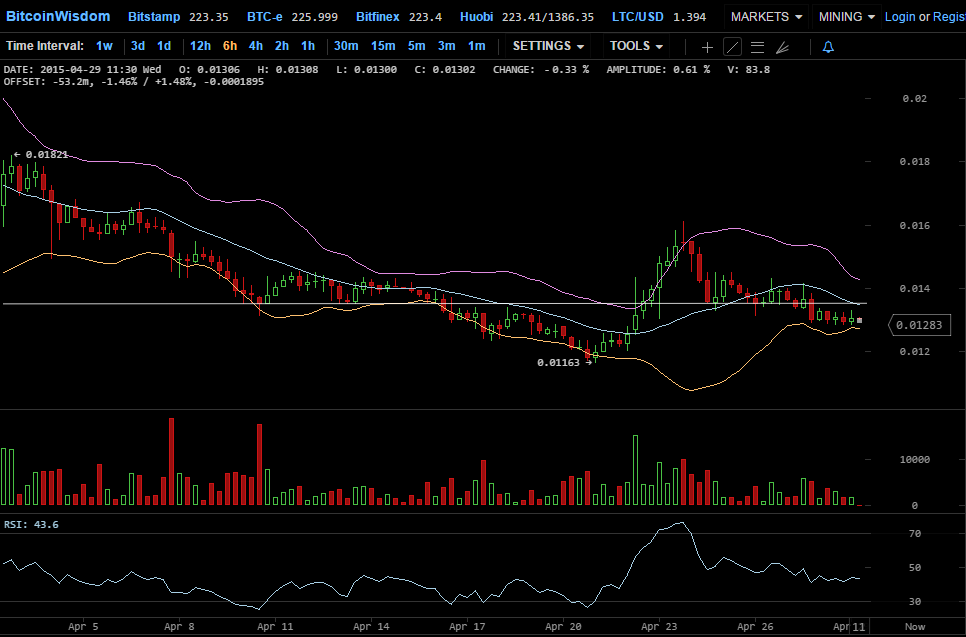 An analysis of the 360-minute DRK/BTC price chart reflects that the bears have taken a breather and that bulls are trying to claw their way back into the game. Dash seems to have broken above the downward resistances, which is a good positive sign.
Chart Structure – Upon a closer look at the chart above, it can be seen that Dash has pierced the long-term downward resistance on the upside. With the breakout, the cryptocurrency has also regained its lost footing and is sustaining above the previously violated support level. The price action is symbolic of Dash freeing itself from the clutches of the bears and bulls gaining strength.
Bollinger Bands – The lower range of the Bollinger Bands has consistently cushioned the price while the 20-6h simple moving average acted as a supply point. However, Dash is now at a sniffing distance from the upper range of the BB after taking support from the lower range and rising above the SMA.
Relative Strength Index – The RSI indicator must be carefully watched to avoid a market trap or to participate in the upcoming rally. A rise in price supported by a strengthening RSI will confirm the authenticity of the upmove. RSI is currently indicating stronghold of the sellers with a value of 42.99.
Since Dash has advanced beyond the resistances, light long positions can be considered. Positions can be increased only after the cryptocurrency registers a higher top and simultaneously maintains its floor.