Safe from stagnation at key resistance levels, most alt coins are inching higher. From price action, DASH recovery looks to be on course as buyers push prices higher.
This was likely to happen. Relative to other coins, DASH bore the wrath of sellers after that serious dip to as low as $600. Despite the rosy view, we cannot rule out possibilities of alt coin sellers angling for better entries with every higher high.
This is why we should especially watch out and wait for reactions at $210 for LTC and $3 for IOTA. Any break above and buyers might have a field day.
NEM IS BACK AT $1.14 AS BUYERS WAIT FOR A CONFIRMATION ABOVE $1.50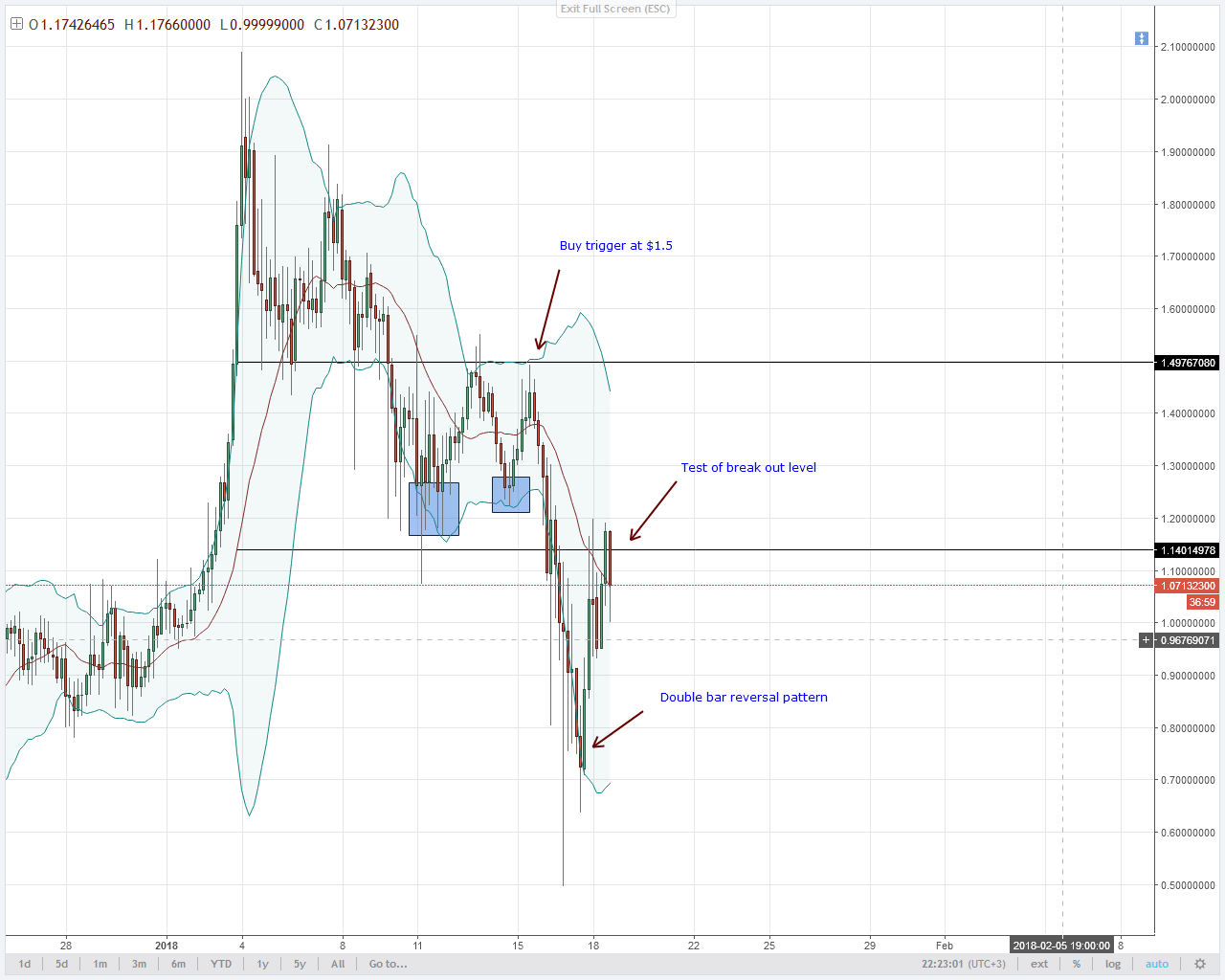 As a typical break out, NEM prices are back towards $1.14, a reprieve for buyers? Yes, maybe.
But first, it will mean nothing if the last couple of bullish soldiers which resisted lower lows with a double bar reversal pattern failed to follow through and push above this minor resistance line.
Of course there are hints of such but we need a strong close above $1.50 to be certain of bull pressure.
Otherwise, it can quickly turn out to be another retest of break out level and a possible resumption of bear pressure.
It's mainly because of this reason why I don't recommend longs or shorts unless there is confirmation of bear/bull moves in either direction.
LUMENS SNAP BACK TO TREND AFTER TESTING $0.30
I have no doubt that XLM buyers are back in this trade.
If you need evidence then just look at yesterday's chart and analysis and note that prices were reversing from previous significance support. The double bar reversals and that close above $0.30 was a bummer for sellers.
If you are late then you may consider waiting for a reaction at the minor resistance trend line.
Any lower lows may cause prices to reverse to the middle BB or $0.43. If not, a blast above this line and buyers may as well hitch the ride towards $0.76 and $1.0 with buy stops above $0.65.
AT $3, IOTA TRADERS ARE LEFT TO MAKE KEY DECISIONS
Like Lumens, IOTA reversal from around $2.1 is noteworthy. What is important though is the reaction at current levels.
Will buyers find reason to push prices into the previous range or will sellers take advantage and confirm the second phase of a break out patter?
A trader can do two things here: Either wait short and assume it's a break out or wait until prices close above the middle BB convincingly before entering long positions with immediate targets at the upper limit of the previous consolidation at $4.2.
As it is, it's all dependent on time and price.
DASH RECOVERY ON-COURSE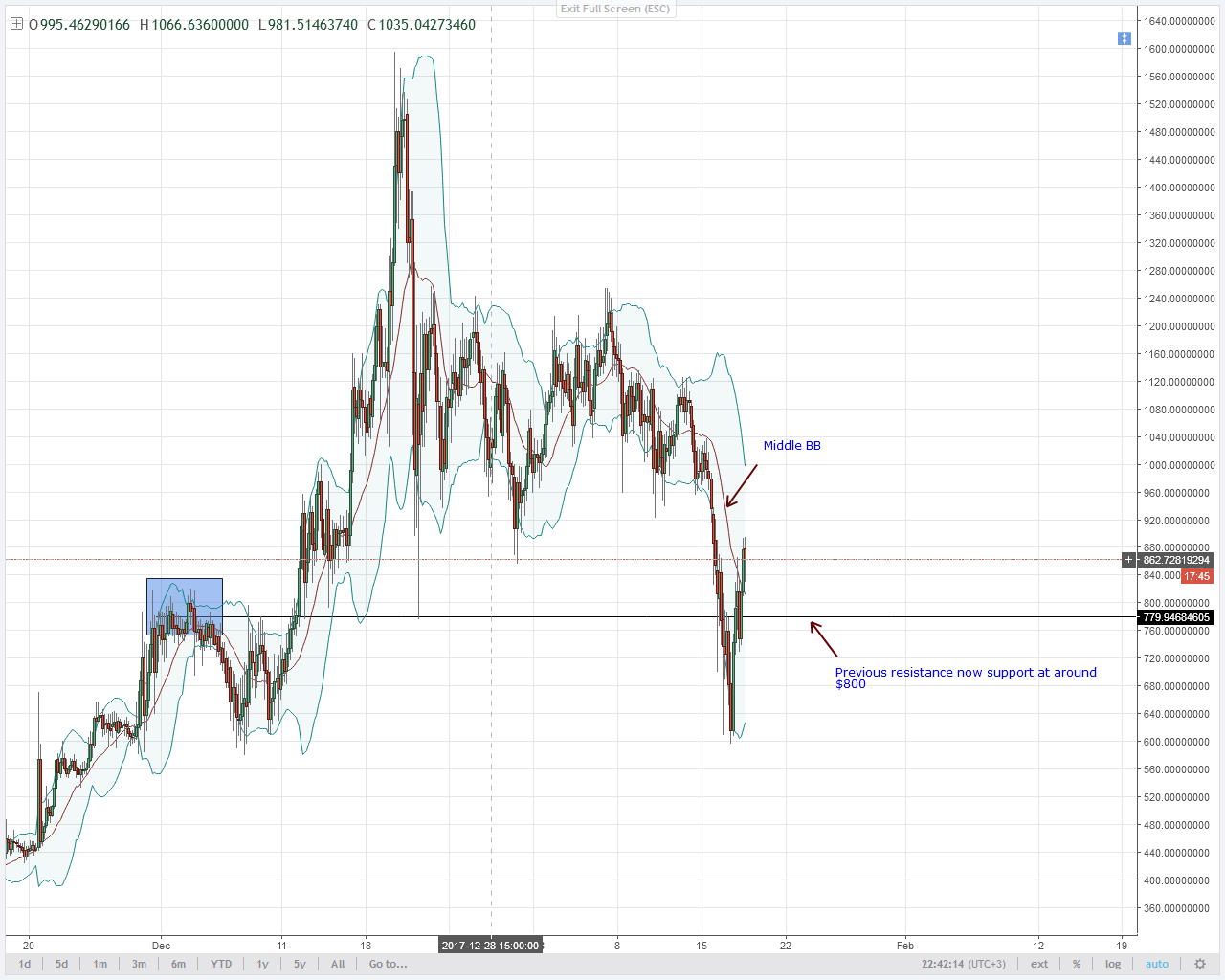 From our yesterday's two cents, close above $800 was significant and telling of buy pressure. Now is this another DASH recovery or a bluff?
From yesterday's price action, it was evident that DASH buyers kept on pressing higher and eventually closing above the middle BB and $800.
The thing here is this, December 3, 2017 highs at around $800 is now our immediate support and DASH traders can initiate their longs while placing their stops below it. It's as simple as that.
$210 IS IMPORTANT FOR LTC
Even after incessant buy pressure, LTC prices is yet to breach $210 and at current prices, it's a make or break opportunity for both buyers and sellers.
See, LTC is at a point of inflection and we are aware of how strong $210 is. It is a previous support line which is very clear on the 4HT chart-check the highlights.
If LTC sync with other alt coin recovery, then we may see prices back in the range today otherwise, any bearish confirmation below the 20 Period MA and $150 is only but $50 away.
All charts courtesy of Trading View