Dash is testing the patience of short-term market participants with its extremely thin consolidation range. In the past 6 hours, the cryptocurrency has barely moved with the price trapped inside 0.01400-0.01403BTC – this is in no way a tradeable range. However, prolonged consolidation may also mean that the cryptocurrency is forming a base and a recovery is in the offing.
Each Dash can currently be bought for 0.014BTC.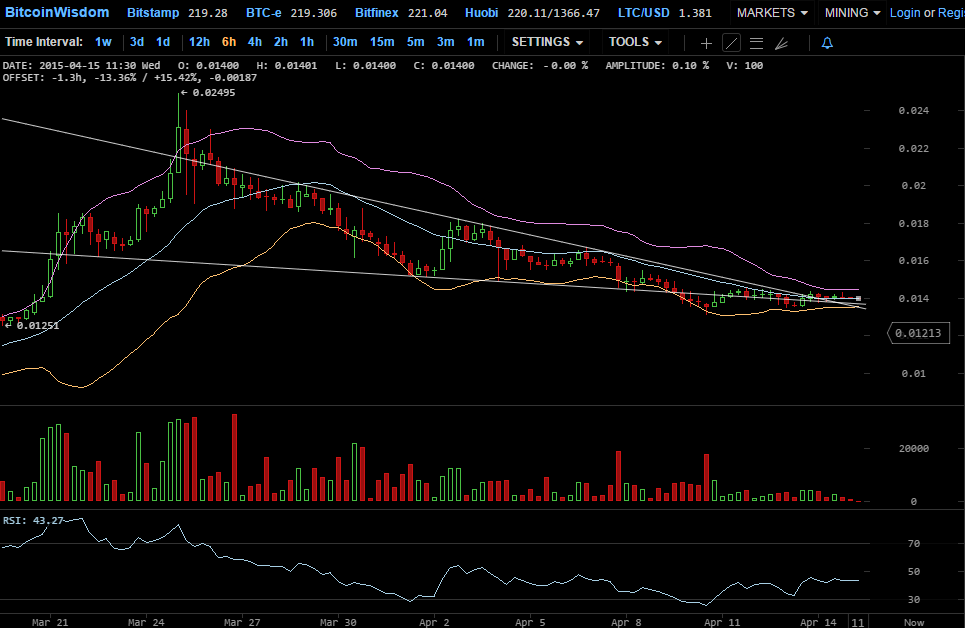 Analysis of the 360-minute DRK/BTC price chart indicates that the sideways price action cannot continue for long.
Chart Structure – Even though Dash is comfortably sustaining above the critical resistance levels, it hasn't made any attempt to take out the previous tops. The cryptocurrency is consolidating in an extremely narrow trading range with volume remaining highly depressed (see the chart above). Absence of volume indicates that the market is awaiting a trigger or a fillip for its next leg.
Bollinger Bands – The Bollinger Bands haven't made any contribution which may coerce a significant price deviation in the past 24 hours. However, the bands are converging and further contraction could lead to a drastic move in Dash.
Relative Strength Index – The RSI indicator is also flat on a 24-hour basis – the current value of 43.27 is in close proximity to yesterday's 42.99. A reading below 50 suggests that buyers are unwilling to put in desired efforts and that the balance is inclined in favor of the sellers.
It can be safely said that bulls must exert more pressure if they are to maintain the optimism and see an increased market cap of Dash. With other leading cryptocurrencies such as Bitcoin and Dogecoin witnessing high volatility, a spillover effect can occur which may act as a near-term trigger for Dash. Traders may consider sitting out unless a breakout in either direction is confirmed.