Dash has slumped roughly 5% from yesterday and registered a fresh April low of 0.0127BTC before paring the losses to be trading at 0.01298BTC. With this decline, the cryptocurrency has cracked the higher support line and the fate of Dash is now hinged on the lower support line.
If the cryptocurrency is unable to establish the lower support line as a ground, we may witness a panic fall in price.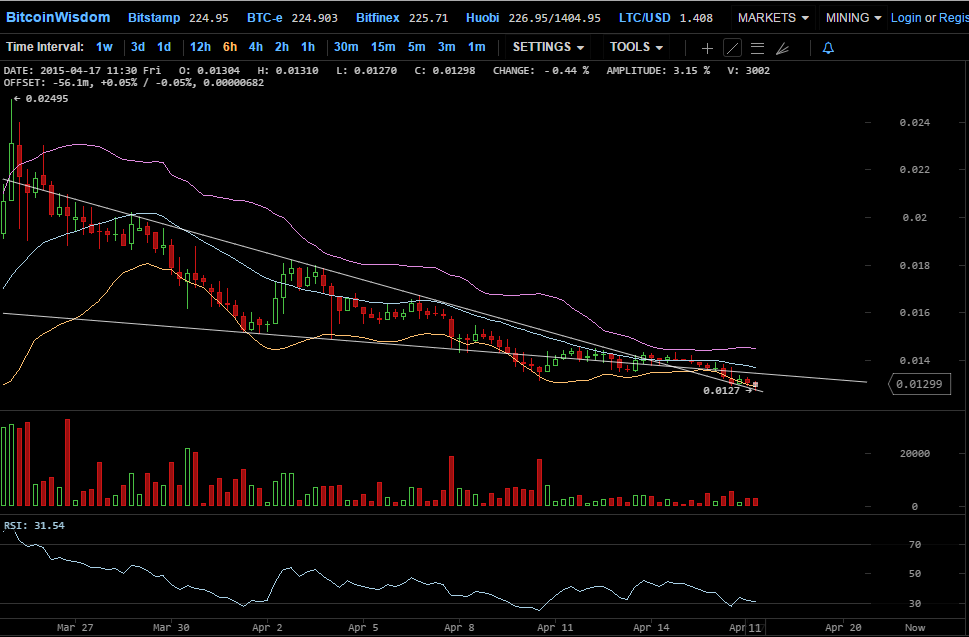 An analysis of the 360-minute DRK/BTC price chart reveals that Dash is on its last legs and future sessions may bring in more sorrow for the investors.
Chart Structure – The cryptocurrency remains in a long-term downtrend – Dash has failed miserably at reversing the trend and instead, continues to see a fast decline in market cap. The lower support line is providing a cushion as of now but, in the absence of any buying interest, that floor may also cave in to the selling pressure.
Bollinger Bands – The lower range of the Bollinger Bands is coinciding with the crucial support level while the 20-6h simple moving average acts as a supply zone. Dash has been maintaining a close proximity to the lower range of BB, indicating a sustained bearish bias.
Relative Strength Index – With value dropping to 31.54, the RSI indicator is on the verge of diving into the oversold territory. A value below 30 represents oversold condition for the underlying security. In case, the RSI dips to a level of around 20-25, that should be viewed as a signal to exit the short positions as a dead cat bounce may take place.
Taking into account that the cryptocurrency is steadily losing ground and that buyers are getting wary, it is best to stay on the short side of the trade. Buying should be initiated only at depressed levels or upon the emergence of significant signs of a reversal.