Bears hold complete control over Dash as the cryptocurrency continues with its spree of hitting fresh lows. In my earlier analysis on Dash, I had mentioned that the cryptocurrency is steadily losing and that it is best to stay on the short side of the trade; those who had followed this advice would have made good money (or avoided huge losses) as the cryptocurrency has plummeted to a 1-month low of 0.01231BTC.
Dash is still under extreme selling pressure, languishing near the lows at 0.01254BTC.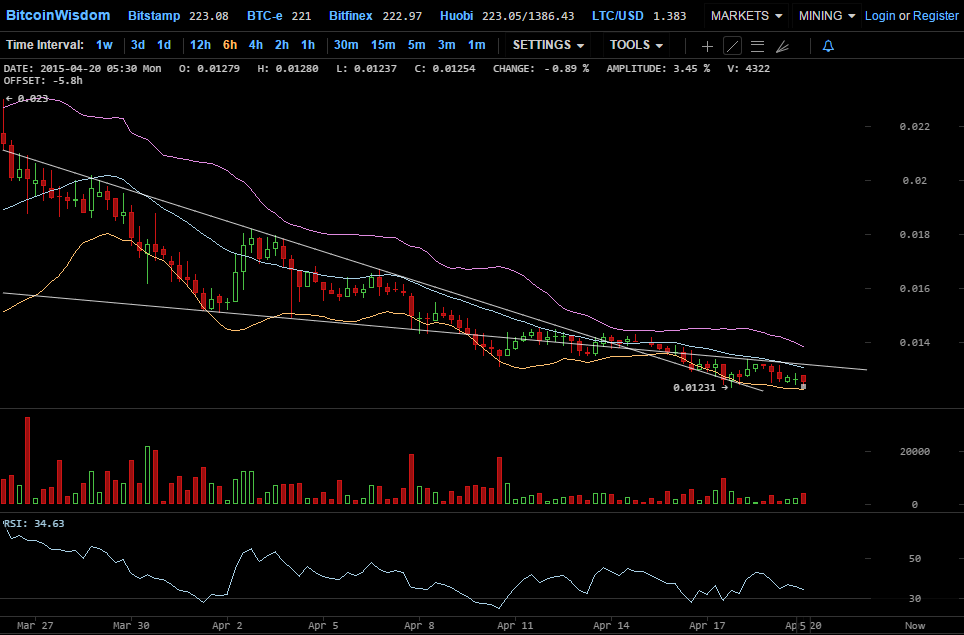 Although it is incredibly difficult to comment now as to when the ignored cryptocurrency will become attractive, it can be safely said that a lack of buying interest may lead to grave consequences for Dash. Technical analysis implemented on the 360-minute DRK/BTC price chart validates the aforesaid concern.
Dash Coin Chart Structure – The price seems to be facing stiff resistance near the previous support level; as can be seen from the chart above, the price has been falling back after hitting the ceiling posed by the previous support. Also, the support provided by the other downward trendline is digging deeper with time.
Bollinger Bands – Like before, the lower range of the BB at 0.0123BTC is acting as a support and the 20-6h simple moving average of 0.013BTC is acting as the resistance.
Dash Trade Volume – With volumes still at lows, it seems that the buyers have resigned to the fact that Dash is expensive at current levels.
Relative Strength Index – The RSI indicator is barely able to float above the oversold region with the current value at 34.63.
Dash is not a good contrarian bet yet, and it is advised that short positions be built on rallies with a stop-loss (closing basis) placed above 0.013BTC. Buying should not be considered as the chart structure remains fairly weak.