It seems there is no stopping Dash from digging deeper into the red. The cryptocurrency has sunk to a fresh 1-month low of 0.01163BTC as bulls refrain from entering the scene, extending the ruthless bear market that Dash has entered into.
I advised in my yesterday's analysis that Dash is still not a good contrarian bet and long positions are best avoided; I maintain my bearish outlook.
Trading under pressure, Dash has a value of 0.01175BTC.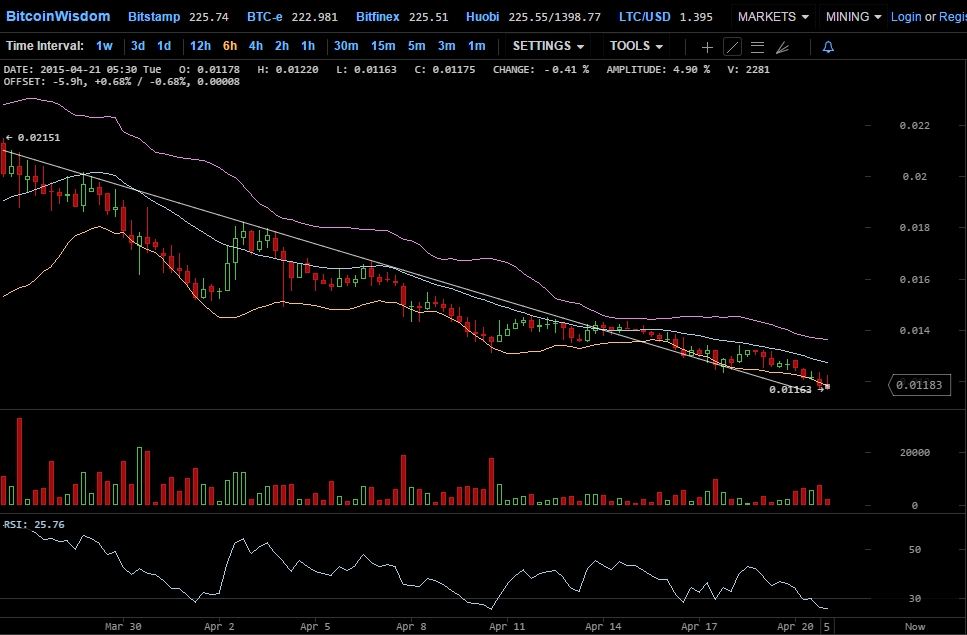 An analysis of the 360-minute DRK/BTC price chart reveals that the cryptocurrency may be oversold from a near-term perspective, however, the long-term trend remains bearish.
Dash Coin Chart Structure – Dash is in a perfect lower-top, lower-bottom structure where failed rallies are giving birth to stronger selloffs. Continuation of this pattern has brought down the cryptocurrency to a low of 0.01163BTC.
Bollinger Bands – Dash is barely hanging on the lower range of the BB, which has long acted as the near-term support arresting any and all drastic falls in price.
Dash Trading Volume – Upon a closer look at the last 4-5 candles, it can be observed that the volume has relatively surged on price declines. This further validates the fact that market participants are still pessimistic about the cryptocurrency even as it sees prolonged correction.
Relative Strength Index – The RSI indicator has finally slipped into the "oversold" territory with the latest value being 25.76. Dash had been sustaining just a tad above the oversold boundary of 30, but the strength was weakening consistently.
Knowing that Dash is oversold from a near-term perspective, it makes sense to cover some short positions but, it does really imply that long positions can be built. Rallies should be used to go short in this cryptocurrency as more losses may be seen in the coming sessions.