It's been a tough past few days for all altcoins. Polkadot (DOT), especially, has suffered. The native digital asset of the Polkadot ecosystem has shed a few percent in the past 24 hours but is down 10% from its weekly highs.
The cryptocurrency's correction comes as Bitcoin, Ethereum, and especially altcoins have inched lower.
While BTC remains in no man's land from a technical perspective, DOT is reaching a point where it could face a severe correction if it drops under a crucial support level. The support level has held multiple times over recent weeks, suggesting a loss of the level would be disastrous for bulls.
Polkadot Nearing Crucial Support Level
Leading altcoin Polkadot faces an even stronger correction as the cryptocurrency nears a pivotal macro support level.
One cryptocurrency trader shared the chart below on October 3rd, noting that DOT is primed to move below the $4.00 support level, which has held as a daily level of support on at least five occasions over the past month.
Should DOT lose that level, which marks the bottom of a textbook descending triangle, it could face a correction into the $3.00 range, the trader who shared the
chart below noted.
"Almost a week later but we got another touch of trend resistance followed by another tap of support. Doesn't look good. HTF is so important to any trades I make right now. I cannot stress this enough. No interest in anything less than 4H/1D!"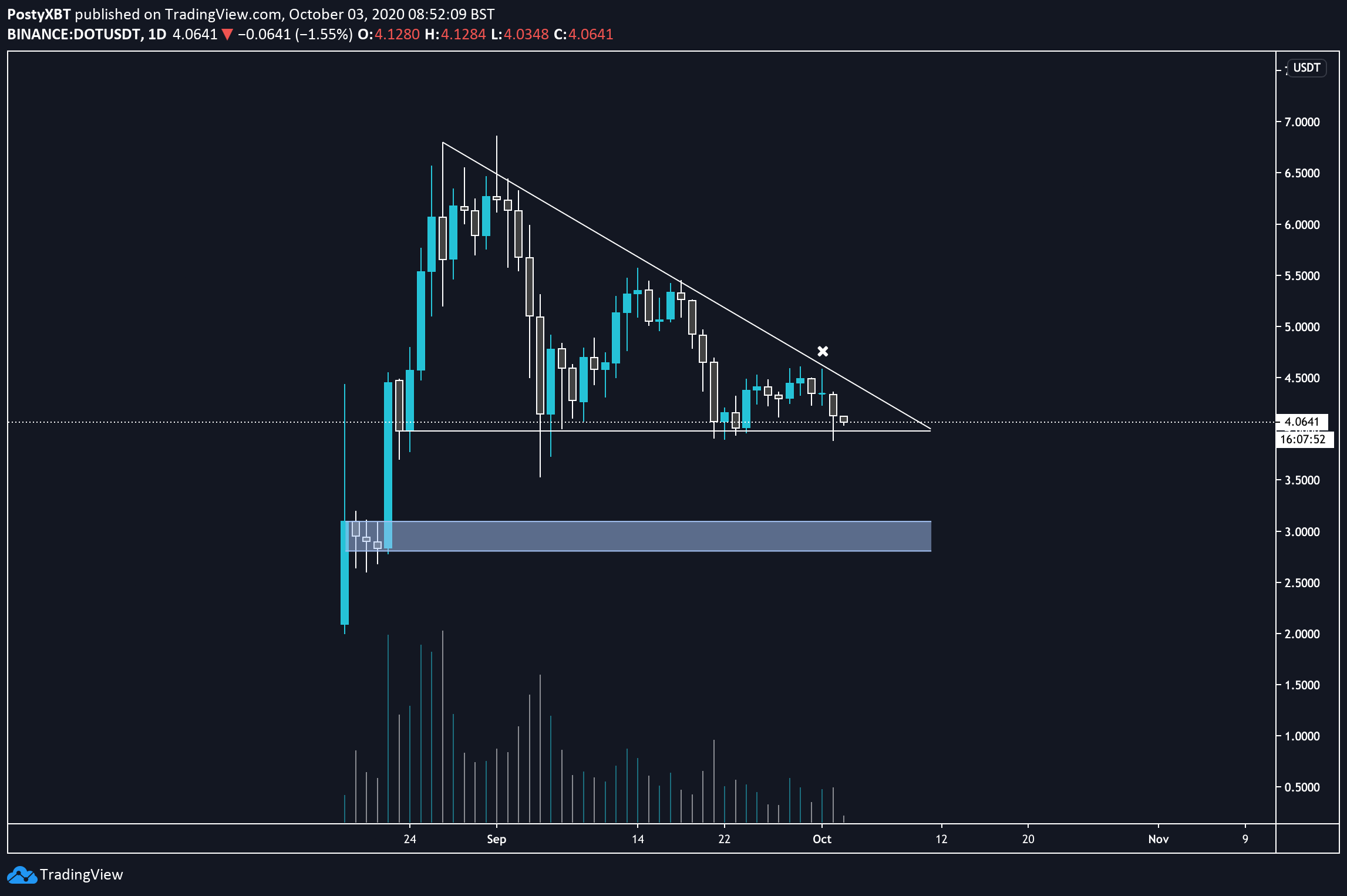 Chart of DOT's price action over the past few weeks with analysis by crypto trader Posty (@PostyXBT on Twitter). Chart from TradingView.com
This concern was echoed by a number of other analysts, who also noted that DOT losing the support of $4.00 could result in a decline into the $3.00 range, then potentially even lower if there is enough sell-side pressure.
Taking Some of Ethereum's Market Share in DeFi
DOT does have potential fundamentals, though, that may allow it to negate a further decline.
Fundamentals include Polkadot taking some of Ethereum's dominance in the decentralized finance market.
Ethereum users have been facing extremely high transaction fees over recent weeks, which could allow Polkadot developers to deploy relatively cheap and efficient applications, thus imbuing DOT with value.
Photo by Syuhei Inoue on Unsplash
Price tags: dotusd, dotbtc, doteth
Charts from TradingView.com
Polkadot (DOT) Could Incur Strong Correction as Macro Support Nears