Ethereum, the second-largest cryptocurrency by market cap, remains trading at roughly a third of its all-time high, but has recovered 78% from lows. 
However, the worst might be yet to come for the top altcoin if it continues to follow a shockingly similar fractal from dot com era Nasdaq charts.
Ethereum 2023 Versus The 2000 Nasdaq Dot Com Post-Bubble Collapse
Cryptocurrency bubbles have in the past been compared to Tulip Mania and the Dot Com bubble, but a more direct comparison between Ethereum now and Nasdaq from 2000 has been discovered by crypto analyst Benjamin Cowen.
The uncanny comparison shows a harsh rejection at the 50-week moving average indicated in green. What makes this comparison so shocking are the price levels at which key pivot points took place.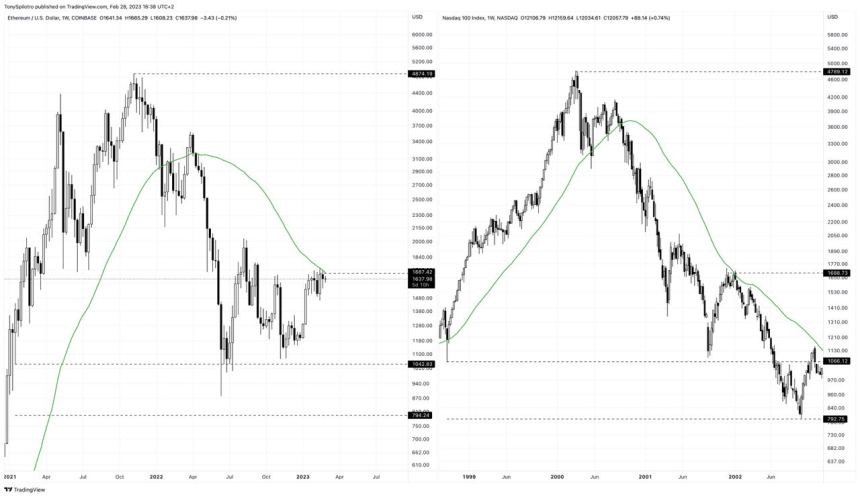 Ethereum weekly (left) versus Nasdaq weekly circa 2000 (right) | ETHUSD on TradingView.com
For example, Ethererum topped out at roughly $4,800 per coin, while the Nasdaq peaked at nearly 4800. Ether is trading at approximately $1,600 per ETH near the 50-week moving average, and the Nasdaq's rejection took place at around the 1600 level.
If ETHUSD continues to follow this path from the dot com bubble NDX chart, the ultimate bottom would form at around $790 per token.
Then & Now (Plus A Look Ahead): Cryptocurrencies Versus Tech Stocks
Cowen, the CEO of Into The Cryptoverse and engineering PhD, admits that he "cherry picked" the moving average in the chart due to the eerie similarities. But that doesn't discredit the possible scenario.
Turning on the 200-week moving average, however, provides an immediately different picture. The two moving averages typically come in a pair, providing signals when they turn or crossover.
Also of note is a "death cross" on the Nasdaq that doesn't appear on ETHUSD. This doesn't mean Ethereum is in the clear, but there are definitely differences from then versus now.
Ethereum weekly (left) versus Nasdaq weekly circa 2000 (right) | ETHUSD on TradingView.com
A further plunge to sub-$800 would spell an additional 50% decline against the dollar. Holding here would invalidate the fractal.
Despite this possibly bearish out come for Ether, it is important to look ahead in the Nasdaq. In the years to come, the NDX reached over 16,000. If Ethereum followed the fractal and price levels perfectly, each coin would eventually trade above $16,000.
Comparisons between cryptocurrencies and the dot com bubble have come up in the past, but none with this much accuracy and precision.
Impressive work on this fractal, especially noticing the similarities in each price level. I've been examining other technical similarities between the two and thought it was worth also zooming out for a slightly more hopeful view on #Ethereum pic.twitter.com/3EIivMyys7

— Tony "The Bull" (@tonythebullBTC) March 1, 2023
Follow
@TonyTheBullBTC on Twitter
or join the
TonyTradesBTC Telegram
for exclusive daily market insights and technical analysis education. Please note: Content is educational and should not be considered investment advice. Featured image from iStockPhoto, Charts from TradingView.com