Altcoin season is now official, with the highest ranked of the bunch setting a new all-time high today – much like Bitcoin did late last year. At the same time, open interest in Ethereum Futures contracts has never been higher, suggesting that the momentum, volatility, and potential upside has only just started.
Here's a closer look at the cryptocurrency's recent record-breaking rally compared to its last peak, and what investors can expect from here according to top industry analysts.
Bitcoin Buying Interest Spills Into Altcoins, Sends Ethereum To Record Prices
Bitcoin blasting well beyond its former record and causing widespread FOMO, has spilled into altcoins that have since grown by an even larger margin comparably.
Related Reading | Capital Manager: Ethereum Will Double In Two Weeks Once ATH Is Broken
Last year, Ethereum outpaced Bitcoin on an ROI-basis but failed to break its former all-time high while the top cryptocurrency did. But as of the last 24 hours, it was the top altcoin's time to shine.
A new all-time high price record was set, beating the January 2018 peak | Source: ETHUSD on TradingView.com
The number two-ranked cryptocurrency by market cap now has broken its former record set back in January 2018. Now that the record is broken, analysts expect ETH prices to double within the span of two weeks.
Price estimates per token range from $3,500 to $20,000, and a December 2021 Options contract strike price hints at possible $10,000 per ETH by the end of 2021. And with open interest elsewhere in the derivatives market so high, there is a strong chance prices reach such levels.
All-Time High Open Interest Could Keep The Cryptocurrency Trending
According to glassnode data, it isn't just Ethereum prices setting a new all-time high. Open interest across Ethereum Futures contracts are at the highest level in history, suggesting that the volatility and trend are likely sustainable for some time.
Related Reading | Ethereum Options Contract Hints At The Altcoin Closing 2021 Over $10K
Open interest on Ethereum Futures contracts have achieved a milestone $4.5 billion, with $1.1 billion alone in positions open on Binance.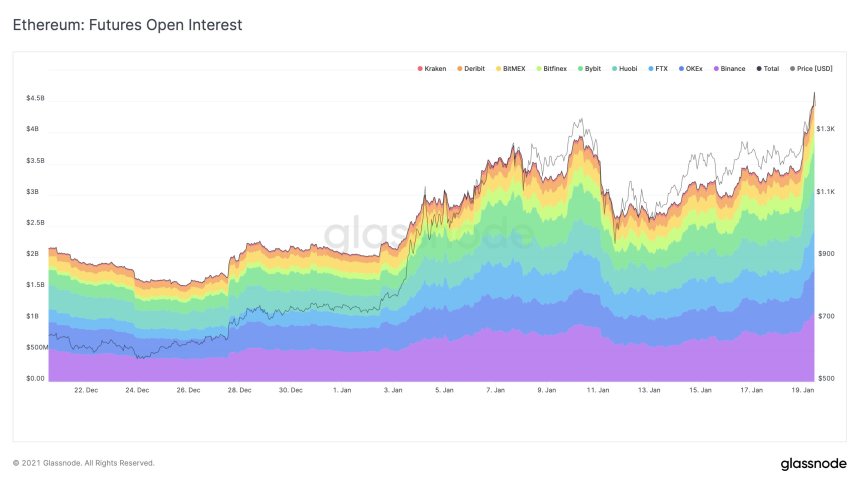 Open interest on ETH derivatives reaches ATH alongside new record | Source: glassnode on Twitter
Ethereum is only just now reaching its former all-time high and has only thus far left a wick above the previous record. But the market is well aware of what just happened with Bitcoin, doubling in price in a matter of days.
Traders are loading up on Ethereum positions expecting a similar move, but the former all-time high could also pose too strong of resistance, and act as a turning point.
Is this time different, and the former peak will act as the altcoin's top? Or will Ethereum follow Bitcoin and double in value in the days ahead, driven by record Futures open interest?
Featured image from Deposit Photos, Charts from TradingView.com