Ethereum has seen immense volatility over the past two days as the bullish trend has finally begun to slow.
It began early this past weekend, which was when the leading cryptocurrency began to slam lower as Bitcoin fell from its highs in the $58,000 range. Ethereum currently trades for $1,400, though fell even lower earlier this hour.
ETH is down around approximately 30% from its recent all-time highs above $2,000. Bitcoin is only down by approximately 22% from its all-time highs, showing the resilience of the foremost cryptocurrency amid bearish market conditions.
Here is what investors are saying amid this immense volatility.
Ethereum Drops, Though Long-Term View Unfazed
While Ethereum has seen immense volatility over the past few days, most investors are maintaining a long-term positive view.
One crypto-asset analyst noted that Ethereum's volatility has been so severe that the cryptocurrency recently hit a level indicating it has a decent chance of reverting to mean, or in other words, reverting higher:
"We've only hit the bottom of the 6H reversion bands on $ETH twice in the past 365+ days… at $300 and during the covid crash. We're touching it now in the context of a previous ATH retest."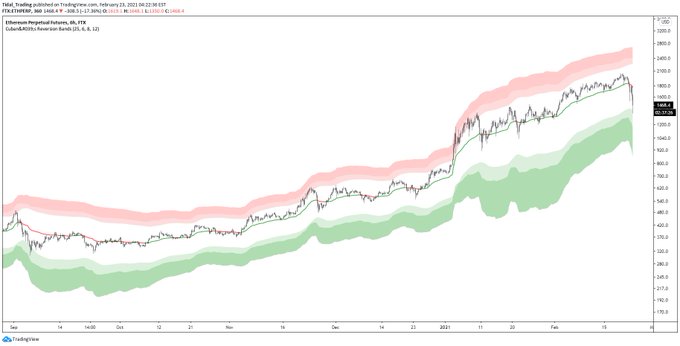 Chart of ETH's price action over the past year from TradingView.com
Other analysts echoed this analysis in their own comments, sharing a sentiment that the cryptocurrency is ramming up against key support levels in the current range. In regard to the chart below, one said:
"Got bids set for this $ETH trade"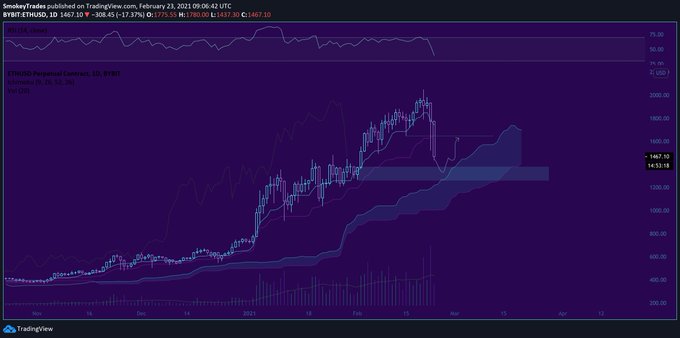 Chart of ETH's price action over the past few months from TradingView.com
Resetting Funding
This correction in the cryptocurrency market has had a byproduct of resetting the funding rates of the Bitcoin, Ethereum, and altcoin futures markets.
Prior to this drop, investors were paying a large amount of capital annualized (often to a rate of 100-200% per year) to hold long positions.
This crash has corrected these overleveraged players in the cryptocurrency markets.
Both Bitcoin and Ethereum have seen their respective futures markets print dramatically lower funding rates than where this metric was at yesterday.
Featured Image from Unsplash
Chart from TradingView.com
Price Tags: ethusd, ethbtc, eth
Ethereum Shifts Under $1,400 as Crypto Bloodbath Continues