As Bitcoin (BTC) is coming out of a harsh weekend with a 5% drop and a huge sellout, ether (ETH) still maintains its strength in comparison, which has been happening since October. Arcane Research's weekly update shows that the ETHBTC pair reached its highest level since May 2018 reaching 0.085 BTC, seeing possible signals of maturity and an upcoming alt-season.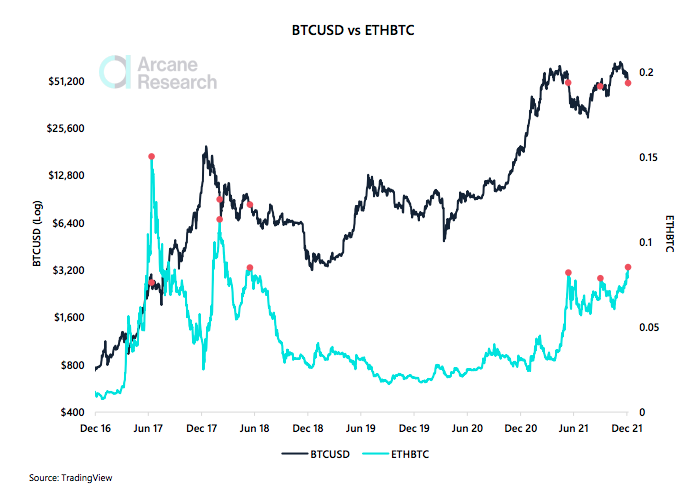 In 2021, ETH has shown greater strength than bitcoin. The cryptocurrency could be signaling its maturity as it sees higher lows –compared to BTC– than it did in 2017 and 2018.
However, Arcane Research noted that back in 2021 and 2018 the strength of ETH and altcoins' performances in periods when BTC saw lows also signaled lower prices to come, so a similar scenario could happen during 2021's fourth quarter.
The current ETHBTC pair peak is similar to the one seen in May, which was followed by May 19th's crash during massive liquidations and new buyers panic –which some users called the second worse day ever for Ethereum, although similar phenomenons had happened in earlier years–. Then, the ETHBTC pair saw another spike at the beginning of September as Bitcoin saw lows on the 7th.
Furthermore, we could be facing froth in the market as altcoin's strength has signaled before.
Ether was also down on Saturday but surged to the mentioned 0.086 Bitcoin high during Sunday. The price dropped 5.5% on Monday to $3,965, and overall, it traded down by 0.51% in the past week compared to BTC's 10.06% decline.
Today, the Ethereum price is up again around $4,352.74, up 2.93% in the day-to-day, surging more than 24% from the low. Even though it's 9% away from its all-time high, it is also 496% up in comparison to 2021's early days. ETH also shows a 24-hour trading volume of $23,566,690,676 and a market cap of $512,648,545,331.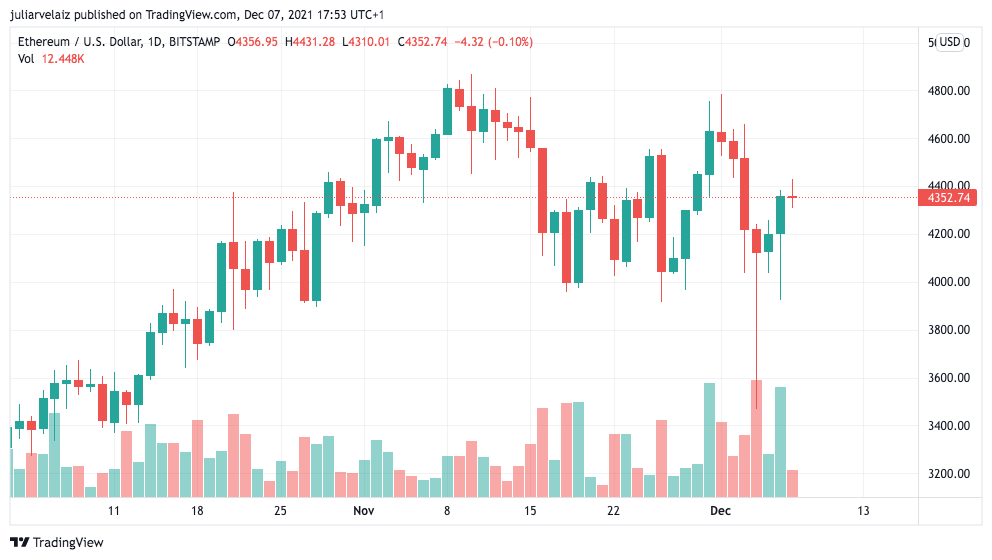 Related Reading | Ethereum "Accumulation" Nears Liftoff Phase: What This Could Mean For Bitcoin
Bitcoin Dominance Sees New Lows
Today, Bitcoin's dominance is 40.65%, seeing no increase over the day. It had fallen towards 40% on December 5th as it saw its newest bloodshed. BTC also saw its dominance drop in September and May, but it has not seen other lows alike since May 2018.
As the crypto market started to fall on Friday –with 372,000 liquidated crypto accounts by Monday totaling $2.3 billion-, Saturday's early morning saw bitcoin drop $10,000 in price, going from around $57,000 to $47,000.
Over the weekend, the drop reached a $14,000 loss and experts saw no clear reason for it, but since then traders have suggested a connection with the fear around the Omicron variant plus market moves exaggerated by lower trading liquidity.
Compared to its November all-time-high, BTC is down by $21,000, but also up over 75% in all 2021. The price has climbed back up to over $50,000, more than 4% higher, and the total crypto market cap surged 5% to $2.5 trillion.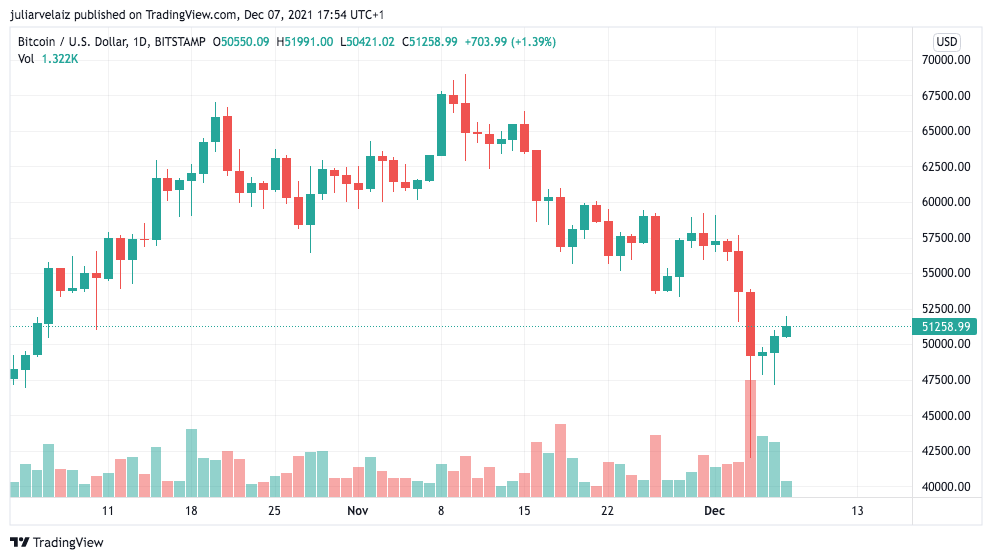 Some expect a hard end of the year for Bitcoin as it has not shown its regular strength, but at the same CNBC quoted Will Clemente, insights analyst at Blockware Solutions, who thinks these dynamics are "healthy and show supply continues to move to long term investors" and BTC could actually see a new bull run at the start of next year:
There's a reasonable case that we could see the opposite effect heading into Q1, as funds are willing to take on more risk for the new year with fresh profit and loss, … This effect assisted in bitcoin's massive move in January 2021.
Related Reading | Ethereum Lacks Momentum Above $4,200, But Dips Likely To Be Limited