After correcting the final streak of losses earlier this week, Ethereum consolidates between key pivot levels for the third day in a row.
This comes as Ethereum's rival, Dfinity, raises $61 million for its product. What could be next for Ethereum? Here's a quick overview.
Ethereum Consolidates Below Daily Ichimoku Cloud
After reaching the all-time-high level at around $1,400 in mid-January, ETH/USD gradually made its way back down to the December support level of $678. This level also falls on the 61% Fibonacci retracement. It is currently consolidating between $678 and the 50% Fibonacci level of $823. The hard resistance is the daily Ichimoku cloud.
These are the exact same levels where Ethereum consolidated for two weeks back in December when it was making its way up to the all-time-highs.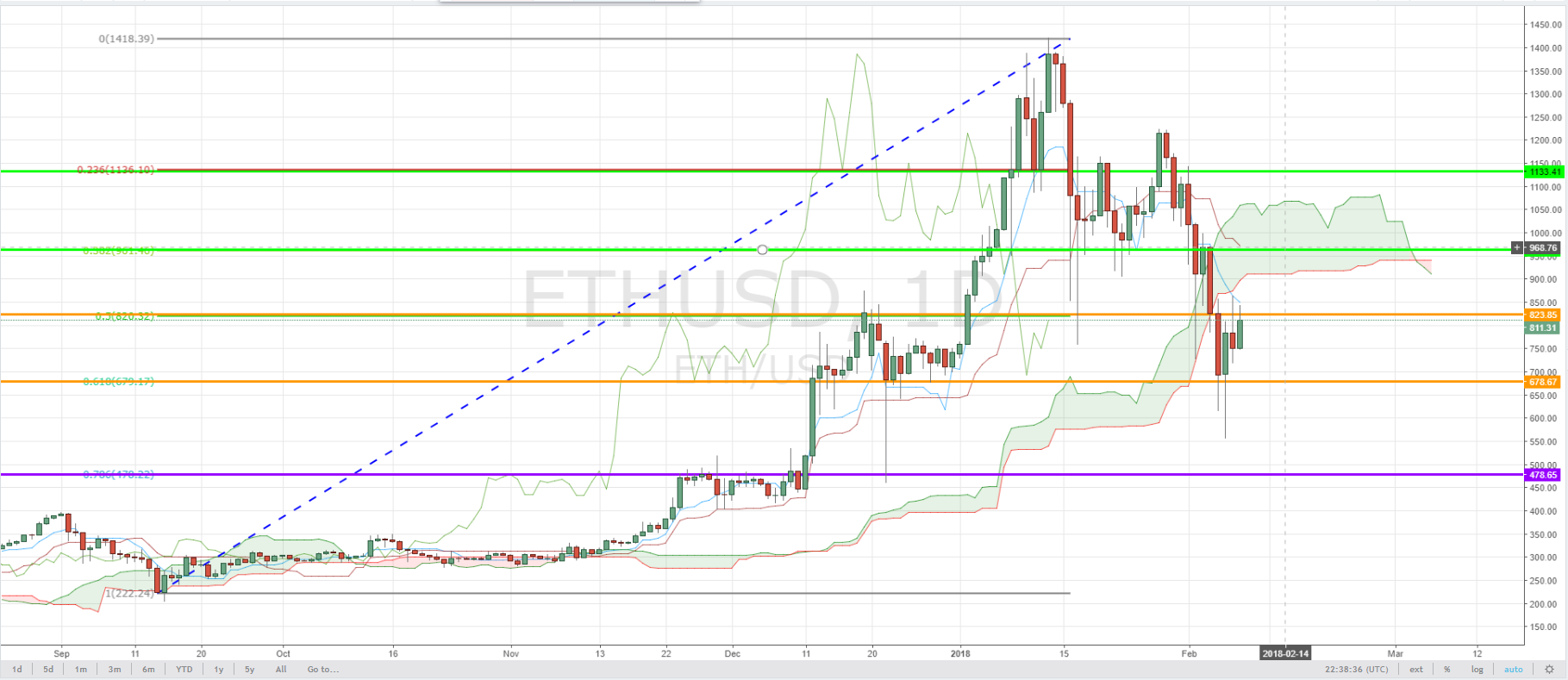 How long will it take for Ethereum to fully recover?
After last week's bloodbath, it could take Ethereum a while to regain its bullish momentum. These types of consolidating behavior aren't that surprising. If the $678 support level holds, we could expect a gradual recovery towards the upper band of the Ichimoku cloud in the next few weeks.
However, there is still a risk of further drops towards the next support level of $478 at 78% Fibonacci.
Ethereum Rival Raises $61 Million
The consolidation comes as a new Ethereum rival, Dfinity, raised $61 million.
DFINITY is a non-profit foundation developing a blockchain-based "internet computer," and are hoping to share it with the world. The product could have unlimited capacity and unmatched performance. Dfinity explained that the internet computer would allow decentralized versions of tech services such as eBay, Uber or Dropbox.
In other news…
Ethereum's co-founder Vitalik Buterin donated $2.4 million in Ether to an Anti-aging research foundation.
Vitalik is the one who threatened to leave Ethereum right before the New Year, saying he's fed up with the immaturity of the digital currency crowd. Now he's staying true to his word by attempting to make a difference through his cryptocurrency fortune. It is now up to the market participants to take the news and decide on their next moves when it comes to Ethereum.