In the last 24-hours, $38 million of Dai were traded for Ethereum on decentralized exchanges and Coinbase. Moreover, a massive spike in Dai trading volume confirmed this pattern, suggesting that investors are bracing for further drops.
A whopping ~$38M of $Dai traded for $ETH in the past 24hrs (v slightly above peg). Mostly on @dydxprotocol and Oasis pic.twitter.com/UlYYatsuMy

— Vishesh ? (@visavishesh) February 27, 2020
MakerDao Dominates DeFi Network
Decentralized finance has been making big waves of late as concern over traditional finance continues to grow. And a major component of this success is attributable to MakerDao, a decentralized credit platform on Ethereum that supports the stablecoin Dai.
"The Dai stablecoin is pegged to the US dollar. Having a stablecoin opens up many new financial possibilities for this burgeoning sector that were not possible before due to volatility. Not only does Dai offer stabilization, but is also offers transparency and decentralization, since it is built on top of the Ethereum network."
Currently, MakerDao has 58% dominance, which equates to $552 million locked into DeFi. In brief, when compared to the next nearest rival protocol, Compound, which accounts for just $148 million locked into DeFi, it's clear that MakerDao, and Dai, are by far the prevailing Ethereum based protocol. As such, major moves Dai are indicative of wider market sentiment.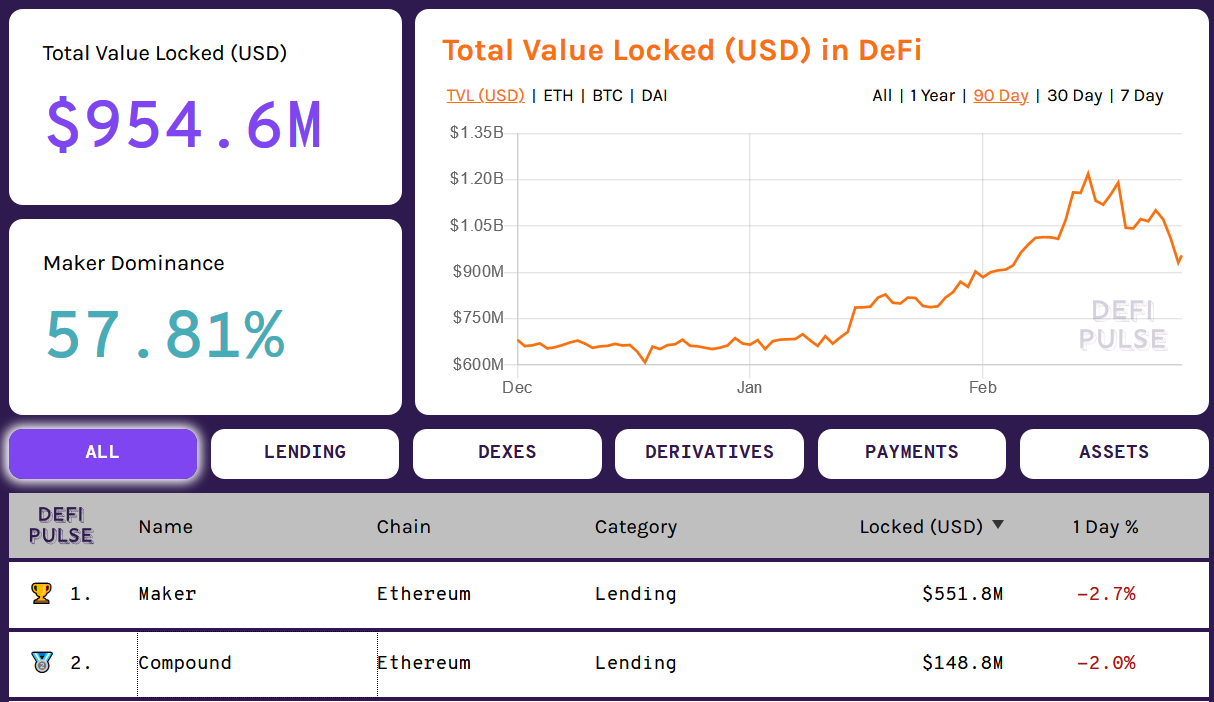 Today, data analyst, Vishesh tweeted that $38 million worth of Dai was traded for Ethereum in the past 24-hours. And a further analysis of data on Nomics shows that Dai's transparent volume is currently up 180%.
Consequently, this would suggest that Ethereum traders are expecting further losses in the short-term. And so, are moving to Dai in order to offset the adverse price movements as coronavirus fears continue to run rampant.
Ethereum Price Analysis
At present, a look at the large-caps shows that Tezos is the only one in the green. An analysis of Ethereum's price chart shows that it has closely mirrored Bitcoin's movement over these past few days.
Much like Bitcoin, the number two cryptocurrency by market cap has experienced three consecutive daily drops since the start of the week.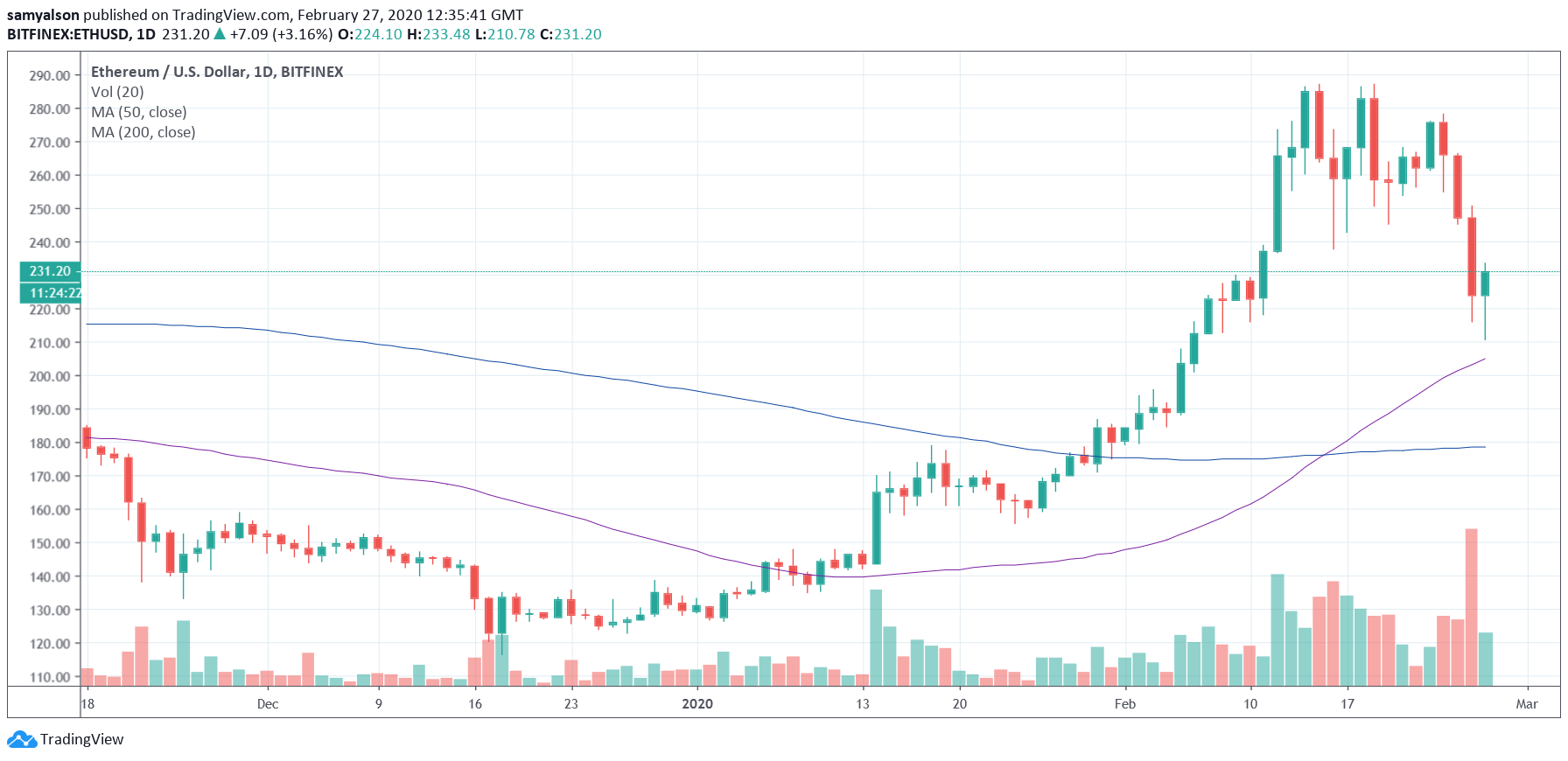 But yesterday saw Ethereum plunge 14%, as bears struggled to offset the slide. Indeed, as a result of the breakdown, support at the $250 level was breached.
Today sees a bounce off support at $210, which has formed into a relief rally of sorts as it attempts to regain $230. But the latest move has triggered a bearish trend line. Meaning Ethereum will struggle at $230. However, a close above that level should see a strong recovery in the short term.
On the flip side, key support lines exist close to the $205 and $200 price levels. And bulls are expected to vigorously defend the $200 handle if further drops do occur.
On a more optimistic note, unlike Bitcoin, the 50-day and 200-day moving average remain intact on the daily chart.