Ethereum has flashed some signs of technical strength throughout the past few hours, which has come about due to the rebound seen by Bitcoin.
The cryptocurrency's ability to surge from lows of $325 earlier today to highs of $355 is a positive development for its near-term outlook, as it does seem to suggest that bulls still have some underlying strength.
Whether or not buyers are able to sustain this momentum may depend largely on where Bitcoin trends next, as the benchmark cryptocurrency has been caught within a bout of sideways trading between $9,950 and $10,300.
Until it breaks through one of these levels, its near-term outlook may remain somewhat unclear.
Despite short-term uncertainties, one analyst is now making that case for Ethereum to be trading within the $5,000 region in the coming year, setting his sights on $5,500.
He notes that this movement could come about as a result of the crypto continuing to guard the macro support it has established within the mid-$300 region.
Ethereum Closely Tracks Bitcoin as It Struggles to Break Consolidation Pattern. 
Ethereum has been closely tracking Bitcoin throughout the past few days, which has caused its price to oscillate between $320 and $360. Both of these levels have been ardently defended.
Yesterday, some turbulence in stock futures caused Bitcoin's price to dip as low as $9,950. This created headwinds for the aggregated market and sent ETH's price reeling down towards $325.
Bulls ardently defended against a break below this key support level, and a rebound in equities helped lead the entire market higher subsequently.
Ethereum is now trading around $350, with buyers losing some of their momentum. Where it trends next should depend largely on whether or not Bitcoin is able to break the resistance it faces at $10,300.
Analyst: ETH Could Rally Past $5,000 in 2021
While zooming out and looking towards Ethereum's macro price action, one analyst observed that the cryptocurrency may be positioned to see a move up towards $5,000 during its next parabolic cycle.
He reckons that this will come about as soon as 2021.
"ETH 2021 Chart: Honestly something I think is pretty likely, while the timeline may be a little off, the overall upside momentum and possibility over the coming years could be $5500 target. Price holding above major support level that has been resistance for past 2 years…"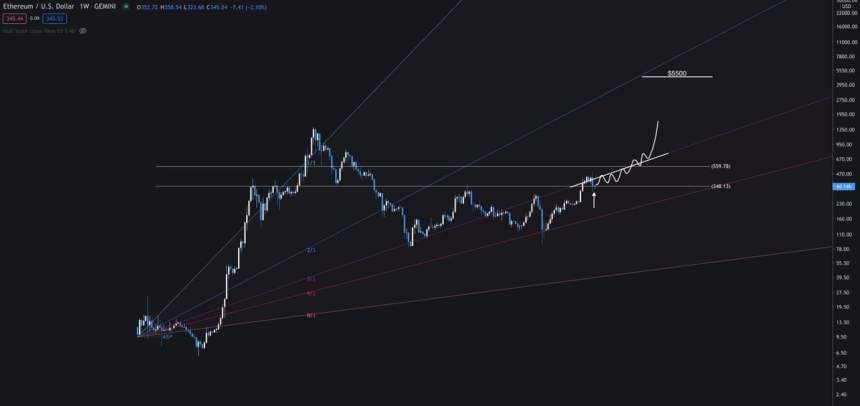 Image Courtesy of Cactus. Chart via TradingView.
For this possibility to come to fruition, the aggregated crypto market will have to shatter its choppy trading pattern seen throughout the past few months and begin kicking off a fresh parabolic cycle.
Featured image from Unsplash.
Charts from TradingView.