As the broader cryptocurrency market breaks out on the back of Bitcoin's big rally, FET is the next altcoin to double-digit gains. The AI cryptocurrency at one point hit 14% higher intraday.
The move could be the start of something special, according to a "golden" signal in Fetch.ai.
FET Soars 14% As Golden Cross Triggers
FET is up 14% today as cryptocurrencies across the board see significant gains led by Bitcoin (BTC) this week. Even before the big move, the AI coin had opened this weekly trading session forming a golden cross of the 50-week and 200-week moving averages.
A golden cross occurs when a short term moving average crosses above a long-term moving average from below. This is a buy signal in trend-following technical systems and suggests that a new trend is potentially blossoming. A death cross is the opposite sell signal.
While the signal in and of itself is bullish based on the performance of trend-following systems, FET could be showing itself as a crypto market leader by being among the first coins to form such a golden cross. Ethereum (ETH) and Bitcoin are still death crossed, for example.
Even recent market stars Chainlink (LINK) and Solana (SOL) haven't formed a golden cross on the weekly timeframe.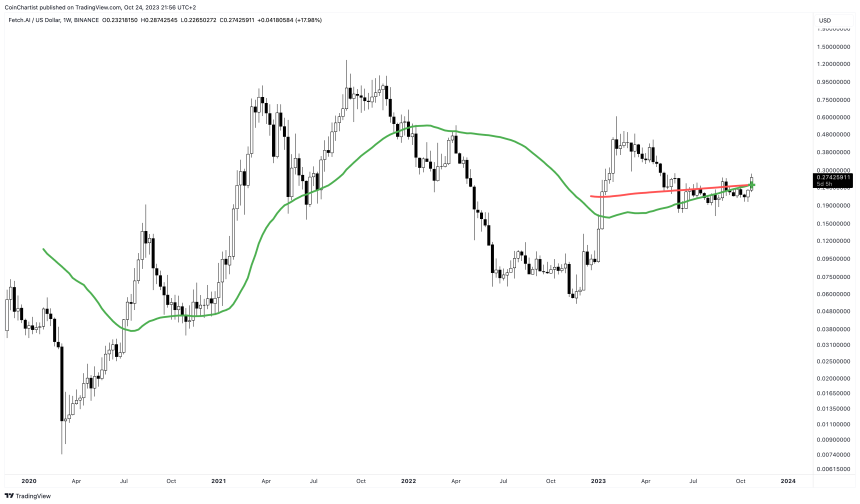 The golden cross has formed | FETUSD on TradingView.com
Can Fetch Recapture AI Hype?
There's no denying fetch.ai's latest double-digit price surge has brought fresh excitement and validation to the project. The startup's vision of an AI-powered decentralized machine economy clearly resonates with many crypto investors. Furthermore, hype around AI leftover from Nvidia's epic rally could find its way further into Fetch.ai.
FETUSD rallied by more than 2380% starting from October 2020 through April 2021. In late 2022, Fetch.ai did another 900% following the release of ChatGPT and other big AI projects. What might this next rally result in for return on investment, if it continues higher?
Former all-time highs reside around $1.20, which could be the next logical target if price exceeds $0.60, which was the 2023 peak so far. Beyond that, FET would enter price discover and there is no telling how high it could go. But with only two months left in 2023, the $0.60 peak might stand as the record, with FET not able to break above it until 2024.