Bitcoin is known for its parabolic rallies. Every few years, the leading cryptocurrency embarks on bull markets that take it hundreds, often thousands of percent higher in a year's time.
In 2017, for instance, BTC started the year under $1,000 and peaked in the middle of December at $20,000. And during 2013's rally, the cryptocurrency rallied from double digits to over $1,000 in six months.
Macro BTC price chart from TradingView.com
Although BTC has matured, gaining steam as a viable investment on Wall Street, there remain some in the industry still expecting parabolic gains.
There Are Still Bitcoin Investors Expecting Parabolic Rallies
Pseudonymous Bitcoin analyst "PlanB" shared the image below on July 5th, showing there are three years over BTC's lifespan where it has rallied over 1,000%. Those years, as one can guess, are 2011, 2013, and 2017 — growth years for the cryptocurrency.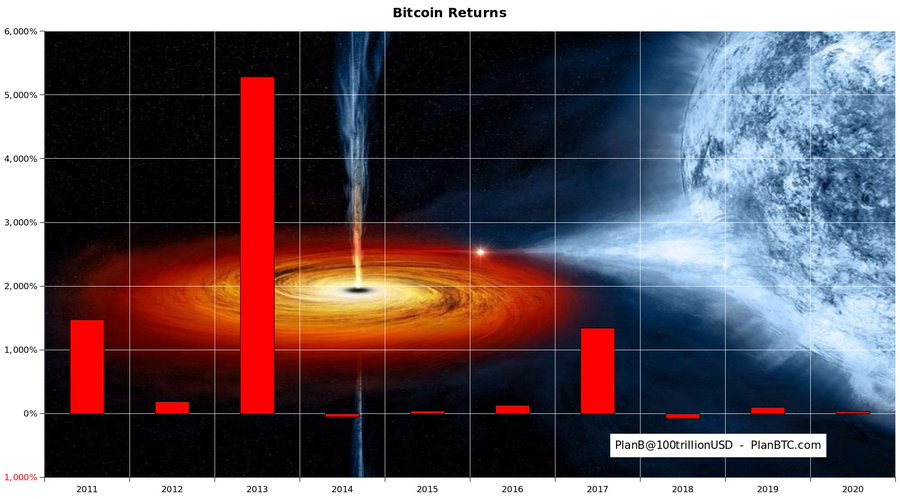 Image from "PlanB" (@100trillionusd on Twitter) showing BTC's performance over each year.
Bitcoin's exponential growth in those years somewhat made sense: each year of 1,000%+ growth was marked by an influx of users, with each successive wave getting bigger.
But as BTC has stalled over the past two years, some believe that Bitcoin is at a macro plateau. You see this sentiment in comments from Peter Schiff, the prominent gold bull who says Bitcoin has no intrinsic value and is a textbook bubble.
But according to a Twitter poll conducted by PlanB, 43.9% of 9,517 respondents expect Bitcoin to see more 1,000%+ return years. That's not a majority, sure, but that's no percentage to scoff at.
Most Aren't That Bullish
While Bitcoin investors will welcome years in which the asset appreciates by over 10 times, not everyone expects it to happen. Even some of BTC's most prominent bulls aren't that optimistic — at least not at the moment.
Take the example of Mike McGlone, a senior commodity analyst at Bloomberg Intelligence.
Over recent months, he has been one of BTC's most public bulls on Wall Street and in the mainstream media.
He released a report at the start of June indicating that Bitcoin could hit $20,000 by the end of 2020. McGlone's optimism was based on his analysis that BTC's current price action looks similar to that seen after the 2016 block reward halving.
Bitcoin following the path it took the last cycle purportedly implies a year-end price of around $20,000.
There's also Pantera Capital, whose co-heads Dan Morehead and Joey Krug released a March report on their Bitcoin outlook.
Although they mentioned a possible scenario where BTC trades above $100,000, their current base expectation is BTC reaches $20,000 by early-2021.
This is not to say that BTC won't see 1,000%+ yearly gains in the future. But these statements suggest that even amid an extremely strong macroeconomic environment, Bitcoin still faces headwinds preventing it from gaining 1,000% in a year.
This may simply be a byproduct of the fact that at a ~$200 billion market capitalization, BTC's rate of growth is capped.
Featured Image from Shutterstock
Price tags: xbtusd, btcusd, btcusdt
Charts from TradingView.com
Nearly 50% of Crypto Twitter: BTC Will See 1,000% Return Years