Band Protocol was an early winner in the DeFi craze, posting massive gains throughout August based on a combination of hype for oracle tokens, integration news, and exchange listings.
This allowed it to surge from the lower-$2.00 region to highs of $18.00 – marking a massive rise that came about early on in the course of the ongoing DeFi bull market.
Although the cryptocurrency's momentum has since stalled, analysts are now noting that it may be well-positioned to see significantly further upside in the near-term.
There are a variety of factors that support this notion, including a recently announced partnership with Tron, as well as mounting technical strength.
The confluence of these various factors has led one top analyst to go long on the crypto, noting that he expects it to set fresh highs in the near-term.
Band Protocol Shows Signs of Strength as Analysts Eye Upside
At the time of writing, Band Protocol is trading down just over 4% at its current price of $14.77.
Although it declined this morning alongside the rest of the crypto market, it has been showing signs of strength throughout the past few days.
Yesterday, BAND's price was able to surge as high as $17.50, nearly setting fresh all-time highs as the aggregated market flashed some signs of strength.
This is around the point at which Bitcoin lost its momentum and dived from $12,100 to lows of $11,000. From here it bounced slightly and has been trading sideways ever since.
Analyst: BAND Outlook Grows Bright Following Tron Integration
The latest noteworthy integration that the Band Protocol's oracle network has received is from the Tron blockchain, which will be using BAND's data streams for their decentralized application network.
This integration was announced in a recent tweet:
"[Tron] has strategically partnered and successfully integrated Band Protocol into TRON, one of the largest blockchain platforms, to provide scalable and secure BAND oracles for an ecosystem with almost 1000 decentralized applications."
This news, coupled with mounting technical strength, has led one top analyst to flip long on Band Protocol, noting that he still expects it to set fresh highs in the near-term.
"BAND is breaking out of the last significant resistance in its price history. Three reasons I think this starts making new highs: • [Justin Sun] announcement yesterday • technical breakout today • relative value to LINK makes it a nice way to play oracles," he explained.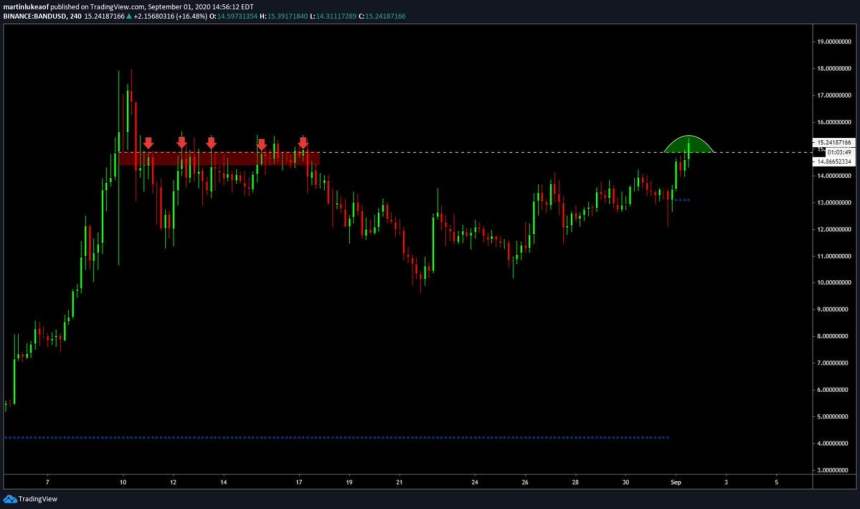 Image Courtesy of Luke Martin. Chart via TradingView.
Whether or not BAND trends higher in the near-term may depend on if Bitcoin and the other major altcoins can continue providing tailwinds to the mid-cap digital assets.
Featured image from Unsplash.
Charts from TradingView.