IOTA bears are driving prices lower and are now aiming at $3.9 support level. At the same time, LTC bulls are slowing down and after an over-extension on December 12, bears followed through and price action is seeking for equilibrium as it makes lower lows.
LTC should found support at around $280 which is the 50% Fibonacci retracement level drawn from December 2017-November 2016 high lows.
Let's look at the charts:
NEM BULLS SLOW DOWN AND RETEST MIDDLE BB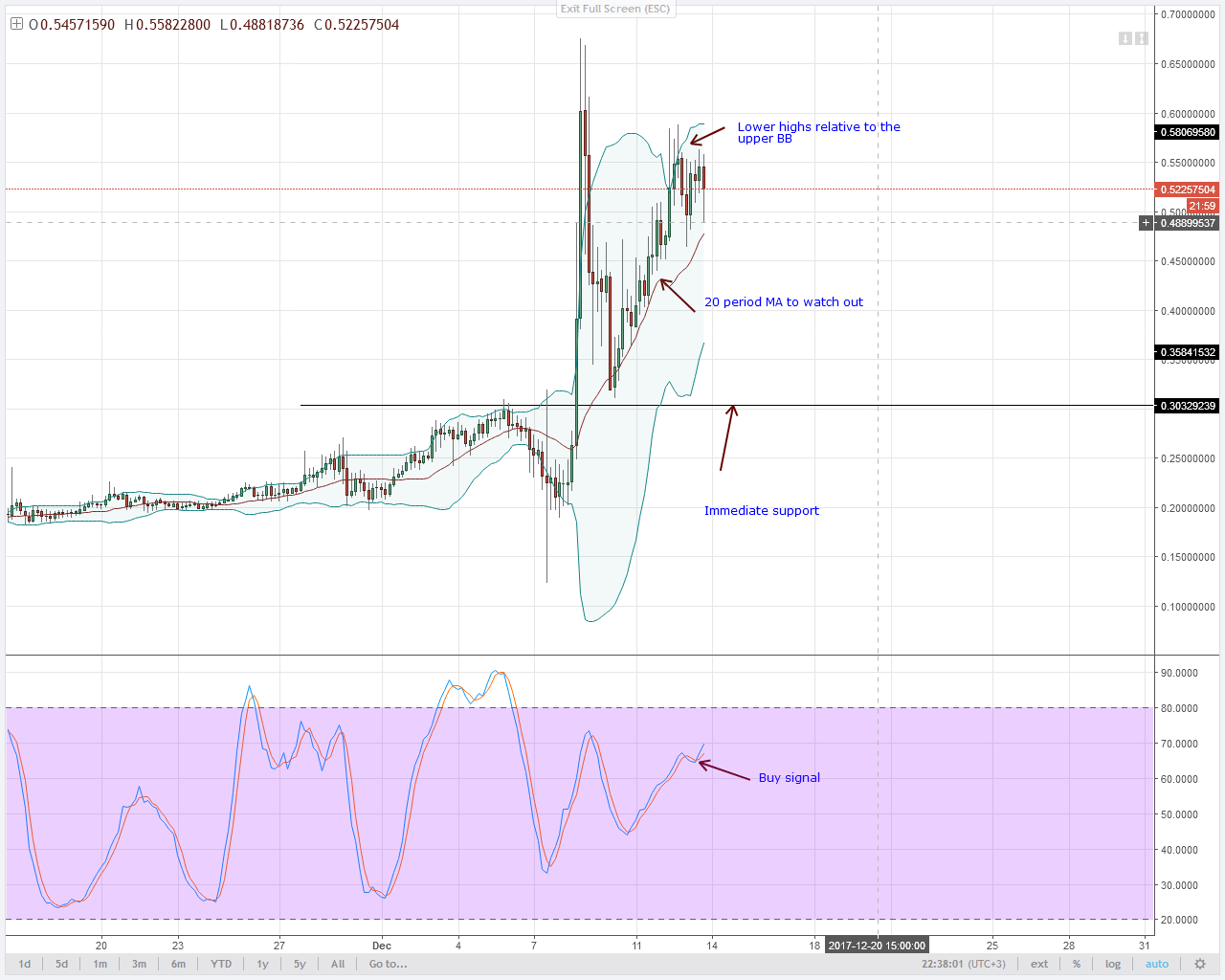 Buyers are finding it hard to push prices above the 61.8% Fibonacci level.
We notice that even after yesterday's strong buy momentum, NEM is now back peddling and over the past few sessions, we are seeing that horizontal consolidation with lower highs relative to the upper BB.
The middle BB is our immediate support and any retest presents a buying opportunity since the stochastics are still positive.
AFTER TESTING $960, DASH BULLS SLOW DOWN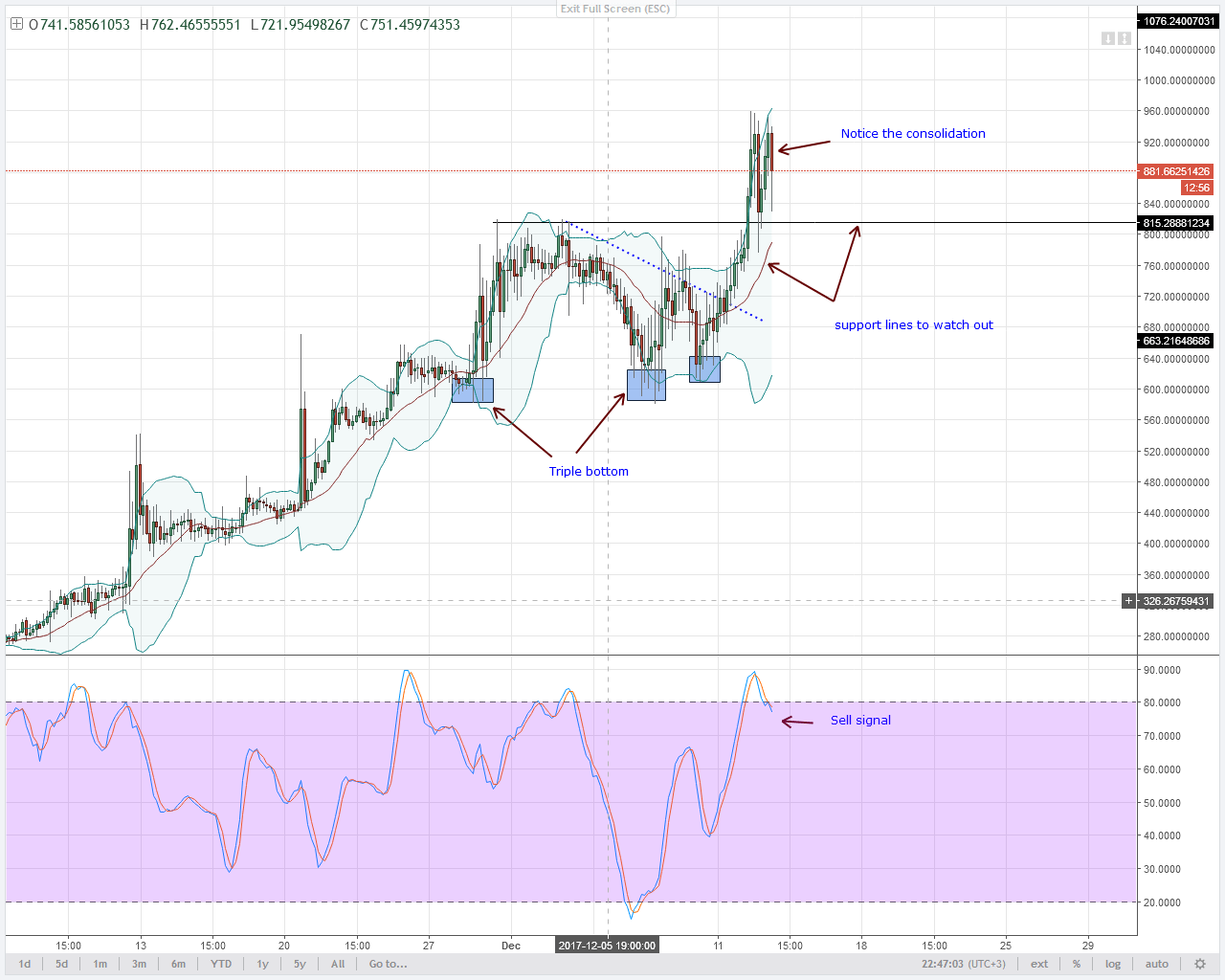 DASH bulls are finding resistance at $960 as we can see from the charts. Even if there is resistance, that strong bearish engulfing pattern could not be confirmed in consequent sessions. DASH prices inched up before dipping as we can see.
The general trend is bullish. Therefore, our immediate support is the 20 period MA and December 3 highs of $820.
Two things can happen today. First, DASH bears can continue driving prices lower according to the stochastic sell momentum. In that case, our support will be as mentioned.
If DASH prices recovers and bulls surge past $960, then we should be targeting our second take profit level as Fibonacci Extension projects at $1070.
IOTA BEARS NOW AIMING AT $3.9 SUPPORT
After consolidation and a fake bullish breakout on December 12, IOTA bears are now leading the way. In fact prices are now trending below the minor support trend line.
By doing so, it broke the 20 period MA-a level which has been reliable for the past one month. As such, odds of IOTA prices recovering once a stochastic buy signal forms is high.
That recovery will be ideal if it happens around the first support level at $3.9 or $2.8.
$300 IS NOW SUPPORT AFTER MONERO BULLS BREAK AND CLOSE ABOVE
Now that Monero bulls are trending above $300. By the way $300 is a sensitive round number and we expect some sort of a retest.
Already, we can see some lower highs relative to the upper BB and a stochastic sell signal turning from the overbought territory. If today's prices close below the main support line at $300,then 20 period MA should act as a point of equilibrium and support in the coming session.
Otherwise, if bear momentum is strong and prices close below both levels then we shall wait until a stochastic buy signal prints at the oversold territory. A confirming bullish candlestick will further smooth our long entry.
Conversely, any close above $330 should mean bull trend continuation and a path towards $400. Anyway, we are now seeing some long lower wicks.
LTC BEARS DRIVING PRICES LOWER…$280 NEXT TARGET?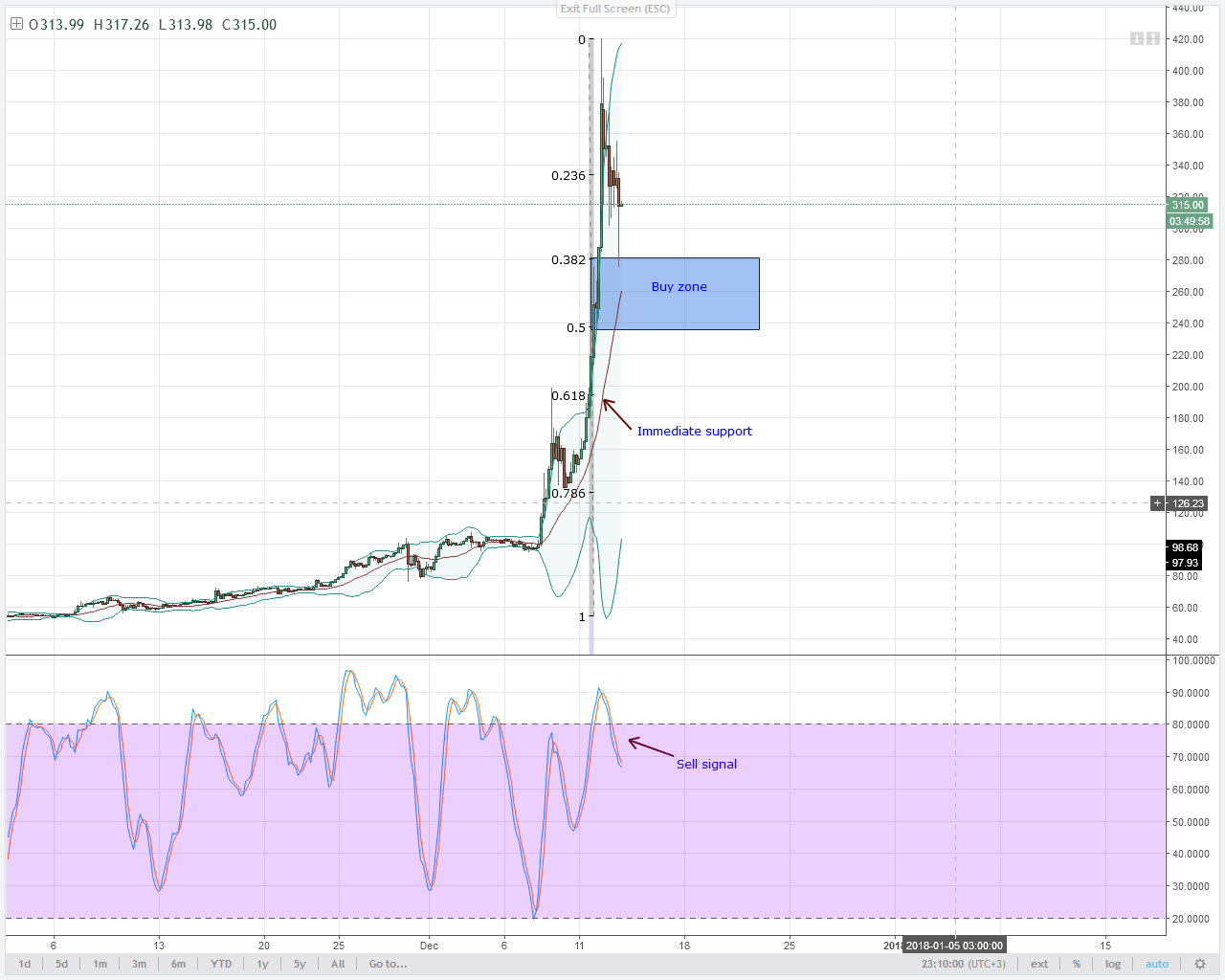 Following our over-extension has mentioned yesterday, LTC bears are now driving prices lower.
There is a stochastic sell signal in place meaning USD bull pressure is strong. However, we expect some support and or consolidation after the middle BB is tested.
If consolidation follows, the formation of a stochastic buy signal and a confirming bull candlestick shall trigger entry of long positions. This would probably happen at around $240-80 buy zone.
All charts courtesy of Trading View