As IOTA consolidates, Monero and DASH are bouncing from the minor support trend line and the triple bottoms respectively.
Of the 5 alt coins we are focusing on, NEM is the only token that has gained ground this week.
NEM BUYERS EYEING $1.1
Nothing serious for NEM. Our trade plan is panning out well. From yesterday's price action, the 38.2% Fibonacci retracement seem to be a perfect spring board for buyers.
On the secondary chart, the stochastics are turning from oversold territory complete with a buy signal. Because everything is going according to our plan, our immediate bull target at $1.1 remains unchanged.
DASH FOUND SUPPORT AT THE TRIPLE BOTTOMS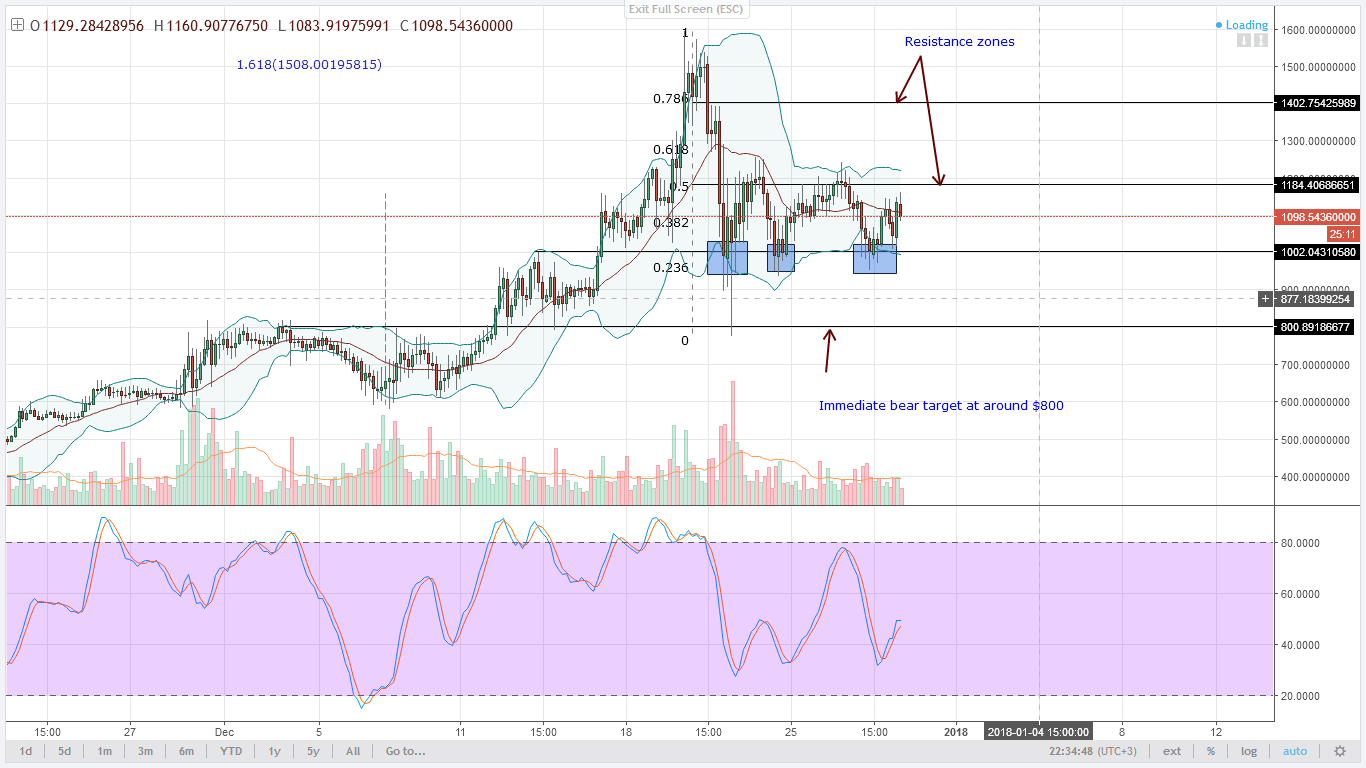 The charade continues. Even after DASH tested the triple bottoms with sellers appearing to be in control, buyers jumped in and buoyed prices.
The $1000 round number not only proved sensitive but a perfect trampoline for buyers. Any close above $1200 or the 61.8% Fibonacci retracement level on the upper side will invalidate our bear projection.
Considering the buy signal which has been printed, any pump to confirm the recent bull candlestick in the 4HR chart shall increase odds of bear cancellation.
IOTA CONSOLIDATES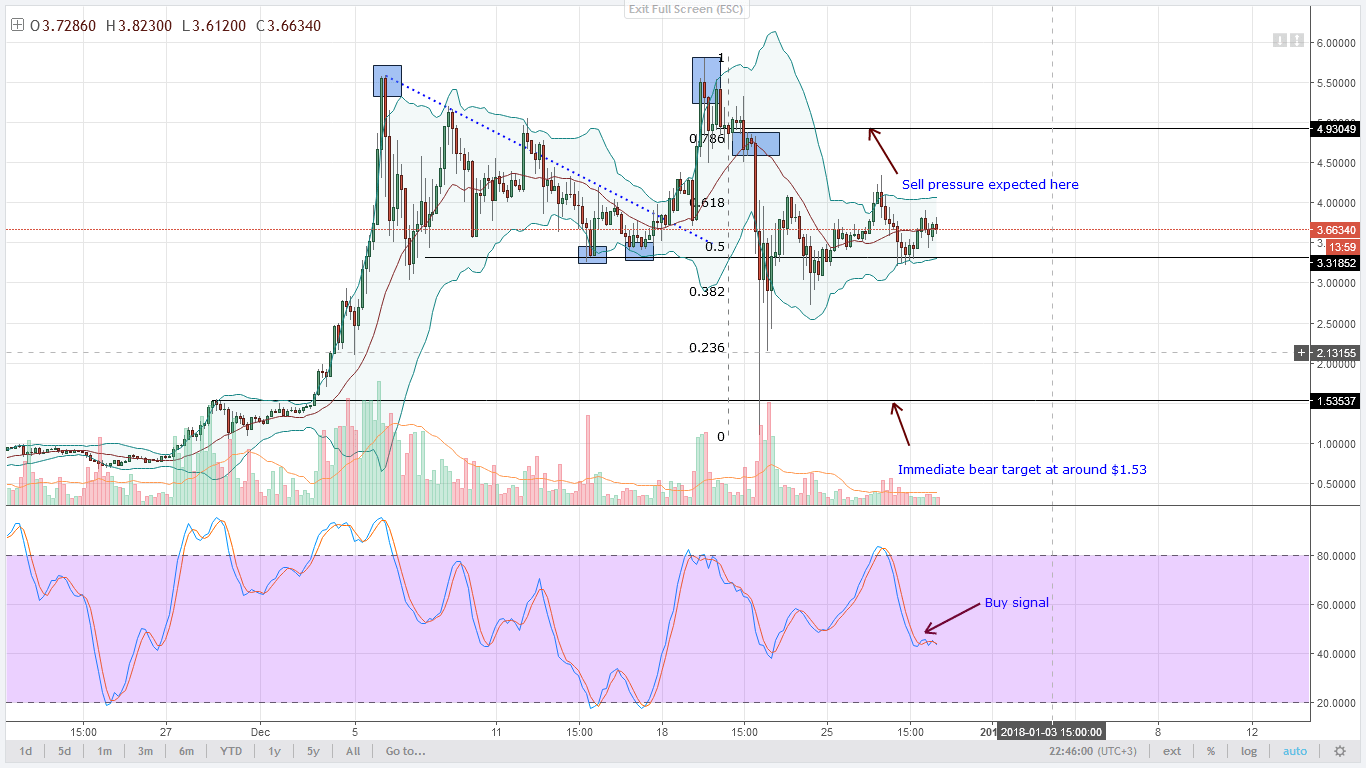 Even though we can see IOTA found support at $3.3, it is highly likely that a retest will be on the cards in the coming days. Besides the persistent sell pressure, we have to note the influence of the middle BB.IOTA prices have been moving along it in the past 4 sessions.
From the chart, a stochastic buy may print. Therefore, we shall have to see if IOTA price action will follow through and sync with momentum.
Of course, $5 is our immediate resistance and should act as our ceiling in the next couple of day. What is of importance though is the support at $3.3.
We need a strong close below it to confirm sell pressure otherwise this consolidation will render stochastics useless.
MONERO PRICES BOUNCE FROM THE MINOR SUPPORT TREND LINE
A couple of Monero higher highs relative to the lower BB is relieving for buyers. Additionally, the fact that there is support at the minor trend line hints of possible reversal and paring of December 22 losses.
The 61.8% Fibonacci retracement level from where I recommended selling will be our immediate resistance level and assuming prices close above it, then well, we shall have no option but to trade with the trend.
LTC FINDS RESISTANCE AT $255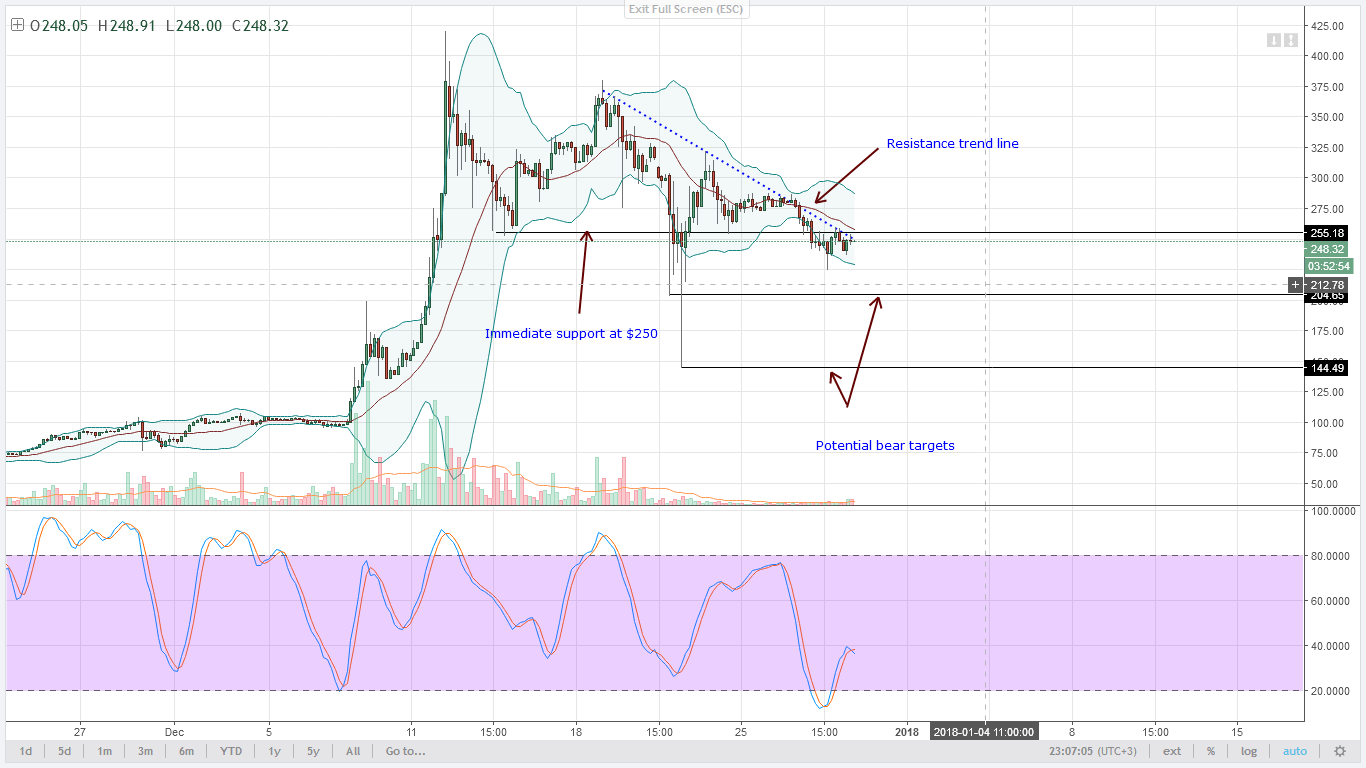 We are definitely in a down trend and should $255 and the minor resistance trend line remain a reliable LTC price tag, then it is likely that the bear pressure we saw yesterday may continue.
There is a little bit of buy pressure yesterday but the fact that buyers are not able to break past the immediate resistance at $255 means we continue shorting with every LTC appreciation.
Conversely, if prices blast through the middle BB and the minor resistance trend line by New Year, then LTC might be on a path towards recovery.
All charts courtesy of Trading View