After a period of lower lows, IOTA is now bottoming.
There is a clear IOTA double bottoms and a stochastic buy signal in place meaning bull trend is in progress. If IOTA prices close above the middle BB then we expect December 6 highs of $5.6 to be our immediate target.
LTC is also on the same wavelength and $420 should be the next target now that there is a clear buy signal and close above the middle BB.
Let's look at the charts:
NEM AT ALL TIME HIGHS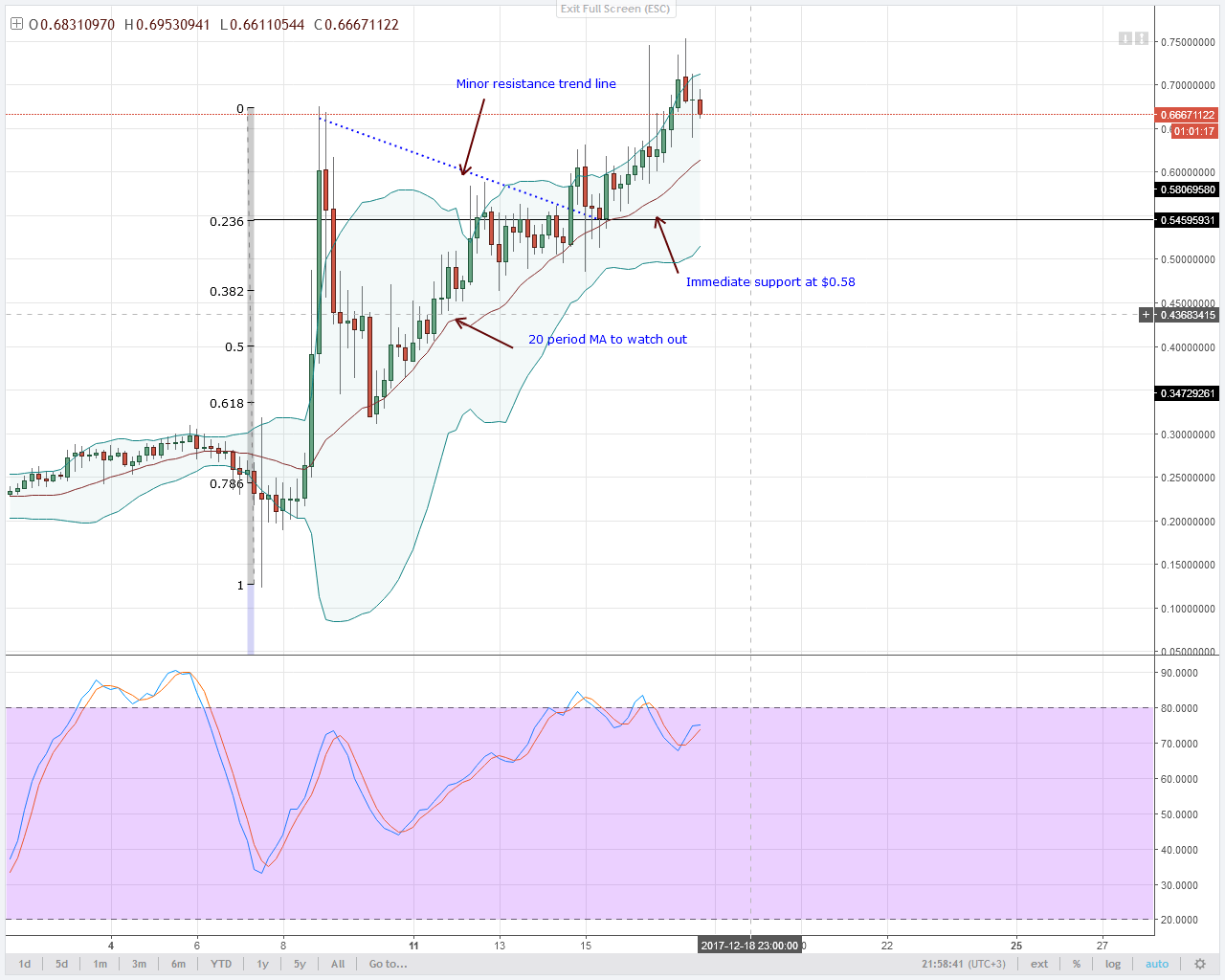 Generally, there is an explosion in the alt coin market. NEM is no exception, with series of higher highs after that break above the minor resistance trend line on December 16. Considering price action set up, there is a window for more upside.
Price action shows that. As the chart shows, we expect prices to retrace probably to the middle BB for equilibrium before trend resumption.
As such, December 8 highs will be our first support line while the middle BB will be the extra support buffer just in case USD bulls drive prices lower.
DASH BULLS CLEAR $1070 TAKE PROFIT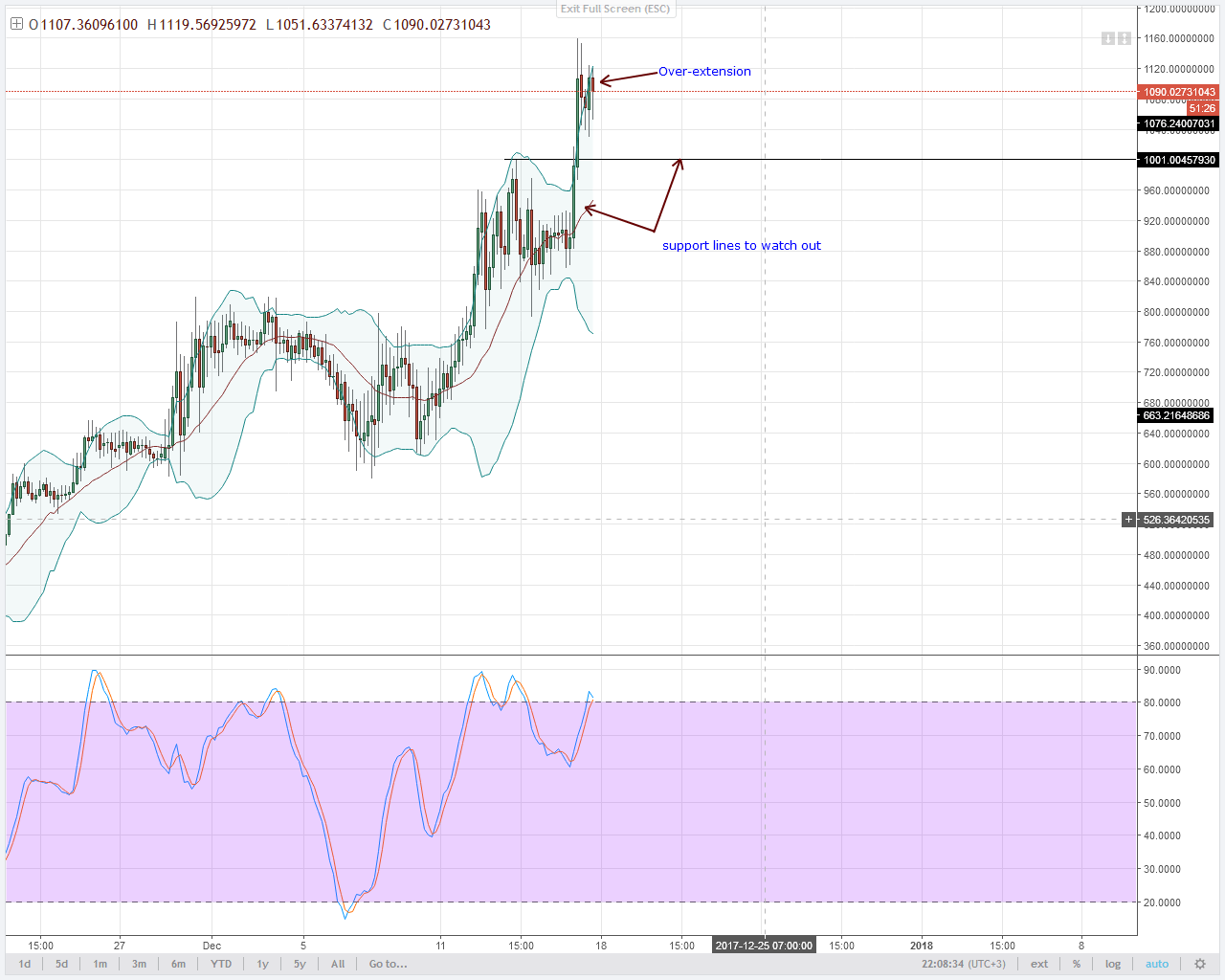 DASH bulls are in charge after the minor resistance line was broken on December 16.
As it is, those higher highs led to price action clearing our second take profit level as projected by Fibonacci extensions.
Because the weekly chart is bullish, we expect DASH to slow down and this retracement might lead to middle BB retest now that we have a little bit of DASH over-valuation.
Immediate support is at December 12 highs of around $1000. Even though stochastics are bearish complementing this over-extension, we shall only be taking longs.
In line with our bullish trend in the weekly chart, any close above December 17 highs will invalidate this short term, equilibrium seeking correction.
IOTA DOUBLE BOTTOMS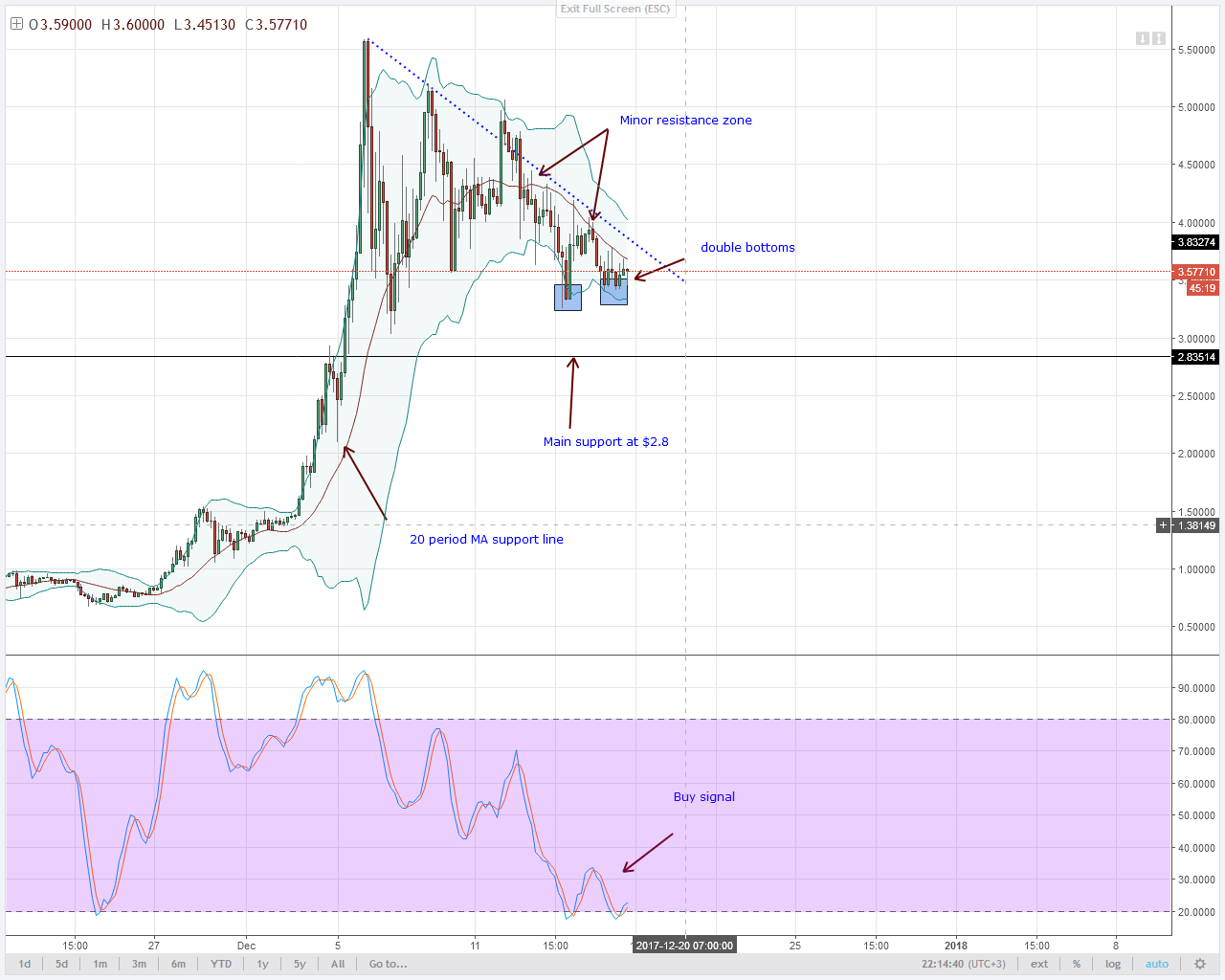 We have IOTA double bottoms and higher lows relative to the lower BB meaning bull pressure is building up.
In the weekly chart, bulls are in charge. As trend traders, we shall only initiate long positions.
Because there is strong technical combination of bull pressure especially with this stochastic buy signal printing at oversold territory. Moreover, there is a clear IOTA double bottoms, it a right time to look for buys.
That will be ideal if there is a close above the middle BB and the minor resistance trend line.
MONERO TESTS $360, PATH TOWARDS $450?
Picking up tops in a strong uptrend is often futile. The most pragmatic thing to do is to buy from dips and this is what we should be doing.
After that close and break above $340, Monero bulls added $20. At the moment, we can see some form of bear divergence developing.
If there is a close below the 20 period MA, Monero prices might drop back to $300. Afterwards, we expect bulls to resume their trend.
The best approach is to wait for a stochastic but signal to print. Alternatively, you can  set a buy stop above $360 to capitalize of surges.
LTC BULLS EYE $420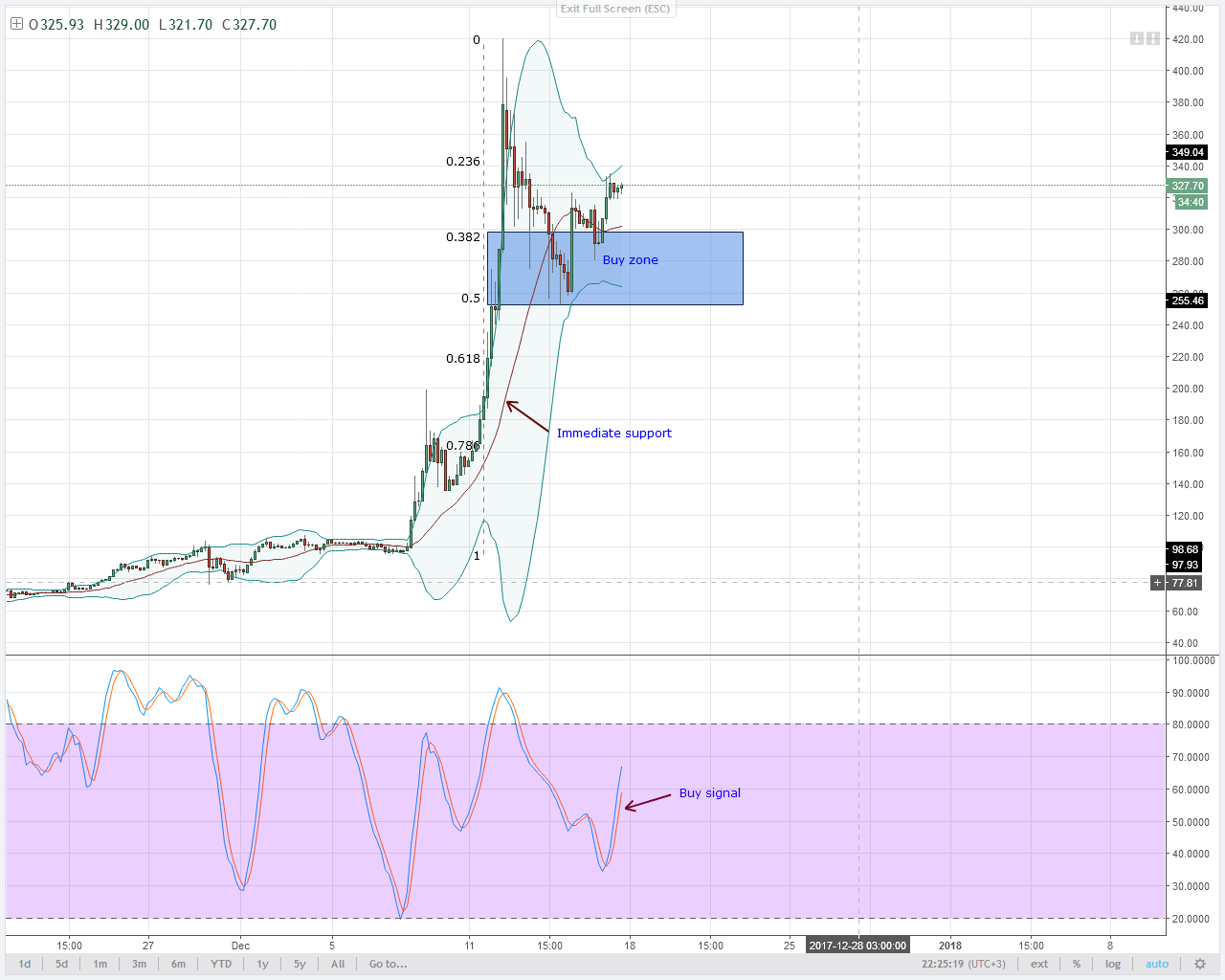 Weekly trend is bullish and already we have that close above the middle BB with stochastic buy signal in place.
Because price is reversing between our 38.2% and 50% Fibonacci retracement levels, we expect LTC bulls to test December 12 highs of $420.
All charts courtesy of Trading View