There is a minor recovery for most alt coins prices and as IOTA prices stall at $4.2, a bear pin bar is clear in NEM and DASH.
It will be interesting for NEM especially now that sell pressure is expected anywhere at around $1.1.
Unlike NEM, LTC set up is a little bit complex but one thing is certain, if buyers push prices past $290, then bears would no longer be in charge.
Let's have a look at other charts
DOJI AT RESISTANCE…WILL NEM SELLERS CONFIRM THIS?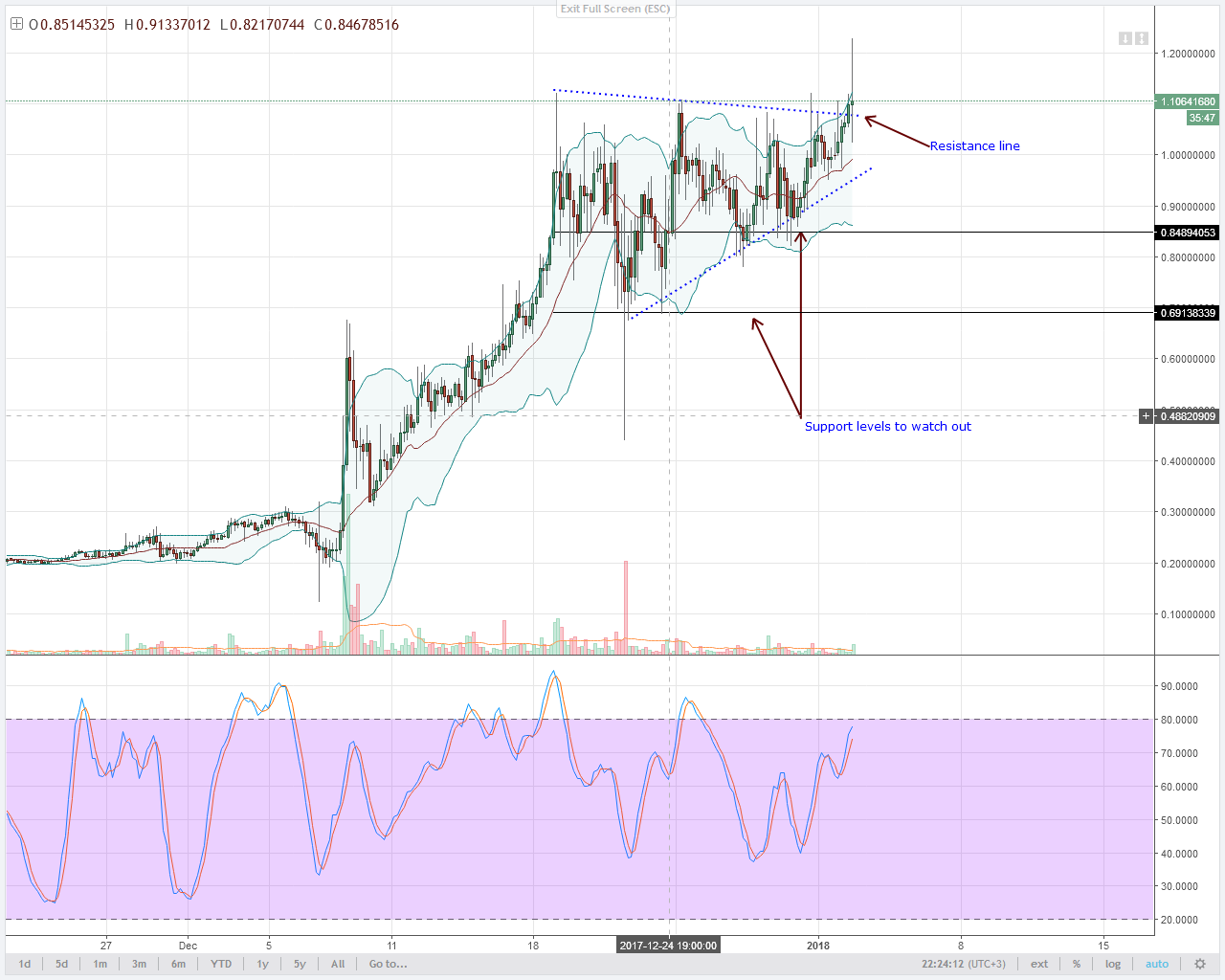 So, there we go guys. That is the sell pressure I'm talking about and odds of bears confirming this doji candlestick is high.
Remember since the beginning of the year, I have been laying emphasis on the importance of the wedge and the upper limit especially now that there is a slight over-extension of NEM prices in the weekly chart.
I'm looking forward for a little bit of depreciation say back towards $0.84 but if this week's candlestick closes as a bear, then more price erosion is likely in the coming days or weeks.
For now, let's see if bears will confirm my assertion and correct.
DASH PIN BAR AT 78.6% FIBONACCI RETRACEMENT LEVEL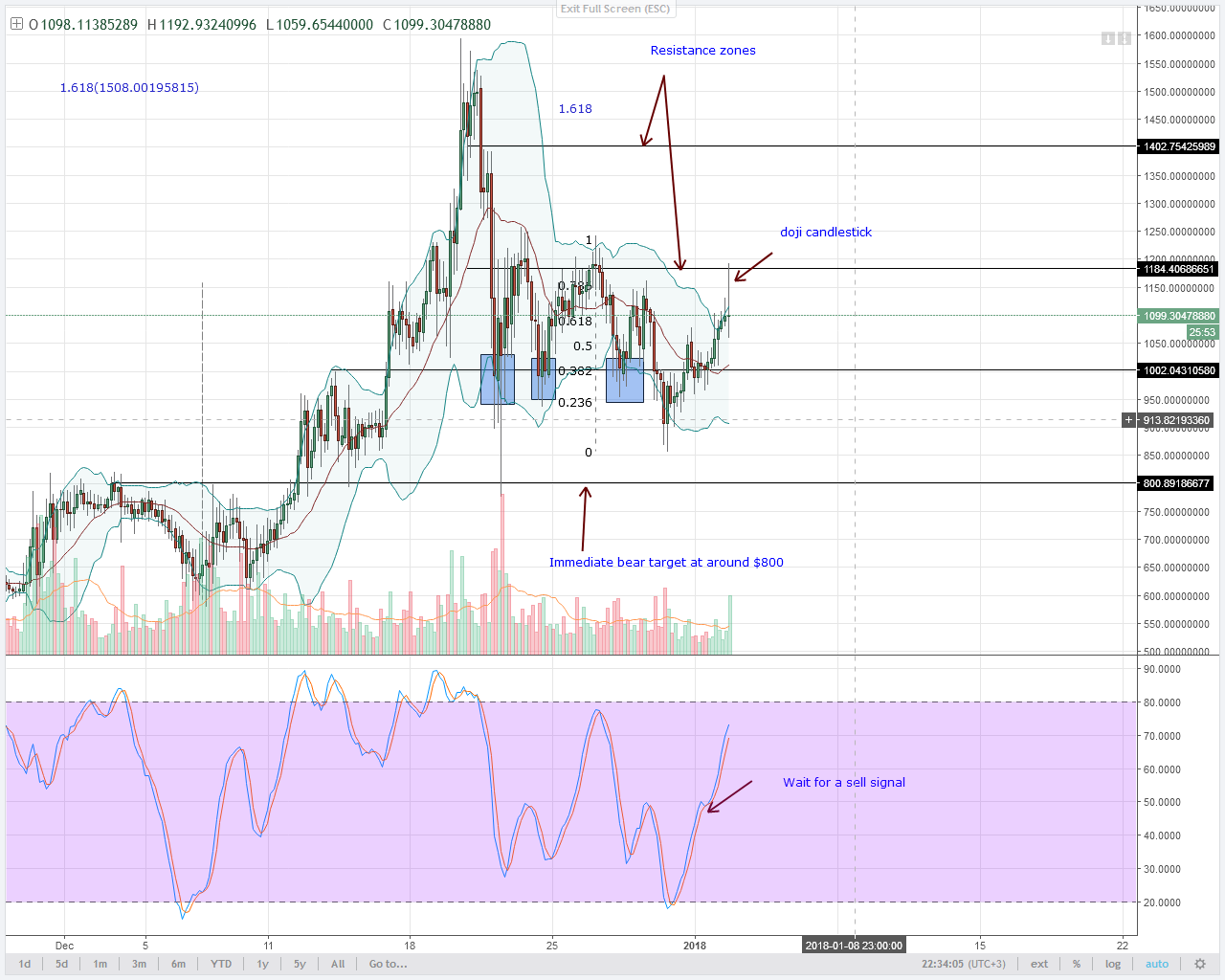 Let's go back to the very beginning and refer to Monday's analysis where we highlighted the general DASH trend in the weekly chart.
It is clearly bearish and therefore sellers should be looking for better entries in the 4HR chart to short. To facilitate such, a Fibonacci retracement tool is a got to tool for fine tuning entries. We shall therefore draw one anchoring on last week's high lows.
Even though a stochastic sell signal is yet to print, there is a bear pin bar turning from around $1200 which is last week's highs.
I recommend sellers to stay on the wings for now. However, should there be confirmation, then sellers can jump in right after the close of that bear candlestick.
IOTA PRICES STALL AT $4.2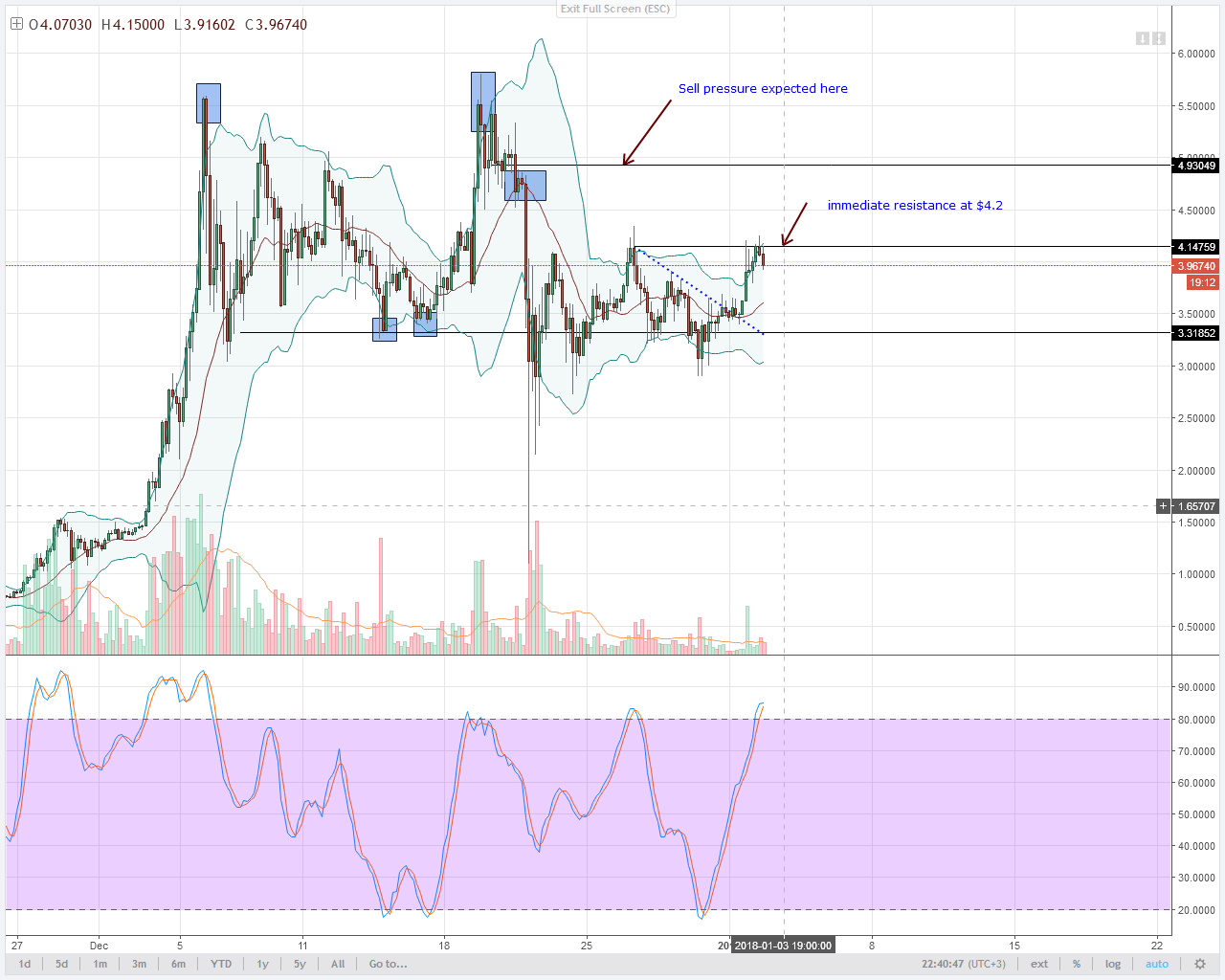 Notice how IOTA prices are stalling at around $4.2?
Even though IOTA buyers should atleast aim for $5.5 and perhaps continue with the over-all, long term buy trend, there is an obvious IOTA over-valuation in the weekly chart. Regardless of what happens, we cannot water down the potential of further trickle down especially if this week's candlestick ends up bearish.
On top of this 3-bar reversal pattern at resistance, a stochastic sell signal is likely to print. However, this is dependent on if bearish soldiers continue to print in the coming sessions.
Anyhow, I recommend buying in there short term with immediate targets at $5.5.
MONERO CLOSE ABOVE MINOR RESISTANCE TREND LINE IN THE 4HR CHART….MORE UPSIDE IN VIEW?
From yesterday's chart, Monero prices went according to our plan.
There was that slice and close past the minor resistance trend line. This also meant a short term buy strategy atleast until a clear stochastic sell signal prints.
Of course that would be ideal. But in case prices surge and reverse at higher-and better prices then the better for sellers. Remember, the weekly chart is bearish and we therefore take shorts only.
CLOSE ABOVE $290 INVALIDATES LTC BEAR FORECAST
Trading LTC in the short term is simple. Besides the recovery, there is a 3-bar morning star reversal pattern in the daily chart.
The weekly chart on the other signals a sell. Now, this is the thing, if prices surge past $290 today or even tomorrow then we cancel our sell projection. Simple as that!
All charts courtesy of Trading View