The flagship cryptocurrency kicked off the week on the right foot, rising to a high of $9,800 on Monday. But the upswing appears to have been significant enough for some investors to take profit. Subsequently pushing the price of Bitcoin down to nearly $9,000.
The sudden bearish impulse wiped out over $62 million worth of long and short BTC positions on BitMEX alone. Regardless, a considerable amount of buy orders were triggered around the $9,100 support level allowing Bitcoin to rebound quickly.
Bitcoin's $9,100 Support Level Holds Steady. (Source: TradingView)
The recent price action sent investors into "fear," according to the Crypto Fear and Greed Index. Despite the negativity around Bitcoin, a key on-chain metric reveals that sizable opportunities are usually presented when fear reigns the markets.
Bitcoin Is On the Cusp of Its Next Bull Market
Santiment's NVT Token Circulation Model estimates that there is a high probability that Bitcoin will soon resume its history uptrend. This fundamental index takes into consideration the current valuation of the network and the value transacted within it.
Based on these metrics, it seems like "enough Bitcoin token circulation has been generated in June" to support a further upward advance.
"History has demonstrated that this model has been quite accurate in predicting when unique tokens are being transacted at an appropriate rate in comparison to current market cap levels. And after May's signal accurately assessed that a top was imminent, we are again seeing an above-average health in token circulation on $BTC's network," said Santiment.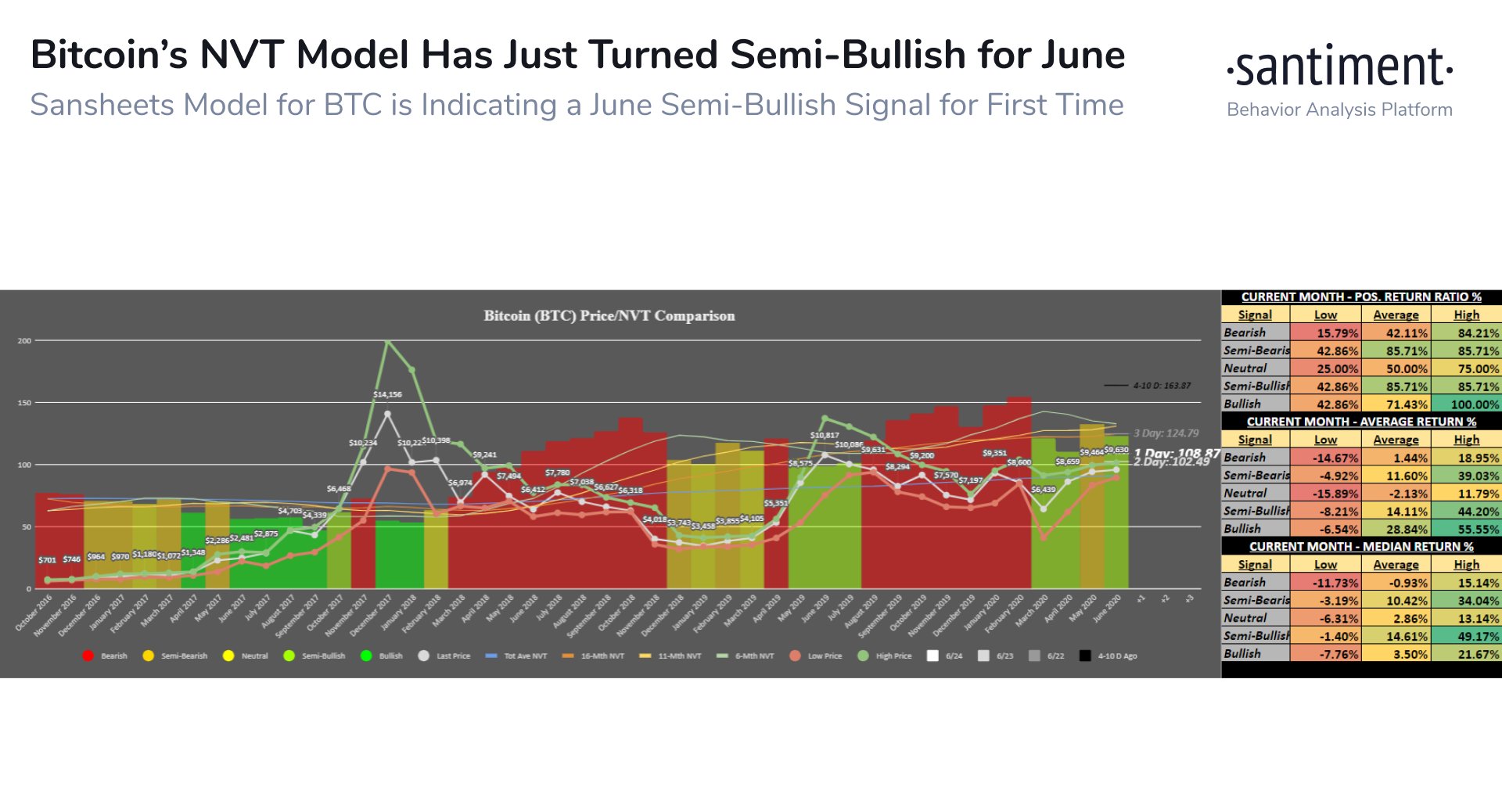 Bitcoin's NVT Ratio Turns Bullish. (Source: Santiment)
If history repeats itself, the current bullish divergence between price and token circulation will likely lead to a spike in demand that allows Bitcoin to break above the $10,000 resistance level finally.
Strong Resistance Ahead of BTC
Nonetheless, IntoTheBlock's "In/Out of the Money Around Price" (IOMAP) model reveals that there is a massive supply wall ahead of Bitcoin that it must overcome in order to retest or potential move past $10,000.
Based on this on-chain metric, approximately 4 million addresses bought over 2.3 million BTC between $9,200 and $9,700. Holders within this price range may attempt to break-even on their long positions in the event of a bullish impulse. Consequently, absorbing any upside pressure.
But if demand is strong enough, Bitcoin could rise towards $12,000 since there isn't any other significant barrier that will prevent such an upward movement.

Bitcoin Faces Massive Resistance Ahead. (Source: IntoTheBlock)
On the flip side, the most significant support barrier sits between $8,600 and $8,900. Here, the IOMAP cohorts show that roughly 1 million addresses bought over 626,000 BTC. Such a considerable supply wall may serve as strong support in the event of a correction.
Now, it remains to be seen whether support or resistance will break first to paint a clear picture of where Bitcoin could be headed next.
Featured by Shutterstock.


Charts from 

TradingView.com