The Litecoin market has gotten awfully quiet, and so has the Bitcoin market. Now at $2.820, Litecoin is relatively unchanged on a weekly basis, and its key to survival depends on how Bitcoin behaves in the coming sessions. Market participants should note that the technical indications coming out of the Bitcoin market are reflecting a strong bearish bias, which could be a worrisome sign for the Litecoin bulls as well.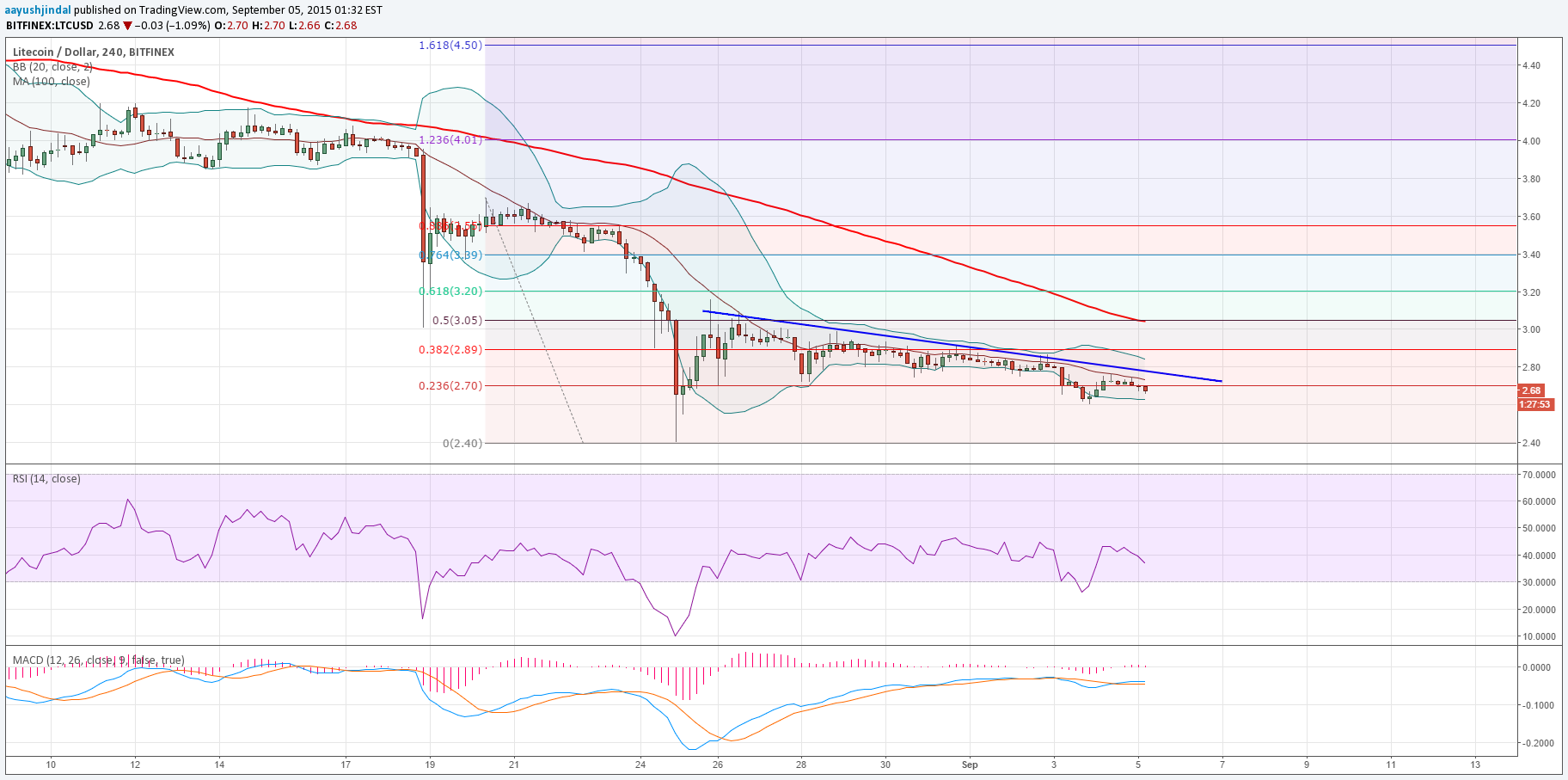 Image: https://www.tradingview.com/x/ch0c3C6M/
Here are the latest technical indications derived from the daily LTC-USD price chart.
Litecoin Chart Structure – Litecoin is currently trading closer to its recent low of $2.700. The level has acted as a cushion to Litecoin twice recently, and therefore, it becomes important from a trading perspective to keep an eye on this level.
Now that we have discussed the support, we must recognize resistance as well. The 30-day simple moving average of $2.8654 is capping the bullishness in Litecoin.
Moving Average Convergence Divergence – The MACD continues to maintain its lead over Signal Line, thereby keeping the Histogram in the positive region. The latest values of MACD, Signal Line and Histogram are -0.1024, -0.1339 and 0.0314 respectively.
Momentum – The Momentum indicator is sustaining itself just below the 0-mark, at -0.1025.
Money Flow Index – The MFI has hit a fresh low of 46.4948 even as the price consolidates; note this divergence!
Relative Strength Index – The latest value of RSI is 41.5385, a strong indication of the underlying pessimism.
Conclusion
All the technical indications above are telling of the underlying weakness. Market participants should adopt a cautious approach if they are considering going long in Litecoin. Below $2.700, expect the cryptocurrency to drop another 10 percent.
The market is currently in a no-trading zone where unnecessary trading can result in losses. Rather, wait for better opportunities.
Keep a close tab on the Bitcoin market for further clues.