Litecoin continues to disappoint investors as bulls fail to march ahead in the absence of positive triggers. The Litecoin price has consistently struggled to break above the $2-mark and there are no visible or underlying indications which point toward better trading sessions for the cryptocurrency. Each Litecoin is currently worth $1.92.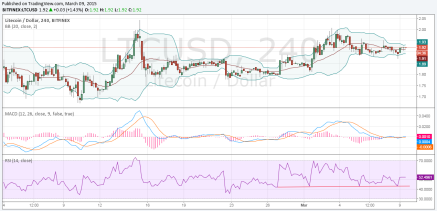 The 240-minute LTC/USD price chart above represents an uninspiring outlook for the Litecoin bulls.
The value of each Litecoin has been swinging between $1.80 on the lower end and $2 on the upper end. The Bollinger band, with values of $1.89 and $1.93, is also acting as a strong trap from which the price is unable to break free.
The Moving Average Convergence Divergence (MACD) indicator offers no respite either; not to the bulls, and thankfully, not to the bears. The histogram value is barely able to sustain above 0, indicating that none of the parties are making commendable efforts to turn the odds in favor. The current histogram value is 0.0010.
The Relative Strength Index reading of 52.4961 aptly reflects the sideways nature of the movement. A reading close to 50 is a reflection of the balance between the buyers and the sellers.
Investors can take heart from the fact that bulls have not lost all hope just yet. They have been holding their ground and have never completely yielded to the bears, which can be easily seen from the long-standing RSI base of 43.
The Litecoin market desperately needs a strong, positive trigger to push the prices higher before the bulls hang their boots. If the current lackadaisical trend persists for a longer period, either party will surely lose patience and surrender, and it has mostly gone against the investors.