LTC bulls are marauding and as it is, the first take profit level at $155 no longer holds. Concurrently, we are seeing some price recovery in NEM Monero and DASH as they try to move higher with a stochastic buy signal.
Of the five alt coins under our consideration, it is IOTA whose volatility remains muted but should there be a close above the wedge where it is moving in, bullish trend might resume.
Let's look at the charts:
NEM PRICES STABLE AND MOVING HIGHER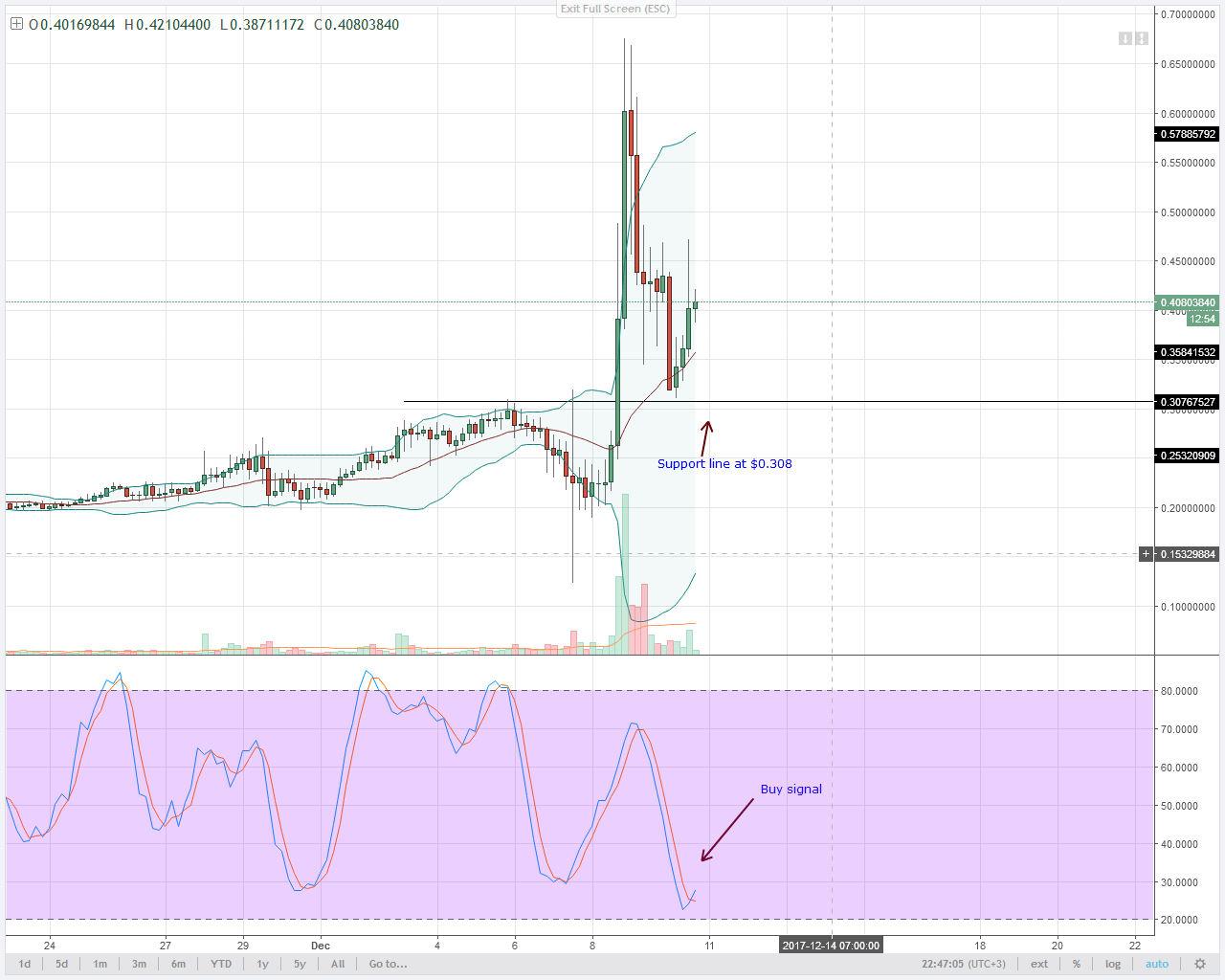 Interesting events happened towards the end of last week, the whipsaws after what is appearing to be a perfectly executed insider trading to me. Well, it sunk and the next day prices were testing the moon.
At current prices, NEM prices are trading low and bouncing off the 20 period MA with a stochastic buy signal in place.
Previous resistance now support is also acting as a reliable prop for bulls and the way it is, NEM bulls might continue moving up towards $0.676 resistance line.
AFTER A TRIPLE BOTTOMS, DASH EDGE HIGHER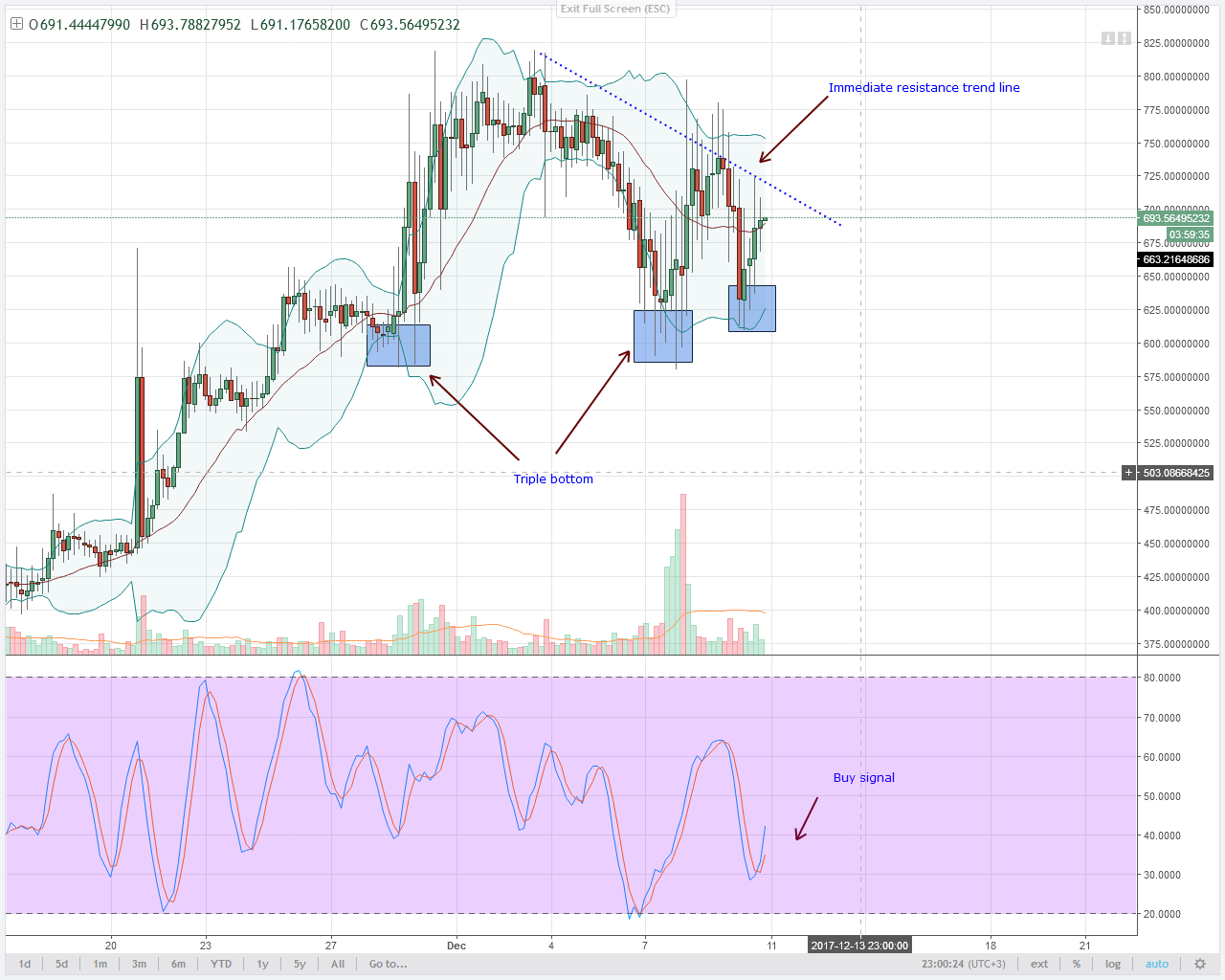 DASH prices are bullish. With every higher high it makes, the ultimate bull target of $820 and $1050 get closer.
At the moment, DASH is pushing higher after bouncing from the triple bottoms with a stochastic buy signal in place. We also have the minor resistance trend line connecting December 3 and 9 highs as our next resistance line.
Any close above that and the 20 period MA means bull pressure is on.
20 PERIOD MA ACTING AS STRONG IOTA SUPPORT LINE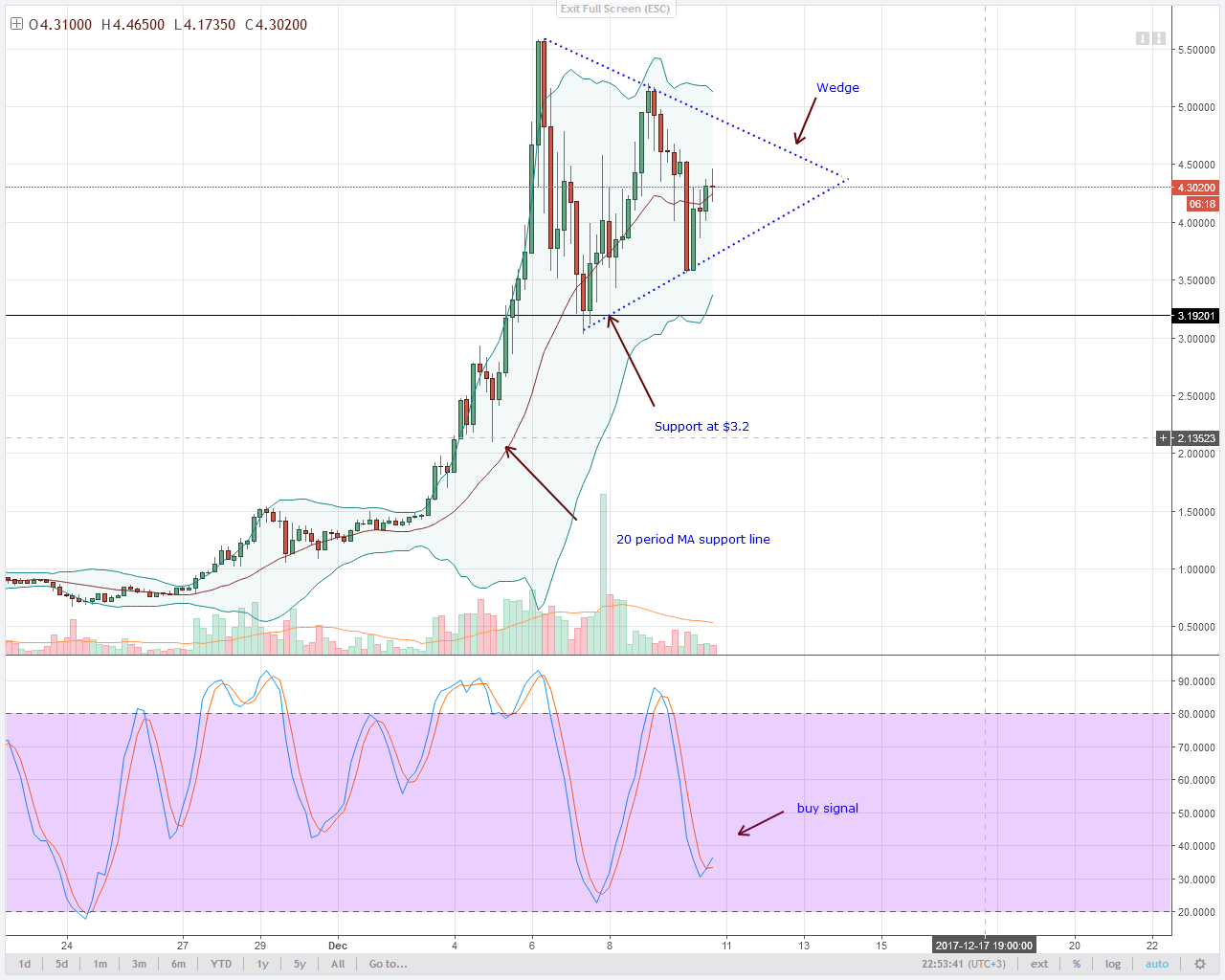 We are in a strong bull run as per the weekly chart momentum. However, as per recent price action IOTA bulls have been slowing down. Matters of fact, prices are now moving inside a wedge.
There is some good news though, if these higher highs continue in the next sessions now that there is a stochastic buy signal in place, chances of the resistance trend line defining the upper limit of the wedge might be broken.
For now, we wait for a confirming bull candlestick to close above the 20 period MA before we buy.
MONERO BULLS CLOSE IN ON $300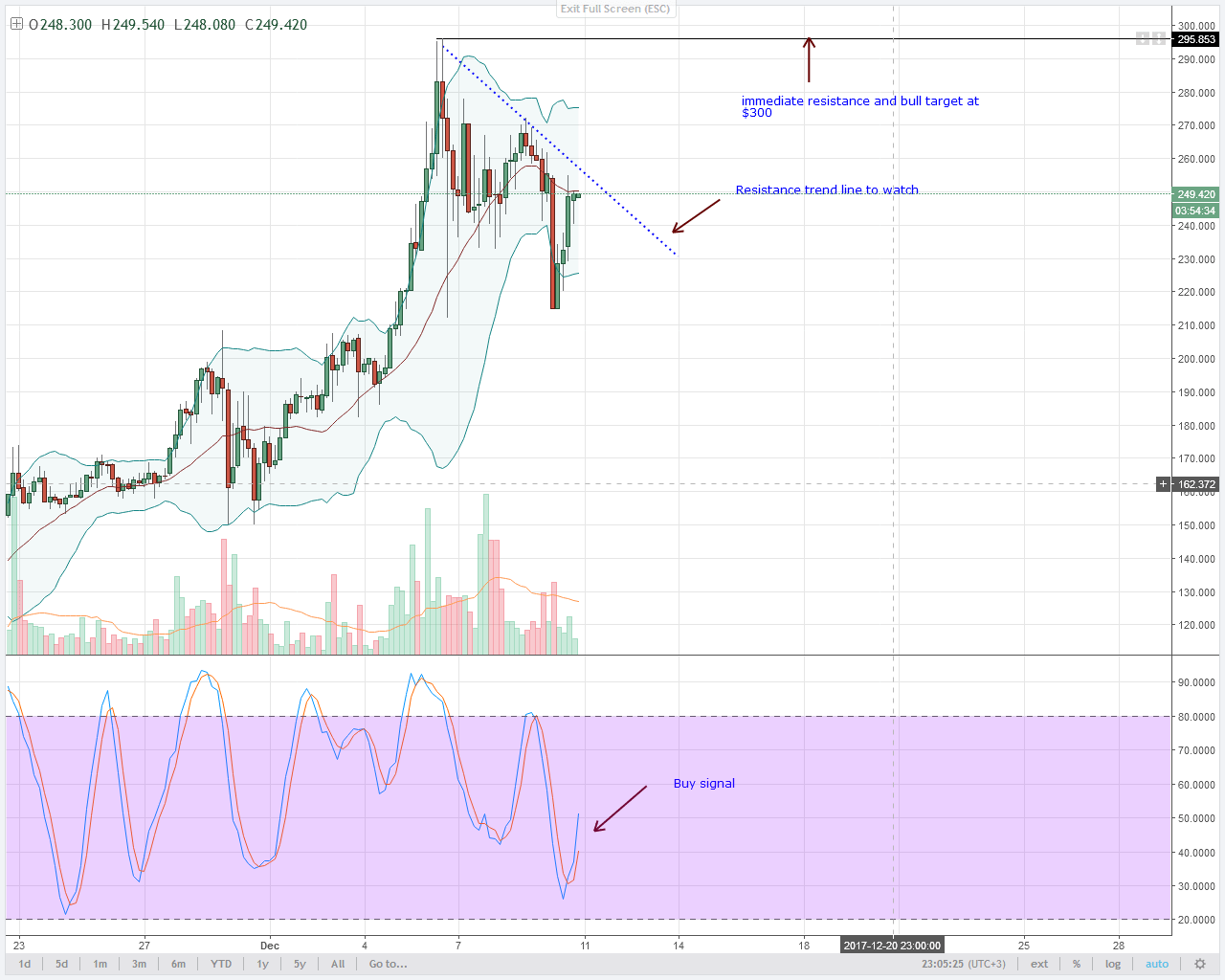 Monero bears eventually managed to close below the 20 period MA after days of sustained buy pressure which saw prices touch $300.
No doubt that the general trend is bullish and as it is every dip is a buying opportunity.
Well, there is a dip and now we have a stochastic buy signal in place. However,  we are waiting for higher highs and close above the 20 period MA and the minor resistance trend line to confirm our entry.
After December 10 bearish over-extension we are seeing price recovery. As it is, any swing past $265 means we enter long and aim December 6 highs of $300.
LTC BULLS TRADING ABOVE $150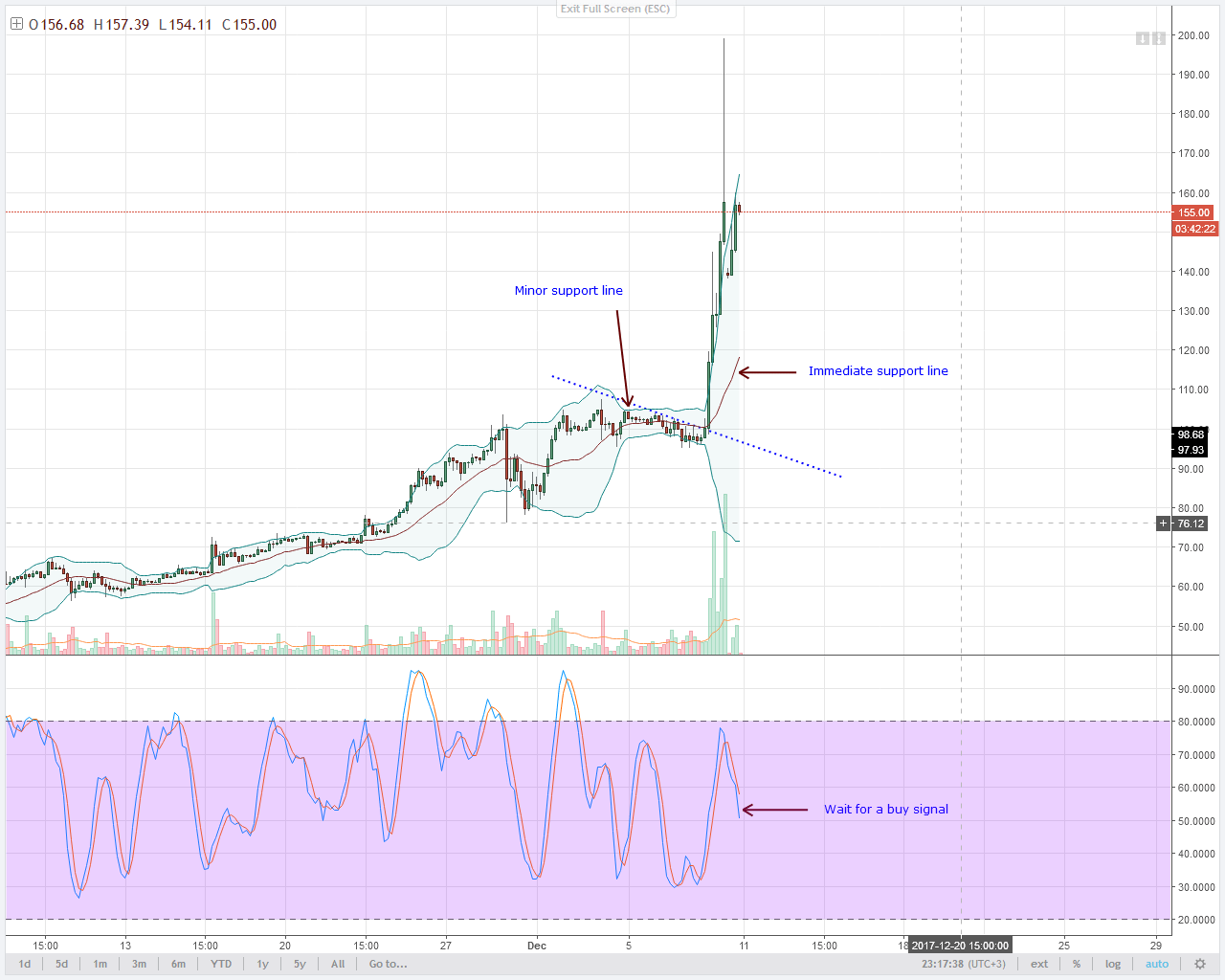 Fundamentals are driving LTC bulls and as such we shall only use technicals as entries for out buy trade.
With a $50 added over 2 days our strategy is simple. We shall look to enter at any retest of the 20 period MA when there is a stochastic buy signal.
In the weekly chart, LTC price action is oscillating above the first take profit level target at $155. This is all courtesy of  Fibonacci extension levels and it makes  $155 our immediate support level.
All charts courtesy of Trading View