Most alt coins including LTC prices crashed momentarily on December 22. It was even clearer in DASH and IOTA while NEM seem to have handled it.
Contrary to what we expected, this was happening within a steep buy trend but with IOTA, we need a strong confirmation of bull pressure to be confirmed. It is over-extended to the upside as the weekly chart shows.
NEM PRICES DIP TO $0.51 BEFORE BOUNCING BACK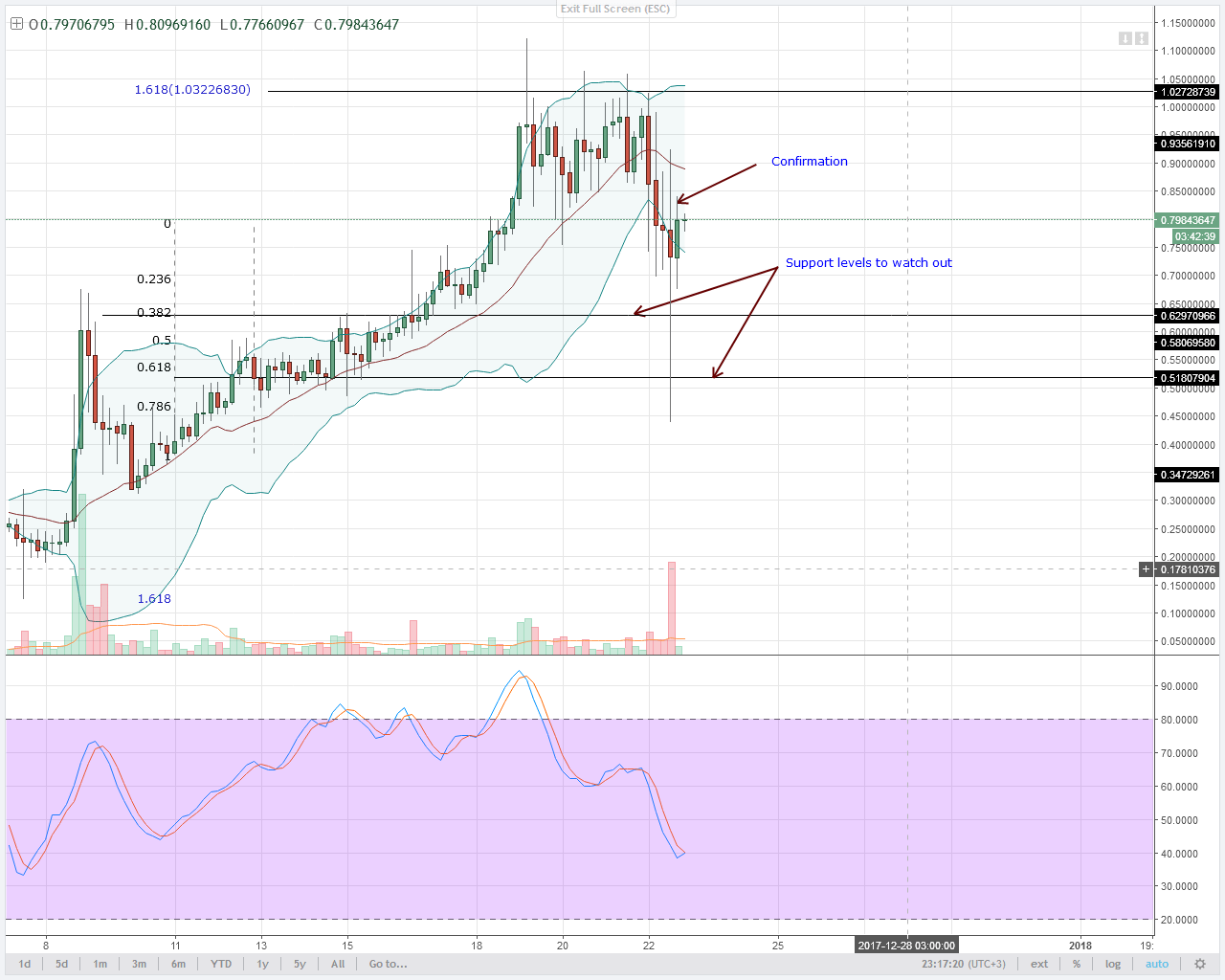 We now have a perfect buy opportunity folks. Our buy triggers following that close below the middle BB were all triggered after that long lower wick tested lows of $0.51.
Those levels as we had explained yesterday were our Fibonacci retracement levels between 38.2% and 61.8% with lows of $0.51. Do you notice that long lower wick? If you do then note that is also closed below the lower BB before it was confirmed earlier today.
NEM prices are trending along last week's highs and if there is a close above the 20 period MA then guys, we buy this! Remember, the weekly chart is our trend setter and it is still bullish despite the recent sell pressure.
Let's follow the chart and not the crowd, shall we?
TIME TO RAMP UP DASH BUYS?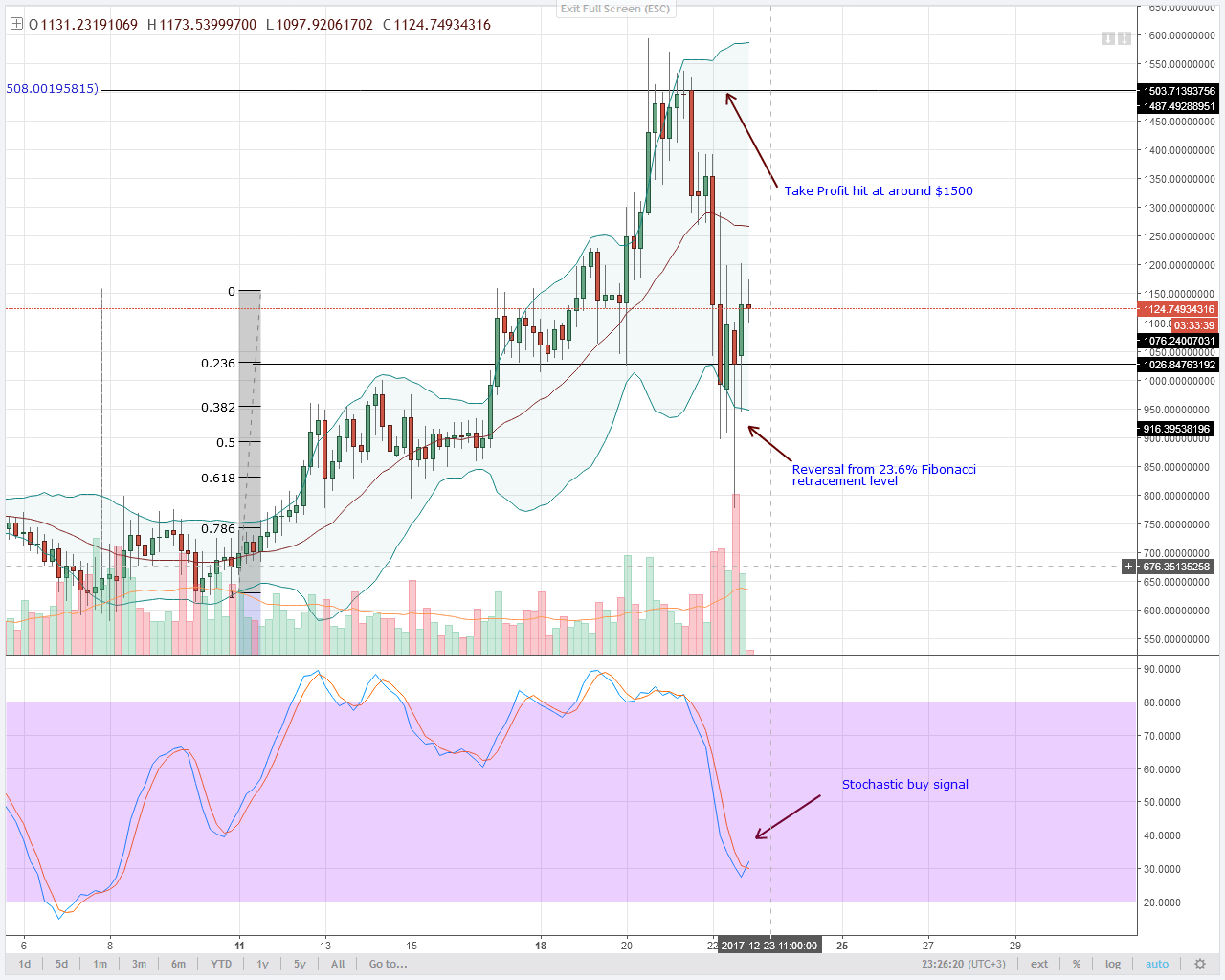 So we were partly right and somehow wrong after yesterday. The depreciation thing happened yes, fact is more than $300 worth of DASH was wiped out on Thursday and Friday with prices reversing below $1000 level.
What we were wrong-a non issue though-is the level was that retracement took place. Ideally, they should be below 23.6% but as it is, ignoring the crowd, the momentum is strong.
Reversals are from the 23.6% level with a stochastic buy signal turning from the oversold stochastics. You know what guys? Let's buy!!!
IOTA MINI FLASH TESTS MIDDLE BB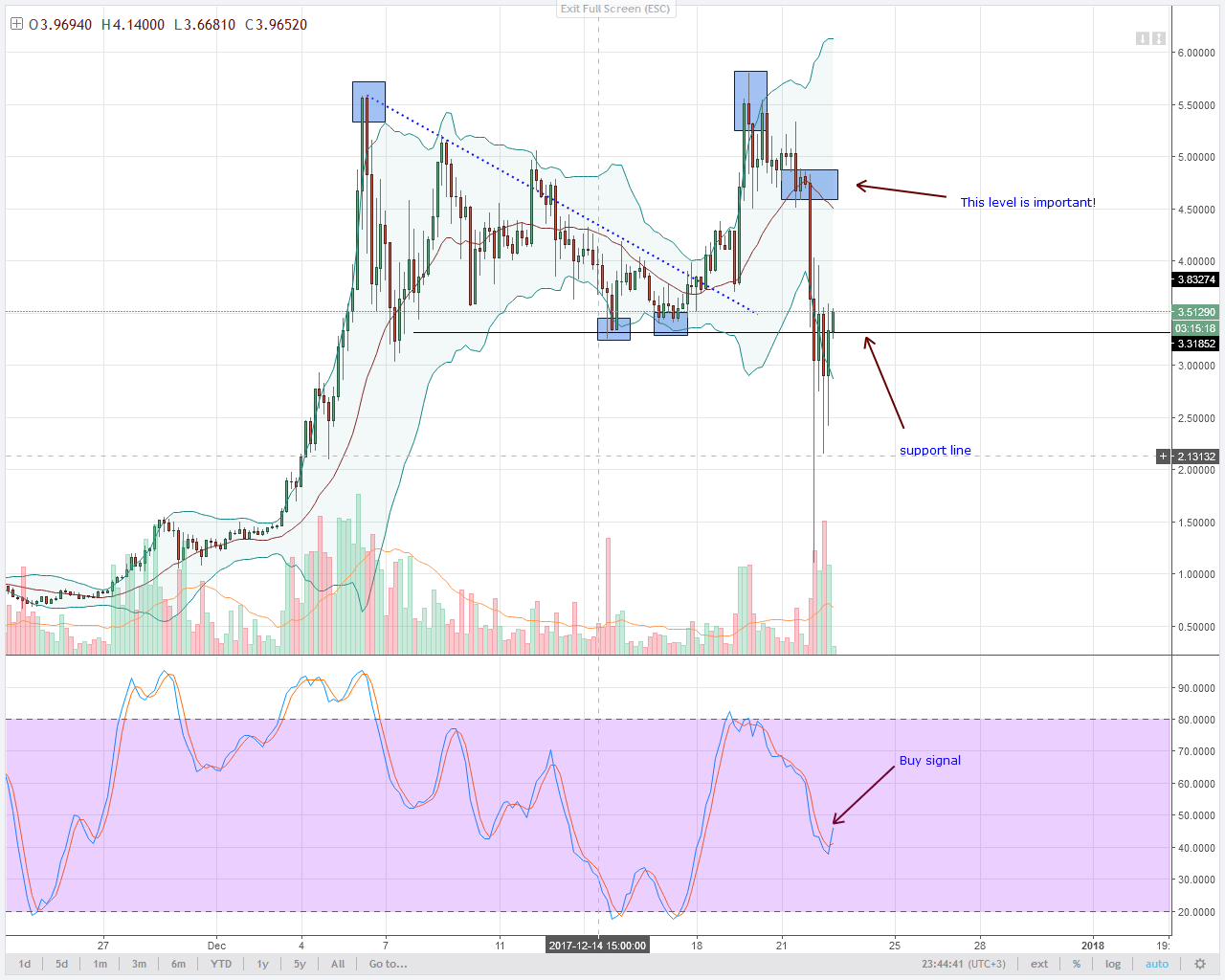 IOTA bears have been on a rampage of late. Notice that close below the middle BB and the consequent price erosion.
Luckily for buyers, $3.3 is a turning out to be a significant support line. Because we have stochastic buy signal at or around the support, IOTA buyers should be pouncing on this long opportunity even after IOTA flash crash.
After all, yesterday the middle BB was tested and price rejected equilibrium.
MONERO PRICES REACTS AT $300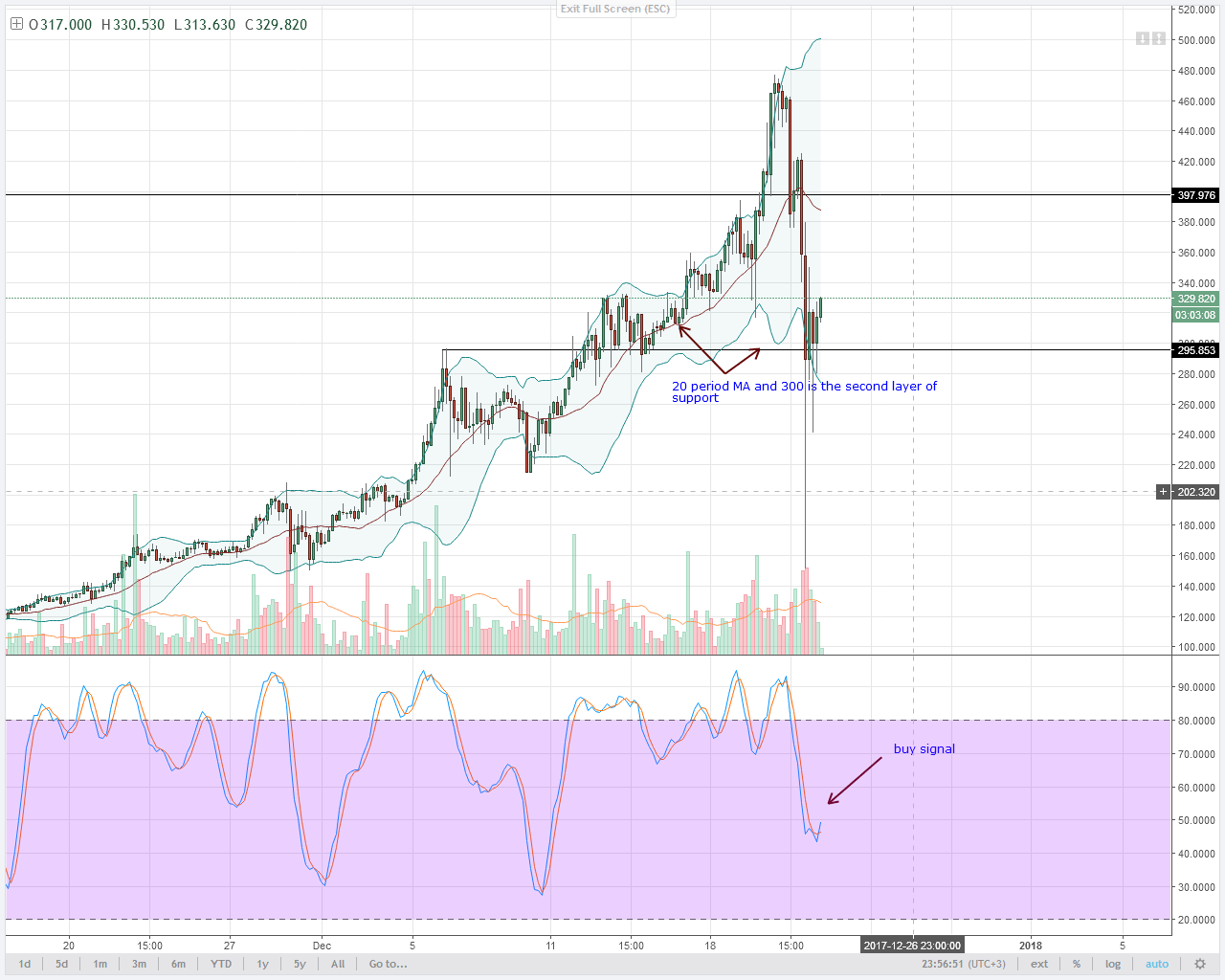 Going though this chart and it is clear that the BTC drop is dragging prices lower.
Fact is, the middle BB couldn't hold bear pressure.
As we can see, Monero prices are actually bouncing back from that level and as higher highs relative to the lower BB begins developing, buy pressure should be force behind it.
We need to see confirmation of that through diverging %k and %d.
Otherwise, if prices collapse and close below $290, then there is no need of trading this pair until a clear trend forms.
LTC PRICES DROP AS LOW AS $144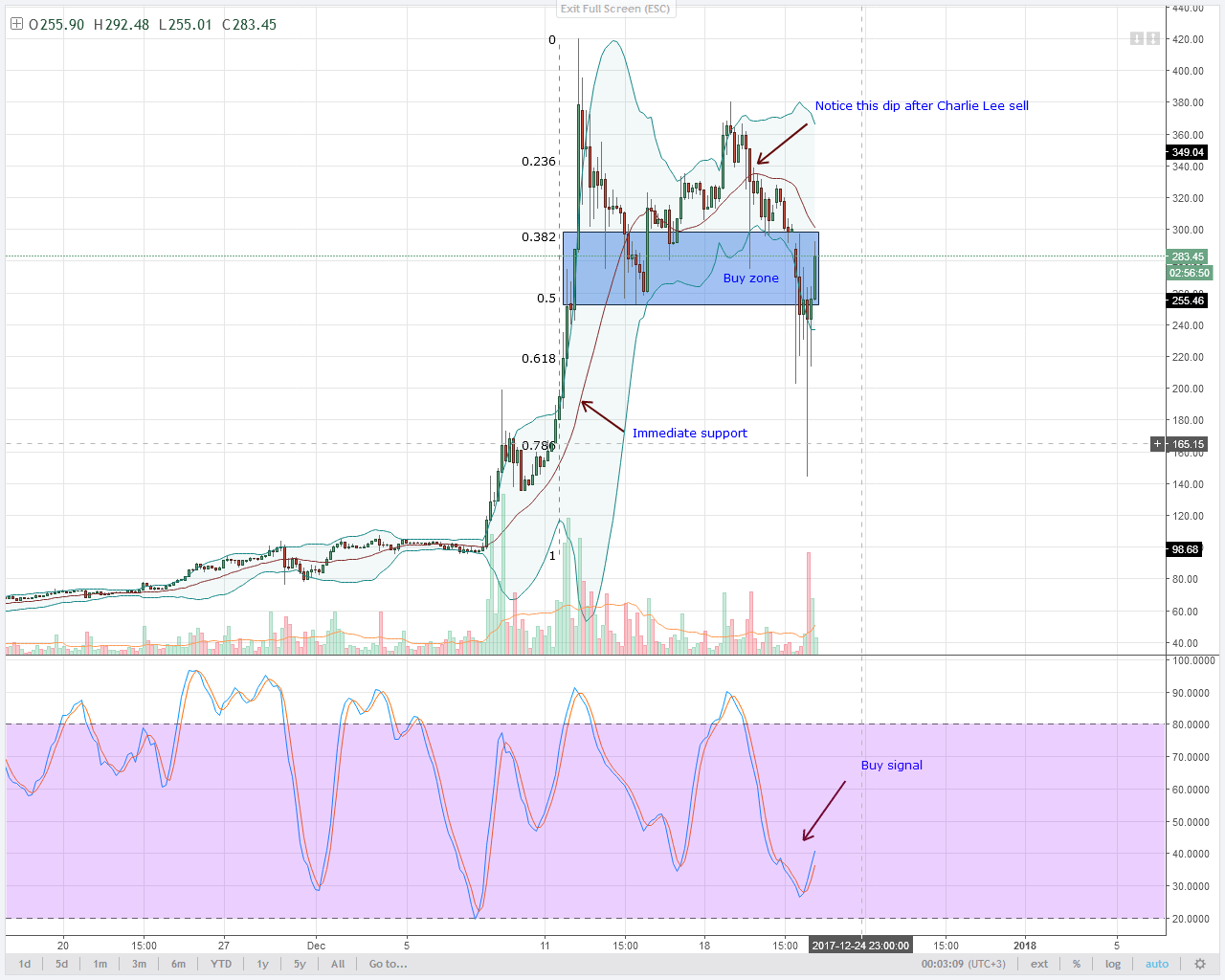 Yesterday, LTC prices lows of $144. Yes, that is a whole $100 below what we had anticipated as buy zones.
Now, check out those consequent higher highs relative to the lower BB and those long lower wicks meaning buy forces.
LTC buyers who bought in at around $150 are some lucky chaps. Not only were they trading with the weekly trend which is bullish but those prices are just awesome.
I would recommend trading after buyers close above the 23.6% Fibonacci retracement and the middle BB. There after, I will trade according to the general trend in the weekly chart.
All charts courtesy of Trading View