It looks like Bitcoin's cousins, Litecoin and Ethereum are getting their groove back. Meanwhile, Bitcoin may have finally hit a temporary ceiling. LTCEUR rode on a three-day bullish wave. You know how much I love analyzing the market sentiment using the Ichimoku Kinko Hyo. So let's dig in and see what's next for our favorite cryptocurrencies.
LTCEUR Crosses Above Ichimoku Cloud
After two whole weeks of consolidation inside the cloud's daily setup, LTCEUR finally confirmed above the cloud on Thursday. Not only that, the Kijun line appears to just be crossing above the Tenkan line.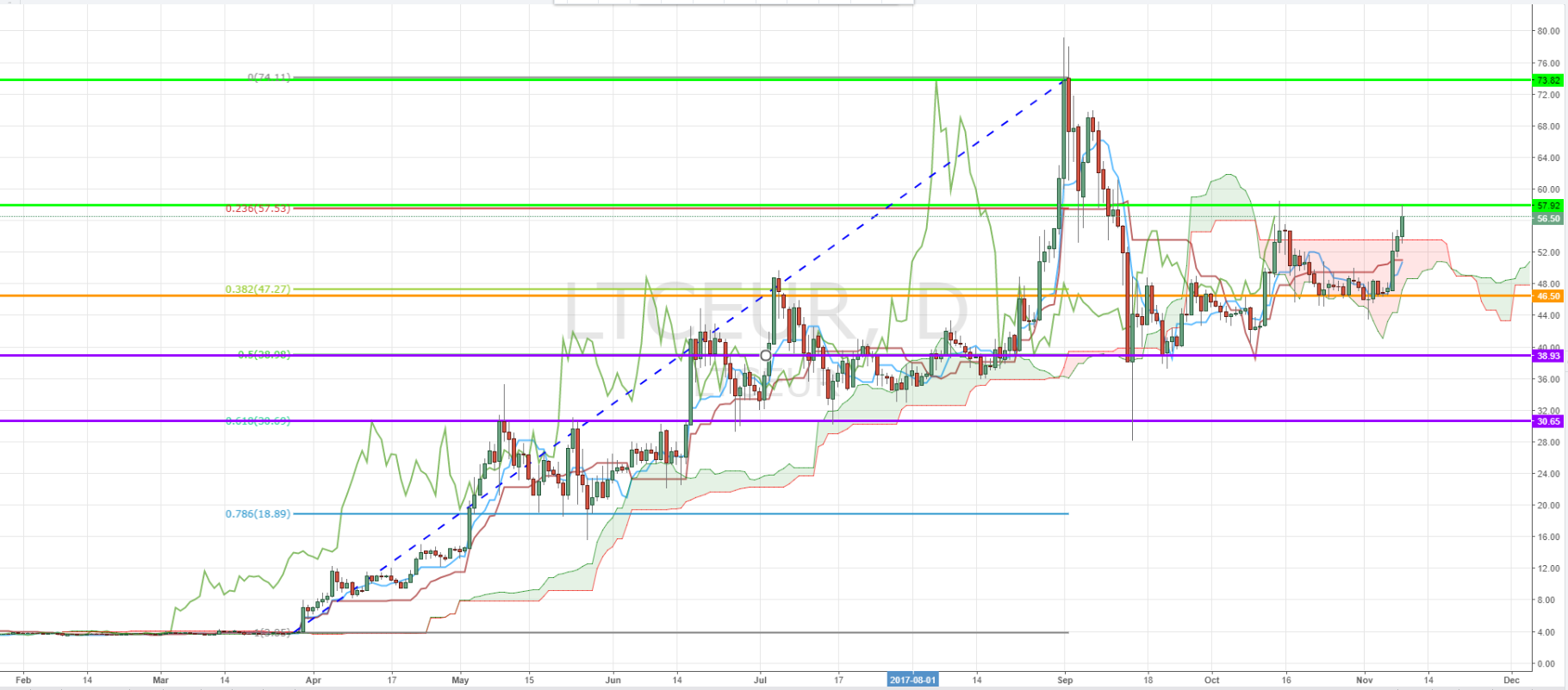 The downside of this fairy-tale story is that LTCEUR is now hit by the 23% Fibonacci resistance level at 57.92. The future cloud is slightly bullish but mostly flat. Now market participants are looking to see if the 23% Fibonacci holds.
What's Going On in Litecoin's World?
As I mentioned in my Tuesday video, the Litecoin rally started one week after South Korean Exchange, Coinone, added the cryptocurrency to its platform.
The exchange has reportedly processed $3.2 million worth of Litecoin in the first 24 hours of trading the cryptocurrency.
Coinone is one of the biggest cryptocurrency exchanges in the country. Korea is in fact, the world's third-largest cryptocurrency market.
So the recent surge could be fuelled by the volume the exchange brought about by offering trades in Litecoin versus South Korean currency. Volumes on Bithumb, one of the biggest exchanges in South Korea, have also gone up.
However, this may not be the only reason why Litecoin price is going up.
Bitcoin's cousin may be seen as a safe haven for market participants amid the uncertainty surrounding the Segwit2x hard fork. With that, let's see what Bitcoin has been up to.
Bitcoin Pulls Back after Developers Call Off Plans to Split it
After showing yet another off-the-chart growth to hit the all-time-high level of $7,800, Bitcoin erased most of this week's gains on Thursday.
What could be behind the massive volatility? Probably the suspense of its controversial upcoming hard fork.
Bitcoin was scheduled to upgrade on Nov. 16 following a proposal called SegWit2x, which would have split the digital currency in two. However, more and more major bitcoin developers dropped their support for the upgrade in the last few months. With that, on Wednesday, developers behind SegWit2x announced they are calling off plans for the upgrade. They are waiting until there is more agreement in the Bitcoin community.
What Do the Technicals Say
I must admit, Bitcoin has been one not really following traditional technical analysis measures. The main reason why is that Bitcoin has started to be viewed more as an asset rather than a digital currency.
However, we could still say that the Bitcoin price has hit a new resistance at $7,800. The support level is at $6,957.
As always, please keep in mind that trading cryptocurrencies could be very risky. Speculative trading is even riskier. Before entering a position, you must calculate your risk tolerance to be able to decide on the investment strategy that is suitable for your portfolio.
xoxo,
Kiana Danial