If you were expecting fireworks this week, then you must be disappointed more so if you're a Lumens trader. From the chart, it looks like Lumens sellers are on the driving seat preventing prices from recovering.
But, that is not the only suppressed pair. We can read the same script in NEM, IOTA, XMR and LTC even after yesterday's encouraging double bar reversal pattern at key Fibonacci levels across the board.
Our previous buy triggers are still intact but let's wait and see what today brings.
Let's have a look at other alt coin charts
NEM PRICES ARE FLAT
24 hours later and NEM prices remain flat and boring! Yes boring especially if you have been waiting patiently waiting for prices to dip if buyers are not willing to push prices higher.
That is often the test of traders. Patience! But will it disappoint buyers? That also depends but the 50% Fibonacci retracement at $1.46 is where I'm watching while not forgetting the main support line at $1.36.
Any close below these two levels and we may as well forget about longs. On the flip side, if NEM buyers trigger our limits and convincingly close above $1.62, this week might end up as bullish and confirm the general trend.
LUMENS SELLERS PUSHING PRICES LOWER AS BUYERS SET TRIGGERS AT $0.7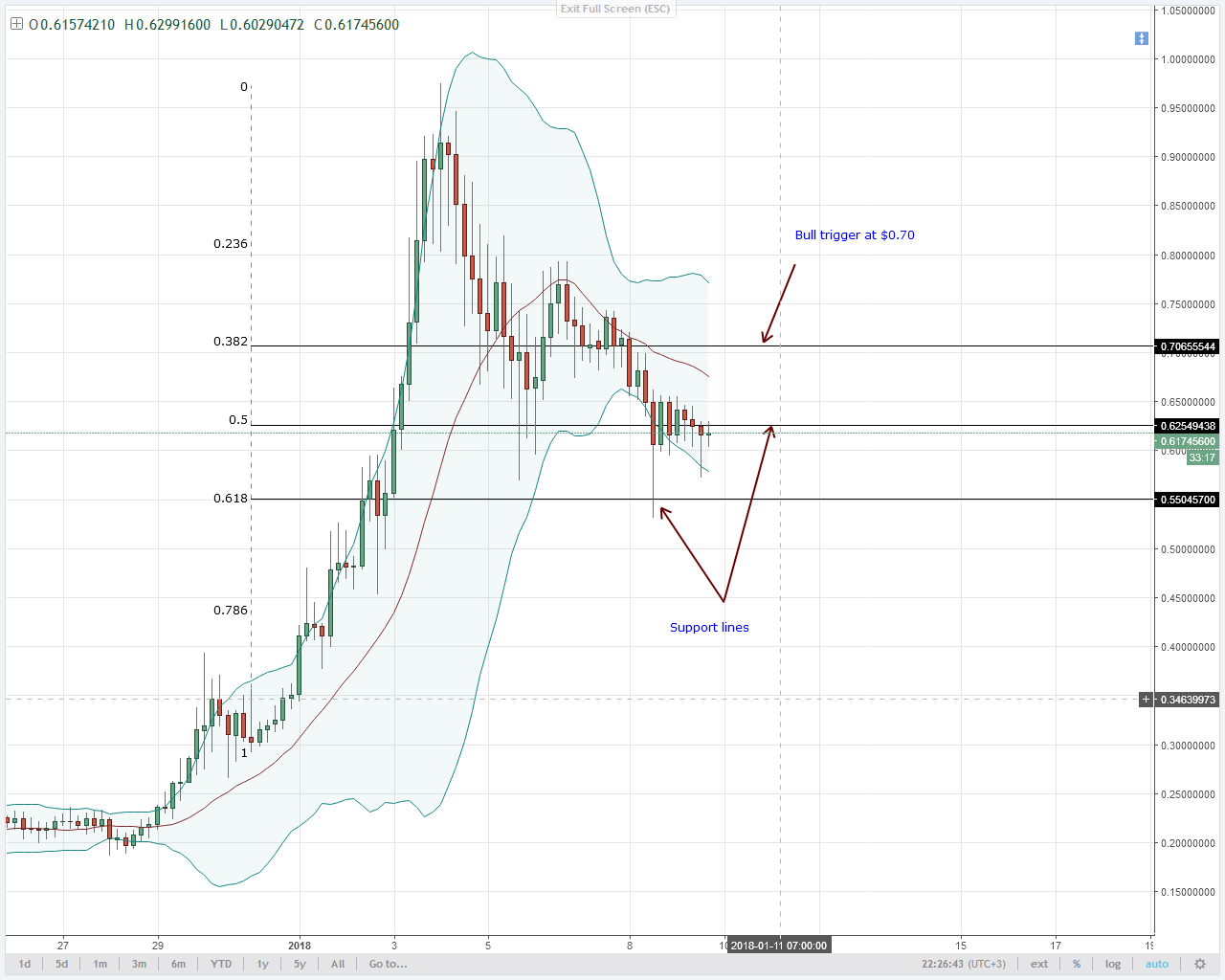 Compared to last week's price action, Lumens is on a down trend but then it is good news for buyers.
You may ask why? But before that, look at last week super humongous bull candlestick that obliterated several resistance levels as defined by the Fibonacci extension tool.
Often, such types of candlesticks can be very disappointing especially for folks who bought at tops. In my opinion-and this is my recommendation, bulls might bounce back but that is very conditional.
I need to see movement and that can only be guaranteed by a close above $0.70 which from the chart is the 38.2% retracement level. Before then, just back off and wait.
CLOSE BELOW $3.3 IS INVITING FOR IOTA SELLERS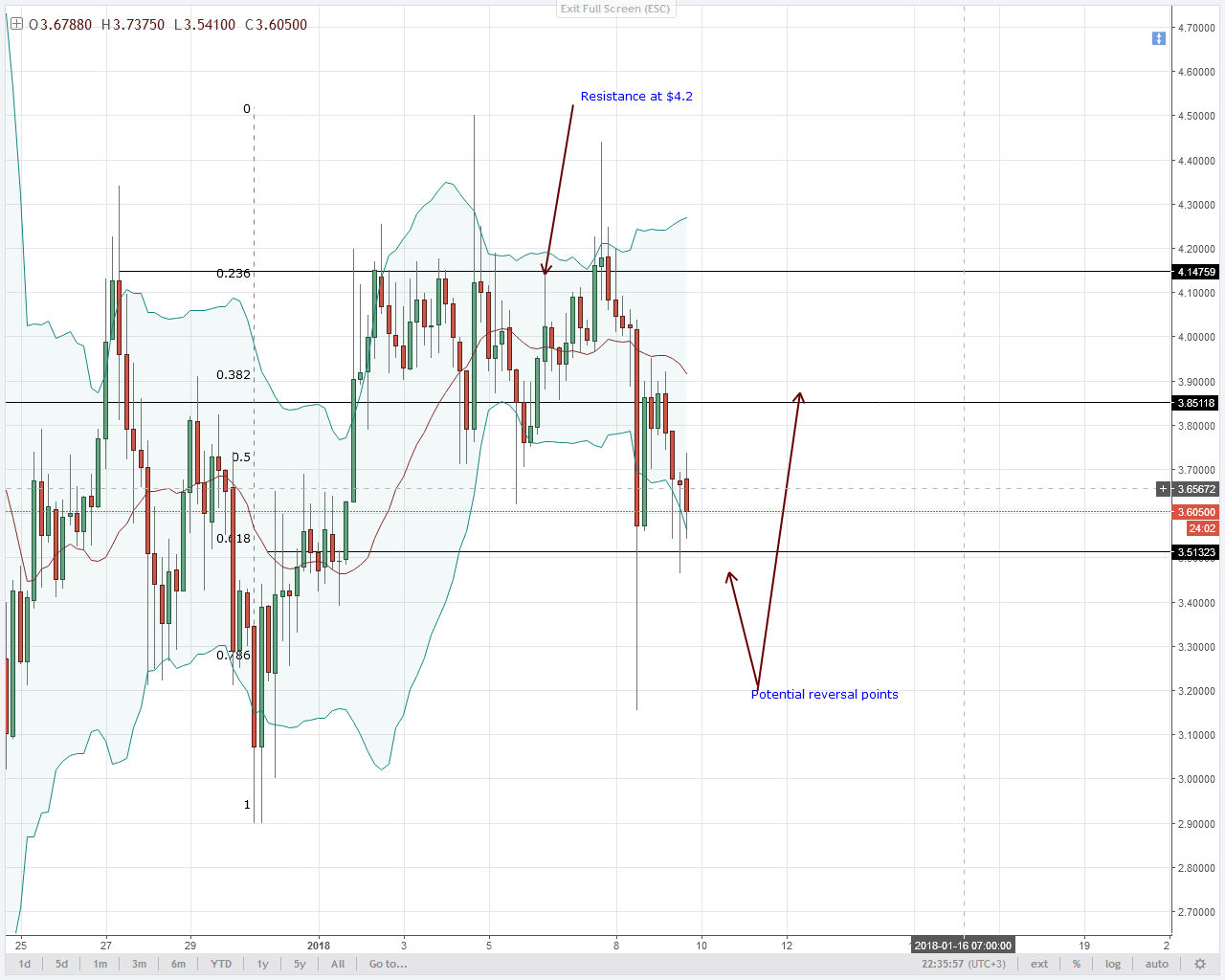 I'm now certain of one thing: bear pressure. However, without getting too attached with the overall IOTA rally—it get addictive sometimes, any dip AND close below $3.3-a strong support line in the daily and weekly time frame invalidates our long projections.
It's no secret that with the rapid expansion of IOTA, there is need of fine tuning entries. I admit, long term traders are late because at current prices, IOTA prices are at a cross roads.
Will it resume trend or dip towards the equalizer-the middle BB? That is what is left to time and on our part, we play the patience game unless otherwise. For now, let's trade according to trend.
MONERO HIGHER HIGHS WITH SUPPORT AT $400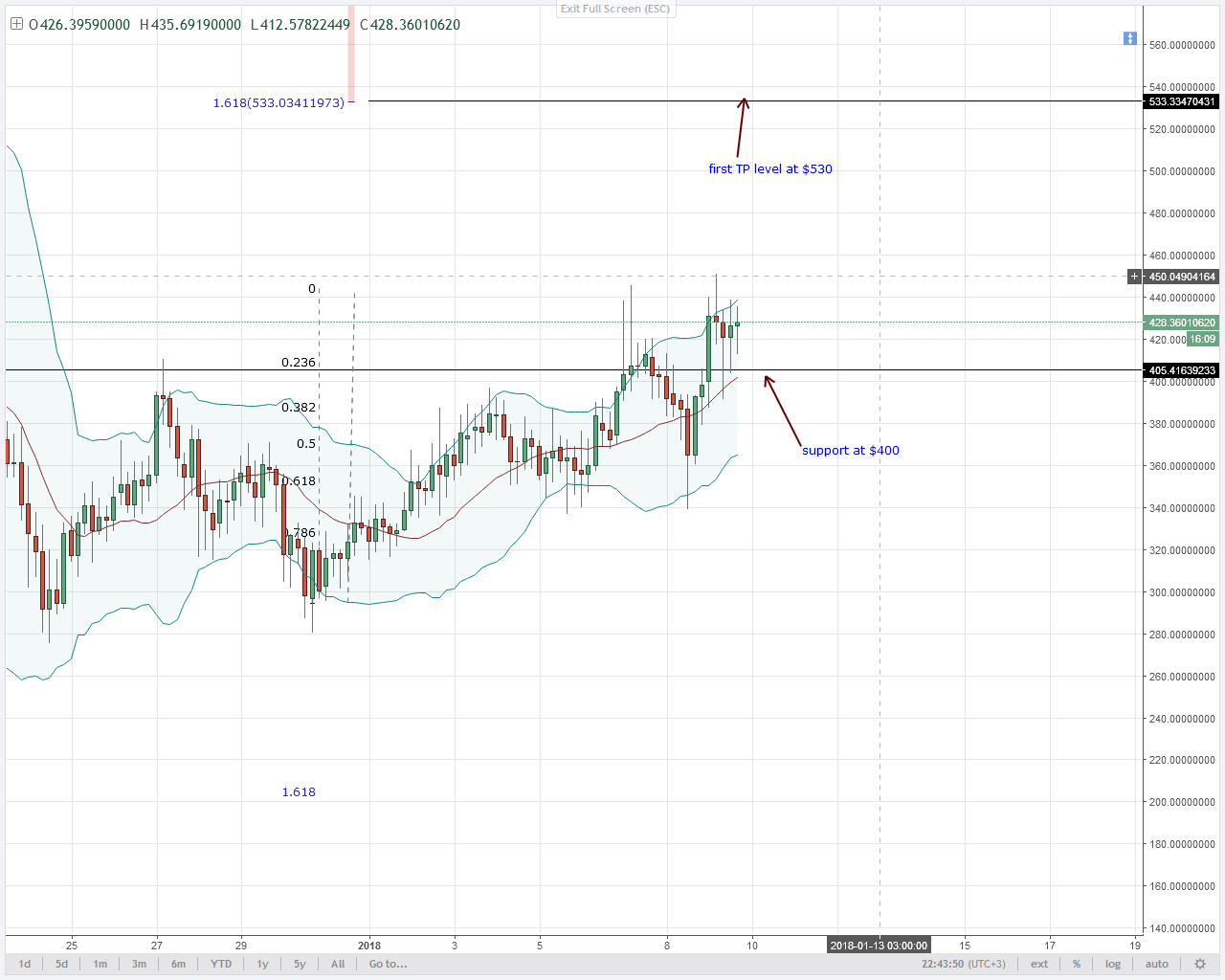 Yesterday, Monero buys kept prices from sinking below $400 and that level qualifies as our short term support.
It's not hard, buyers begun buying from $350 and at the moment, they are up $70 and moving as per last week's trend.
If Monero prices surge past $445, then Monero is most likely to test $530 according to Fibonacci extension levels from last week's high lows.
Otherwise, any price ceiling and we might see prices testing middle BB and dipping back towards the 38.2% Fibonacci level at around $380.
WITH LTC CONSOLIDATING, BUY TRIGGERS AT $270
LTC prices are moving within a really tight range.
Even though the recent dip from $300 is good for buyers, the tepid volatility is a toss as we wait for a break out above $255 and perhaps a move towards $270.
Because of this, today we will be watching price action and any depreciation below $230 invalidates our intra-week bull expectations.
All charts courtesy of Trading View