The latest data shows Polygon (MATIC) has surged 10% over the past 24 hours while the total crypto market cap rallies. According to data from Coingecko, the Total Crypto Market Cap (TCAP) is up by a massive 17.3%, which reflects the ongoing coin rallies across the market.
MATIC and many other altcoins saw a steady decline over the last week. However, since February 15, after the crypto market felt a relief, the coin began to retrace. As of yesterday, February 15, MATIC saw a 6.1% price increase, closing the day with $1.19 after a two-day straight decline. But what are the factors behind this price action? Let's see.
Possible Reasons Behind Polygon (MATIC) Price Action
Following historical data, MATIC is among the top-gaining coins, with a 30-day price increase of 33.1% and a 14-day rally of 13.4%. The recent seven days downturn in the entire cryptocurrency market didn't seem to exert much effect on MATIC, as it still retains a 3.9% 7-day price gain. MATIC held most of its gains despite the notable price decline that hit the market.
Polygon (MATIC) owes its previous performances to several factors, partly to some community developments. Among the latest events in the Polygon community is the launch of a $2.1 billion tokenized investor fund by Hamilton Lanes on January 31. 
National Geographic, a well-known international media platform, also launched an Inaugural NFT collection exclusively on Polygon. There were also other NFT project launchings, including Shemaroo's NFT partnership with Polygon Labs on February 9. These developments must have pushed MATIC's price upwards in January and early February.
Meanwhile, the previous MATIC price declines were due to increased volatility and reduced investor sentiments in the crypto market. The decline in investor sentiment was due to uncertainty and fear among traders as regulators engaged in a spree of enforcement actions against crypto firms. Also, the uncertainty around the then-anticipated January CPI report did not help matters. The cryptocurrency market capitalization reduced notably during this time, affecting MATIC and other crypto assets.
However, the total crypto market cap has started increasing again, suggesting that investor sentiment is up and volatility has reduced. The relief came after the January CPI data release on February 14. This improvement in the market condition could be among the reasons for the ongoing MATIC price rally.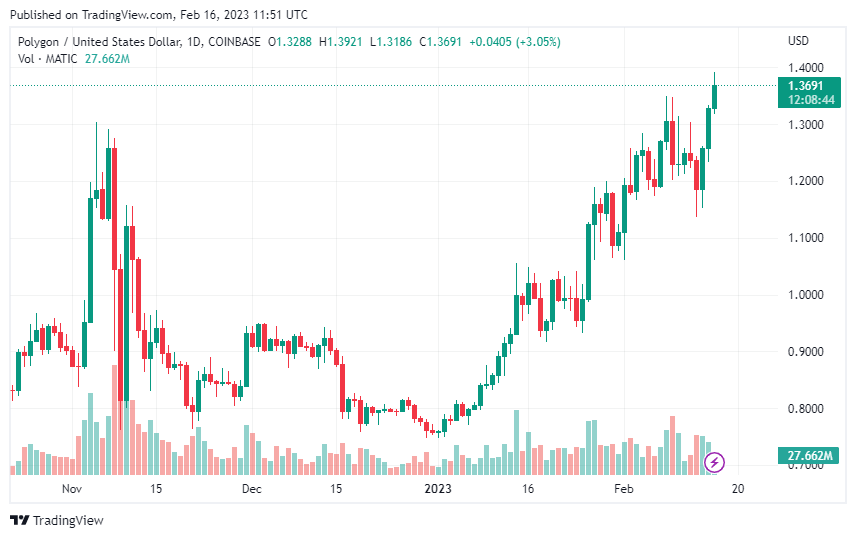 Polygon (MATIC) Price Outlook And Prediction
MATIC is trading at $1.37 currently in the market. The asset is above its 50-day and 200-day Simple Moving Average (SMA), which is a bullish signal in the long and short term. It has formed three consecutive green candles on the chart from February 14-16 confirming it is in an uptrend.
Its support levels are $1.16907, $1.20131, and $1.26581, and resistance levels are $1.36253, $1.39479, and $1.45929. The Relative Strength Index (RSI) is at 67.60, approaching the overbought region of 70. Also, the indicator is pointing upwards, which is a bullish signal.
Polygon's Moving Average Convergence/Divergence (MACD) is slightly above its signal line and pointing upwards. It indicates the possibility of a bullish rally ahead. MATIC will probably rally to the $1.29479 resistance level in the coming days.
Note that cryptocurrencies are volatile assets and can deviate from past price behavior. You may need a comprehensive analysis and proper risk management techniques to understand the risk factors involved in crypto trading.
Featured image from Pixabay and chart from TradingView.com