MobileGo resumed its slide to its counterparts bitcoin, ethereum, and the dollar as new developments emerged and risks are lined up.
MobileGo vs. Bitcoin
MobileGo continued to tumble against bitcoin as positive developments for the latter allowed it to reassert its dominance in the industry. BIP 91, which represents a step in the upgrade to SegWit2x, enjoyed around 80% acceptance from the network.

Volumes of MobileGo are still relatively subdued against bitcoin as price is bouncing back and forth between support around 0.00035 and resistance at 0.00040. Sustained buying pressure for bitcoin, however, could mean a range breakdown and a move towards the next floor at 0.00030.
On the other hand, an upside break past the 0.00040 resistance could lead to another spike to the 0.00045 level or higher.
MobileGo vs. Ethereum
Against ethereum, MobileGo has resumed its drop after forming a short-term head and shoulders pattern. Price appears to be gearing up for a break below the 0.0038 neckline to indicate that more losses are in the cards.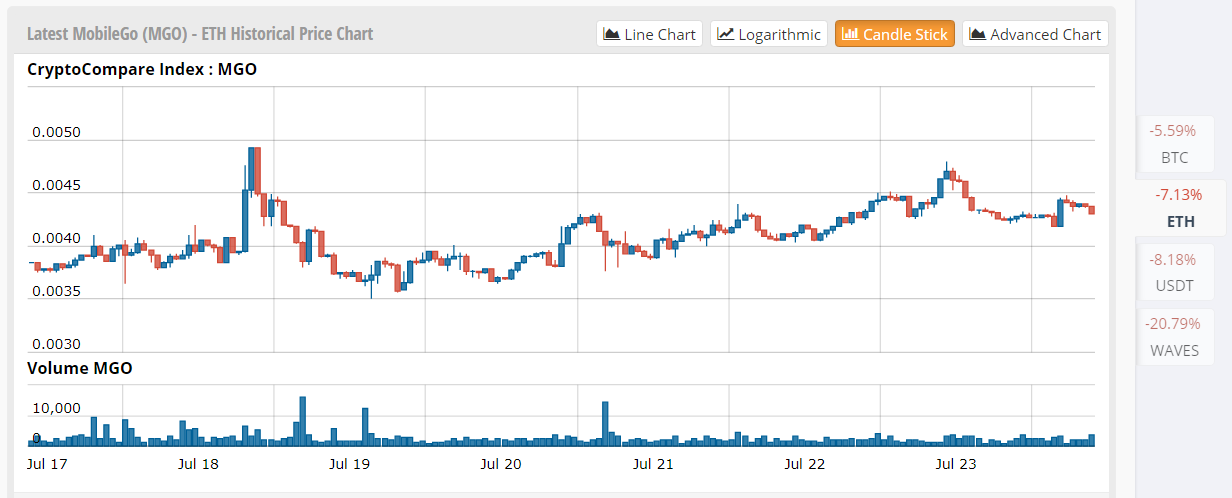 The formation spans 0.0038 to 0.0043 so the resulting drop could be around 0.0005 to 0.0033. MobileGo losses versus ethereum are actually more pronounced compared to bitcoin so far.
MobileGo vs. USD
Lastly, MobileGo also tanked against the dollar even though the latter is also facing setbacks. For one, the upcoming FOMC decision this week is pushing dollar bulls away as traders are pricing in weaker optimism from the US central bank.

Dollar traders are also wary of weaker rate hike expectations for September if the Fed confirms that it is ready to start its balance sheet runoff in the coming months. Also, ongoing investigations on Trump's ties with Russian officials after his recent business dealings are also dampening fiscal reform expectations.
Looking ahead, the FOMC decision could be the main driving factor for the markets this week, although positive developments for bitcoin could weigh on all other cryptocurrencies, including MobileGo and ethereum. Of course the grace period will still be in place for the coming months and this could also mean a lot of consolidation.