Monero bulls are definitely rally testing for $300 for the first time since launch. As this is a new milestone, correction was inevitable and it did.
Concurrently, IOTA slowed down retracing from its recent highs but this was temporary because it bounced off $3.2 to resume trend.
Let's look at the charts:
NEM BULLS LOOKING AT $0.25 FOR SUPPORT
In the 4HR chart, NEM bulls are ceding ground to bears.
Look at what happened after price action tested the resistance level and the round number at $0.30. First off, there was a strong bearish engulfing candlestick which ended up confirming a double bar reversal pattern.
After that close, USD bulls were in the trade driving prices below our main support line-the 20 period MA.
The fact that the higher time frames are bullish means that every dip is a buying opportunity and as such we are all looking at how price will react at $0.25.
This price level is of significance in this time frame and the daily chart which by the way remains bullish.
DASH FINDS SUPPORT AT $670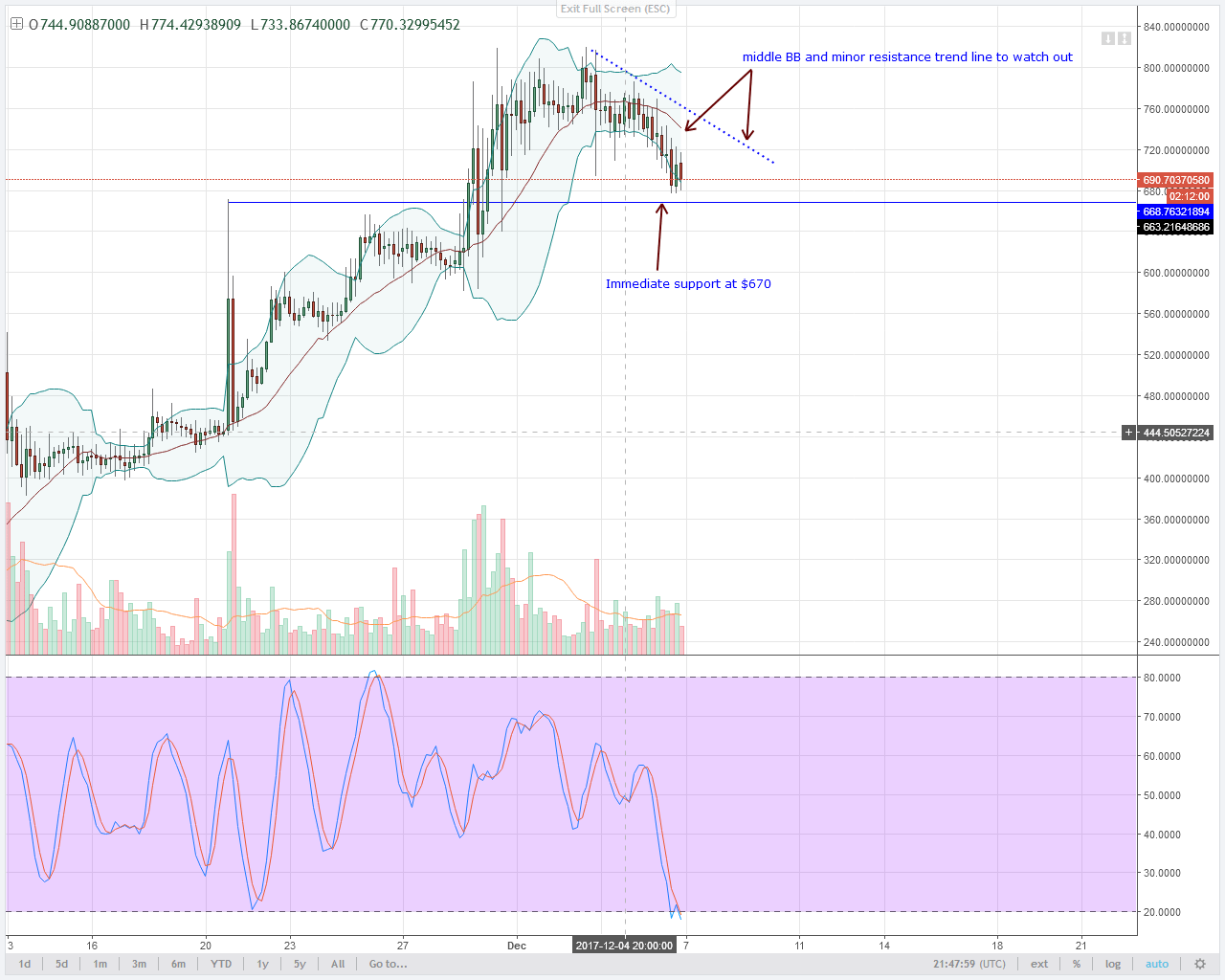 The fact that the weekly chart is bullish means that we only take long set ups. Yesterday we saw how prices were horizontally consolidating within a $75 range inside a minor wedge.
DASH prices ended up breaking below the minor support and banded along the lower BB towards support marked at $670. As we can observe, prices is somehow finding support after that bullish candlestick deep inside the oversold stochastics territory.
If the current candlestick ends up being a bull then it shows that buyers are entering the trade now that prices are around the main support line.
All in all, the two resistance lines-the 20 period MA and the minor resistance trend lines are our short term resistance zones. Should price action close above these two levels then long trades are valid.
AFTER DOUBLING IN PRICE IOTA BULLS FIND RESISTANCE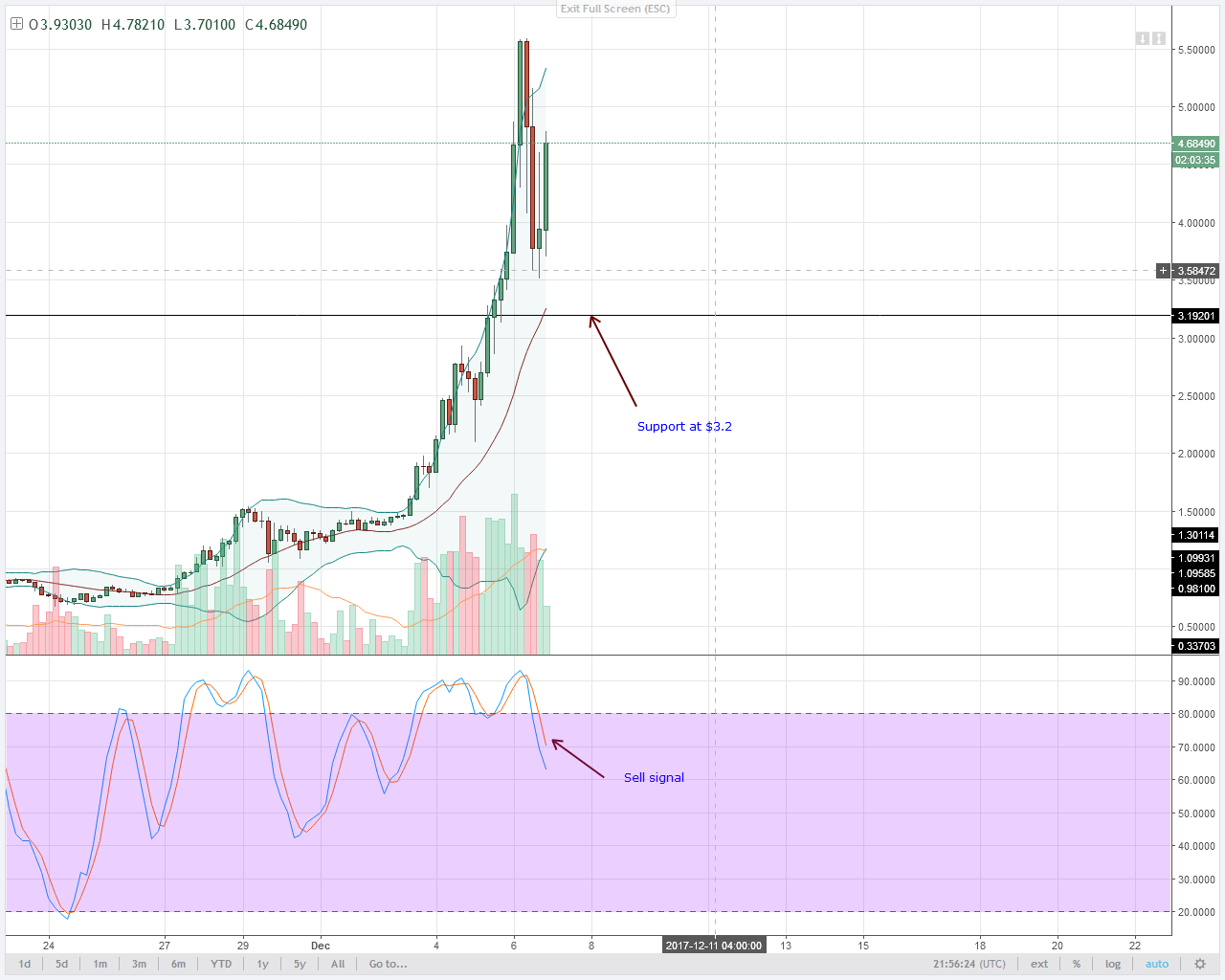 As mentioned yesterday, $3.2 remains a reliable support and a good spring board for IOTA bulls.
Prices ended up correcting but it did so temporarily before rebounding from the main support.
The thing to avoid in such a strong rally is to buy at peaks. As such any retracement offers a buy opportunity in an overly strong bullish environment as stochastics and individual candlestick shows in higher time frame.
Stochastic are still bearish. Therefore it is best to wait until a buy signal forms and that might print when prices are below $3.2 or well over $3.5. It is for IOTA demand supply dynamics to decide where.
For traders, patience is an asset now.
MINOR RESISTANCE FOUND AT $300 AS MONERO BULLS CORRECTS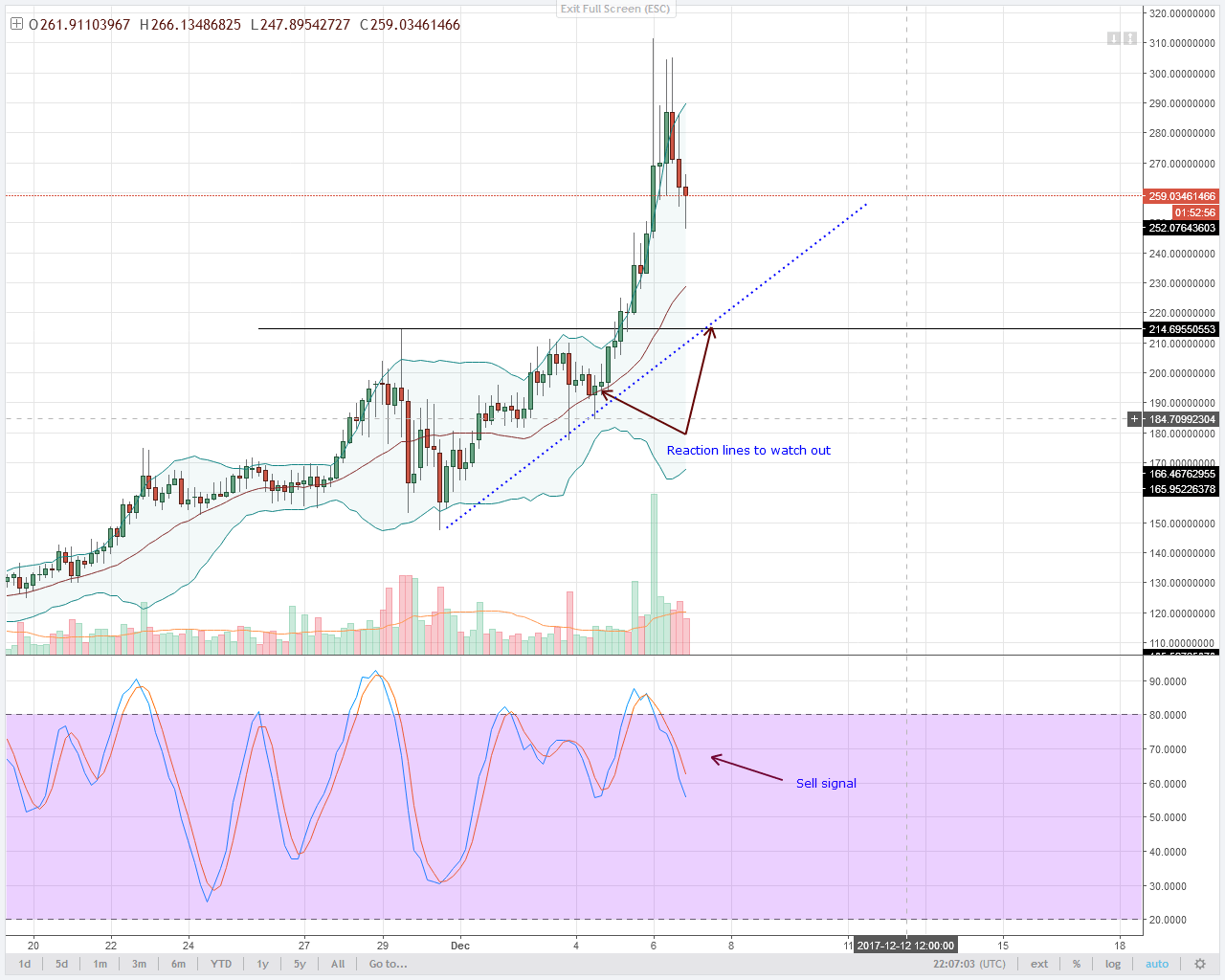 Monero bulls are in charge and trend is generally bullish. Even after smashing the first take profit level at $250, it ended up testing $300.
As this is a major milestone and is what was anticipated after Monero price action bounce from the main support trend line and around the 50% and 61.8% Fibonacci levels in the weekly chart, it is natural for prices to briefly correct before the main trend resumes.
There is a stochastic sell signal in place. The 20 period MA and the minor support trend line should be the first layer of support.
All in all, conservative Monero bulls should wait for a stochastic buy signal. This price recovery could either be from the the middle BB or main support line of $250.
Alternatively, a surge and close above $300 will also signal bull pressure.
AFTER A $10 DROP NEO BULLS EXPECT TO FIND SUPPORT AT AROUND $34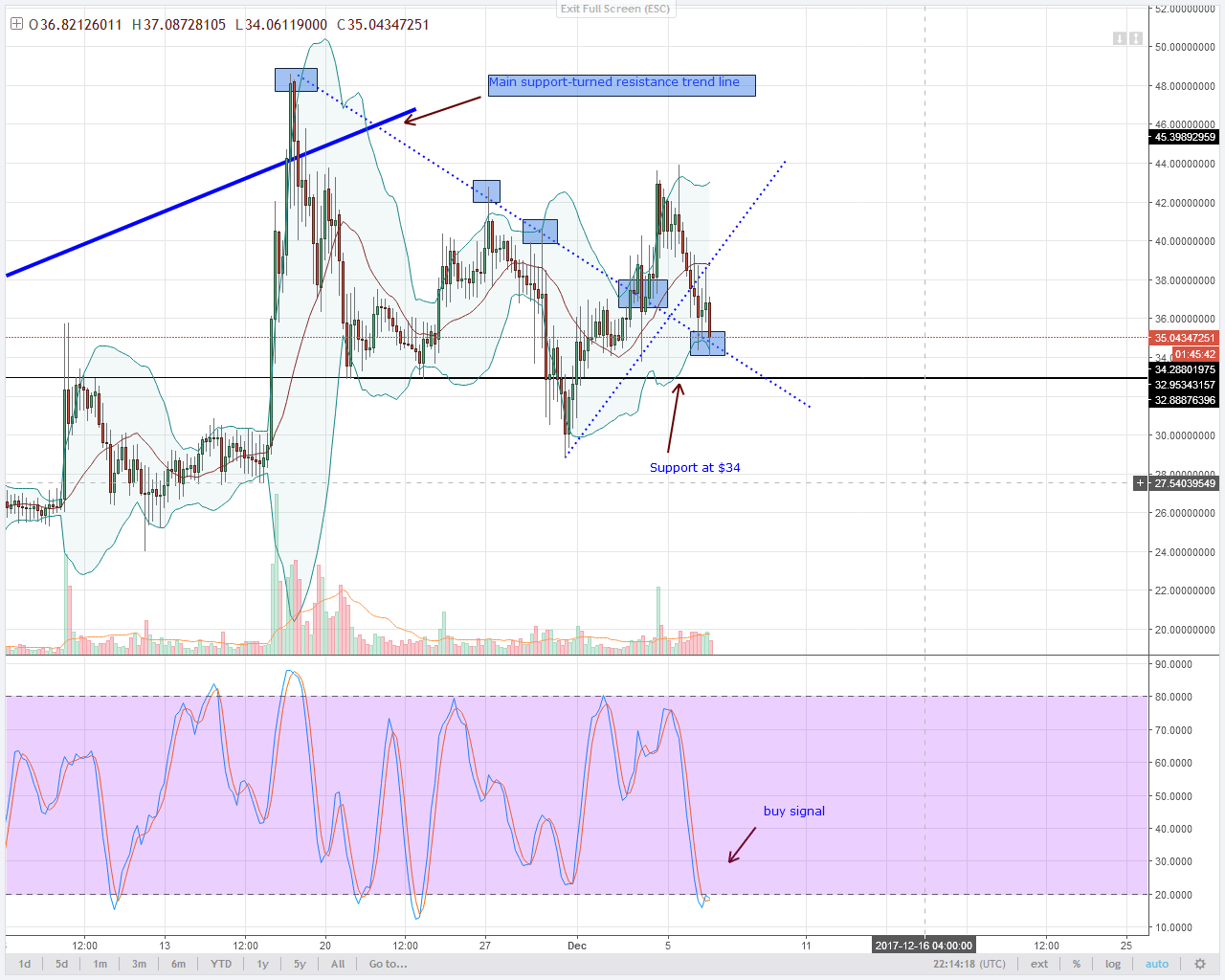 Bears continue to drive NEO down and below our minor wedge.
With price action comfortably trending below the 20 period MA and back into range mode, we expect support at around $34.
Note that if prices close below $34 which coincidentally is another resistance-previous support marking November 17 and 28 highs, then odds of further NEO erosion towards $24 and even $20 is high.
Mark you, there is a buy signal in place. Therefore we sit back and wait to see if NEO prices will improve as buyers join the trade.
All charts courtesy of Trading View