Monero and DASH are pumped following BTC scaling problems. As cryptocurrency users seek alternatives, Monero and DASH will continue to appreciate. Meanwhile, NEM and NEO are trading lower within a bear break out strategy while IOTA bulls are rejuvenated and testing highs of $0.61.
BREAK OUT STRATEGY IN PLAY, $0.20 SUPPORT BROKEN
Our bear run continued after November 10 double bar reversal pattern at the 68.2% August September Hi-Los Fibonacci retracement level.
At the close of yesterday's candlestick, a bear strong bear candlestick had formed following a doji on November 11. Even though bears and bulls were cancelling each other out, price action closed below the 20 period MA. USD bulls followed through and alt coin NEM prices trickled down below major support at $0.20.
We recommend shedding NEM as the bear break out continue to play out until around $0.03 main support line. This level is the ideal bear take profit level  coinciding with the 161.8% Fibonacci extension level.
$525 HIT AFTER SURGE OF MONERO AND DASH BULLS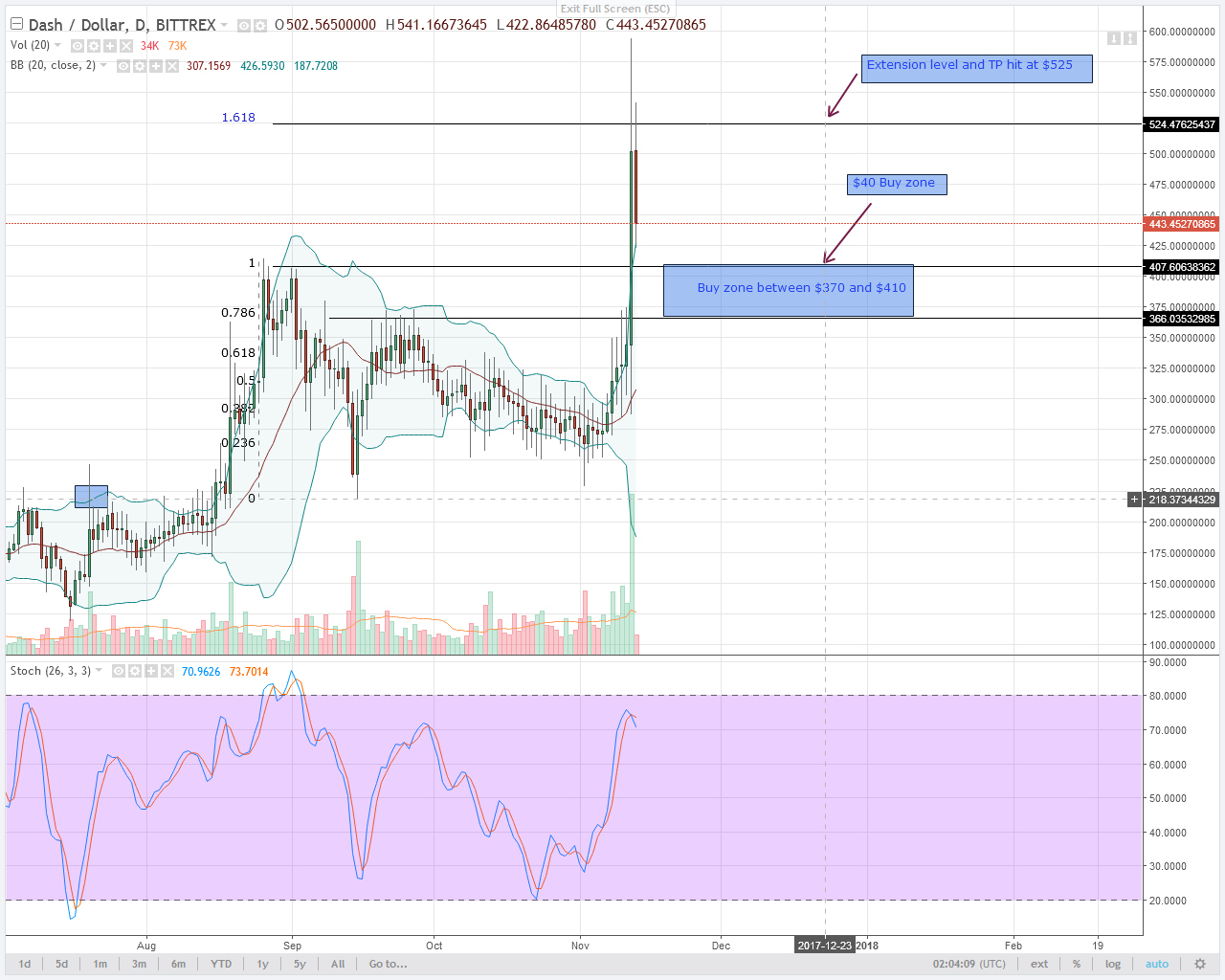 Like BCH, DASH is benefiting from capital flight from BTC given its scalability and ease of transaction.
This is putting the much needed upward pressure on DASH as we can see with that $263 move up. Going forward, fundamentals and development at the BTC sphere will continue to drive Monero and DASH.
The larger the swings, the deeper the corrections.  As it appears, September 2 and 25 highs at $410 and $353 zone out a perfect buy range. This comes after price action hit the 161.8% Fibonacci extension level at $525.
Currently, we recommend buying at every dip.
IOTA BULLS TESTING $0.61 RESISTANCE LINE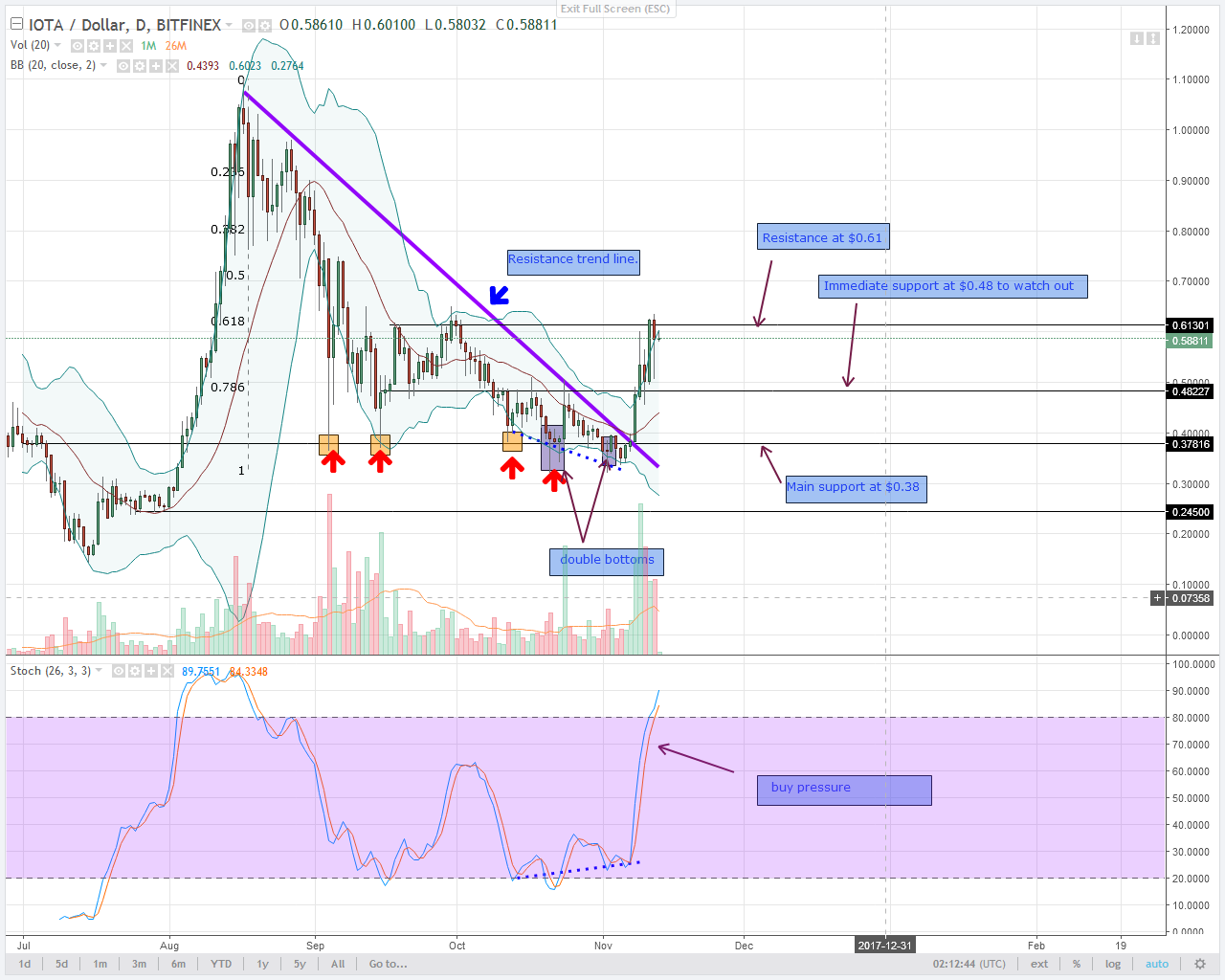 USD bulls weren't successful in pushing alt coin IOTA prices below $0.48 support line after November 11.
Bull break out trade strategy is still on course after resistance trend break out on November 7. Alt coin IOTA continues to trend higher with a mix of strongly bullish and long lower wick candlesticks meaning buy pressure is still high.
Any break above $0.61 exposes $0.74 and $1.00 immediate resistance lines and highs of September 4 and August 27 to IOTA bulls.
SEGWIT 2X FAILS MONERO AND DASH PUMP CONTINUES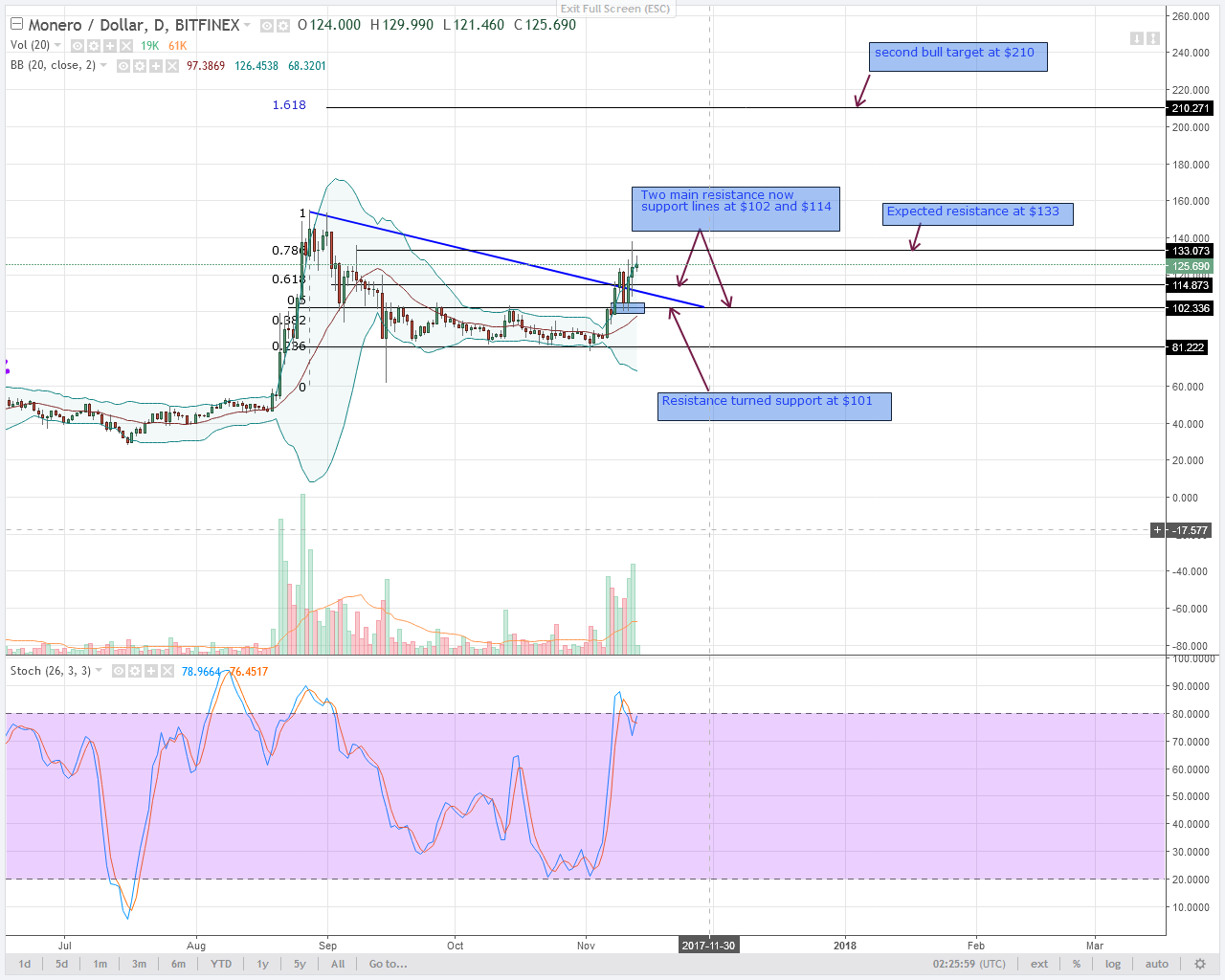 Analysis of this pair is from two technical developments clear over the past two trading days. To begin with, after that over-extension on November 9, alt coin Monero sunk from $123. Later, Monero ended up testing main resistance now support line at $101.
Secondly, as a BTC alternative, Monero is charting higher and is now trending towards immediate resistance at $133. Currently, prices are above the strong support trend line at $114.
Monero bulls should buy on every dip on the lower time frame charts. First bull targets are at August highs of $155 and $210 Fibonacci extension level.
NEO BACK INTO THE $10 TRADING RANGE
Despite the initial bull pressure, NEO bear break out strategy is still on course. Furthermore, because there is no pump on this pair, therefore USD bulls are in charge.
After November 7 highs of 38, alt coin NEO price action is now trending back within a $10 squeeze that begun on October 10. On November 12, NEO closed below the 20 period resistance line. If USD bull pressure continue, it look likely that NEO prices will drop below support line at $24.
Our ultimate bear target is at $13 which is September 15 lows.
All charts courtesy of Trading View