Like most high cap alt coins, Monero mid-range reversal may disrupt our bear projection.
Other than the lower lows visible in NEM-that is justifiable following a blast through $2, we expected sellers to push prices lower this week.
This looks unlikely especially now that DASH prices are reversing and turning their guns to $1300.
At the same time, there is resurgence in IOTA as buyers bid to close above $4.2 before the end of the week.
Let's have a look at other charts
NEM PRICES DIP AFTER CLEARING $2.0
The Fibonacci extension tool is important for determining potential resistances and take profit levels.
It is obvious that NEM buyers are in charge and even after January 3 strong bull candlestick and break out, today's candlestick couldn't confirm buy pressure.
Instead, NEM buyers pushed prices above $2, fell short of 3rd Fibonacci extension level at $2.18 and tumbled.
Accompanying this depreciation is a classic stochastic sell signal and with the strength of bears, sellers should aim for $1.35 and last week's highs of $1.1. These levels offer a fantastic buy opportunity in an overall strong NEM rally.
DASH SHORTS ARE NULL IF BUYERS PUSH AND CLOSE ABOVE $1300
Check out that DASH double bar reversal pattern from the middle BB. Despite the reversal, we are net short but if DASH clears $1300, then our short term correction towards equilibrium in the weekly chart will be null and void.
In light of that, any close above this consolidation high will mean our ultimate resistance is December 18 highs at around $1500.
However, DASH buyers should have a smack at $1400 before pumping up for prize money.
IOTA BUYERS BACK TO $4.2…WILL THEY CLOSE ABOVE IT?
Now here's the deal with IOTA, short term bears are in charge, long term bulls are definitely in the driving seat.
That's clear especially if you bring in price action characteristics from Q3-4 of 2017.
Those multi level candlesticks close above will be an open book. After yesterday's lower lows, IOTA support found a trampoline at the middle BB but as it is, buyers are not yet above $4.2-a strong resistance level in my opinion.
I'm not recommending longs but the moment we have a bull candlestick slicing through $5.5 then it will be right time to load buys and wait for buyers to print new highs.
MONERO MID-RANGE REVERSAL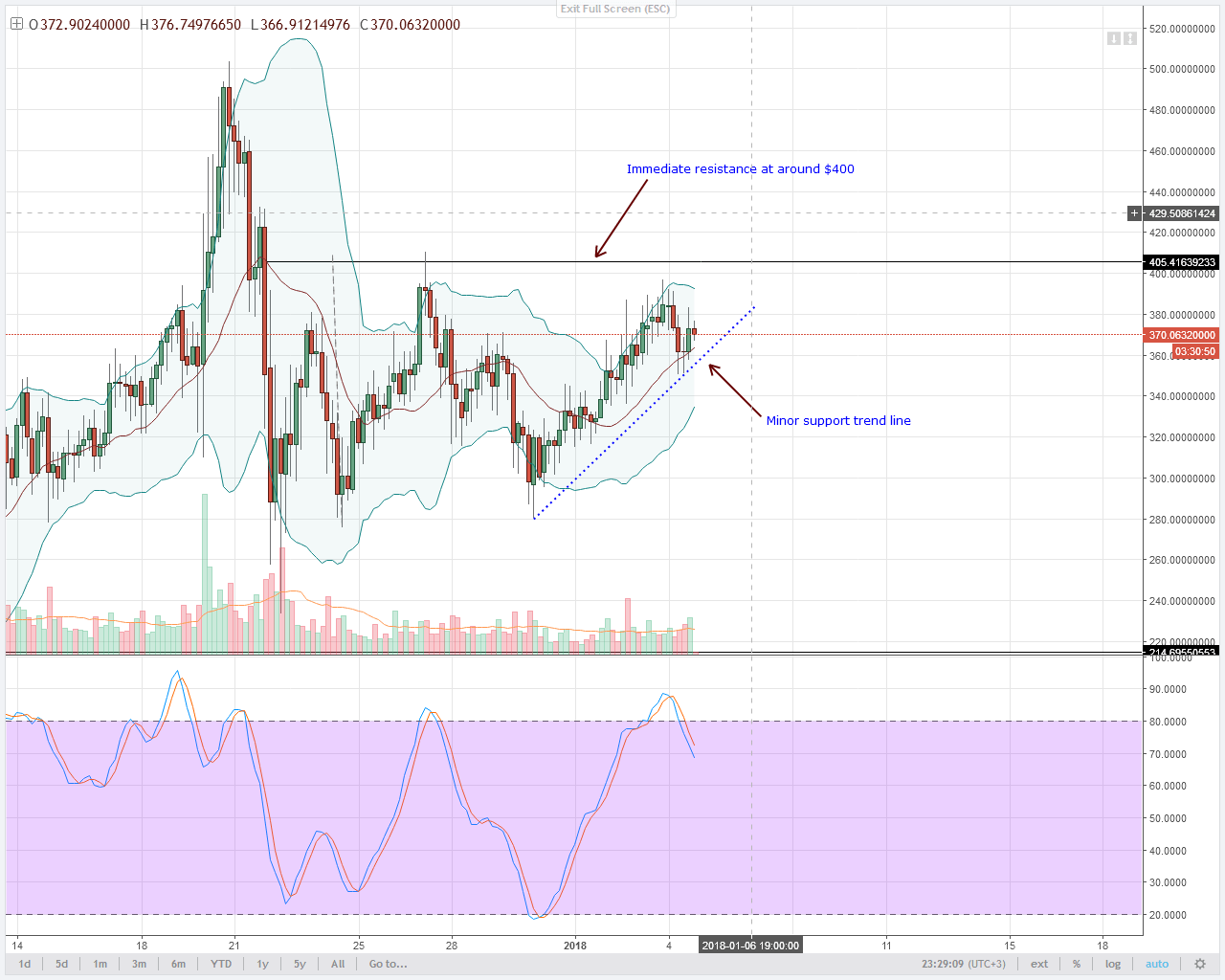 Yesterday was not beneficial for either buyer or sellers. In fact after Monero lower lows complete with a stochastic sell signal, prices bounced off the middle BB forming a morning star pattern right at the middle BB.
Now, what is our next plot? Well, it's easy! Let's wait and see how prices react at $400 before initiating any short or long trades.
On the flip side, any close below the 20 period MA and the minor support trend line will confirm out bear projection.
LTC LOWER LOWS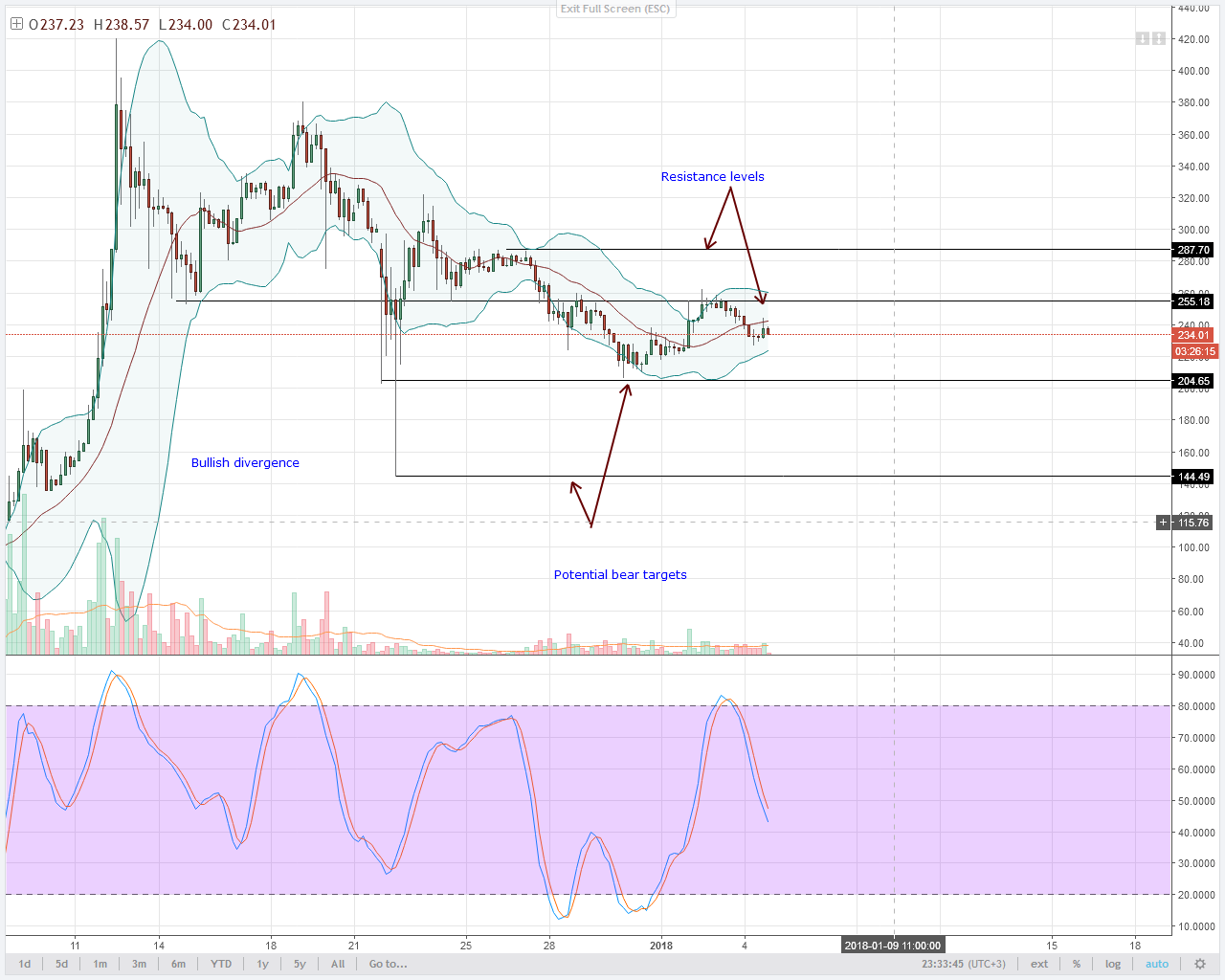 There is a little bit of buy pressure-common across high cap coins- but notice to disrupt the current sell pressure.
Besides that, nothing has changed. Our resistance and support levels are still the same.
However, any shift of trend with LTC buyers ramping up buys mid-trend will surely cancel this short term correction towards $200.
All charts courtesy of Trading View