Guys, we cannot dispute the fact that most of these pairs are at cross roads. DASH and Monero prices are tepid and have an obvious positive correlation with the King, BTC. Until there is a recovery in the latter, these two will be under pressure.
IOTA sellers in particular are in focus and should they push prices lower, buyers should relish at prices to enter following that spike two or three weeks ago.
WILL NEM PRICES CLOSE ABOVE $1.1?
Over the weekend, NEM price action was in consolidation mode and as per December 25, our short term target at $1.02 has been hit.
Well, the general trend even in the weekly chart is bullish and we shall continue to hold that view meaning we shall be buying at every correction. It won't be hard to do that.
Right now, we have two options: Either wait for a buy signal to form or set a buy stop above December 19 highs as we anticipate for buyers to push prices higher.
DASH BEARS MAY PICK UP AT $1300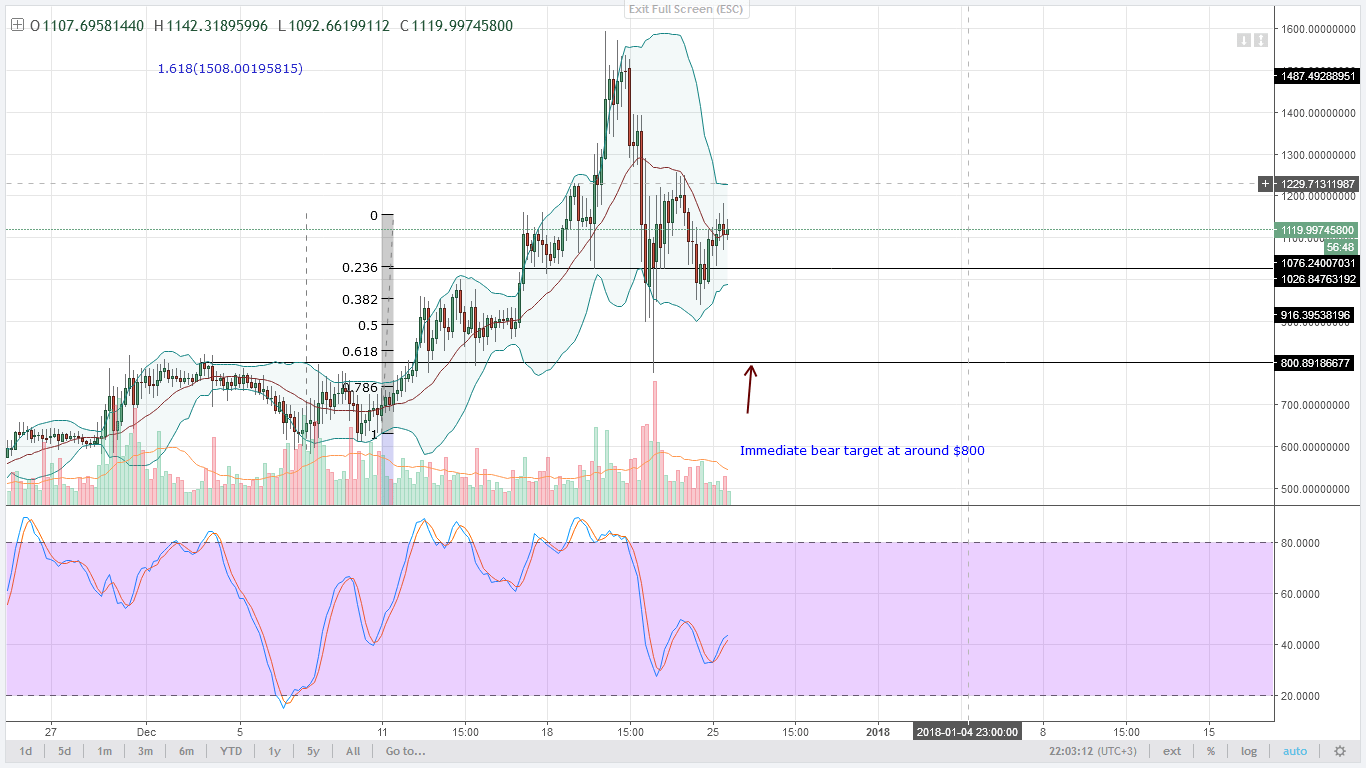 Ok, last week was purely bearish and what a nerve wrecking week it was! From mini flashes to slight recoveries and now this? There are two things that can happen this week and today in particular.
Either prices continue to trickle lower and correct as equilibrium is sought in the higher time frame or prices either surge and close above $1500 as the overall buy trend continues.
I'm a seller courtesy of that over-valuation last week and a stochastic sell signal but I'm not selling at current set up in the 4HR chart. Notice the huge upper wick last week? I expect some sell pressure and that won't happen until after a stochastic gives the green lights.
DASH prices may inch higher but maybe until the December 22 highs before a sell signal prints and we go short.
IOTA SELLERS ARE IN CHARGE BUT ANY CLOSE ABOVE $5.8 CANCELS THIS PROJECTION
Guys, IOTA sellers might continue to push prices lower in the higher time frame. Last week's candlestick is bearish and well above the upper BB.
Here's the plan, yes, there some buy pressure but the thing is this, December 22 highs will be our ceiling and a potential sell zone. In fact, I pasted a Fibonacci retracement and boom! December 22 highs coincides with the 78.6% level but that will be on the upside.
Often, ideal reversal is at or around 61.8% levels but if it tests $4.9, then it would be awesome for sellers especially if a strong bear candlestick prints with a stochastic signal accompanying it.
I'm not a seer but if it does, we go short. Any close above $5.8, we cancel this projection and trade according to the trend.
WAIT FOR BETTER MONERO PRICES TO SHORT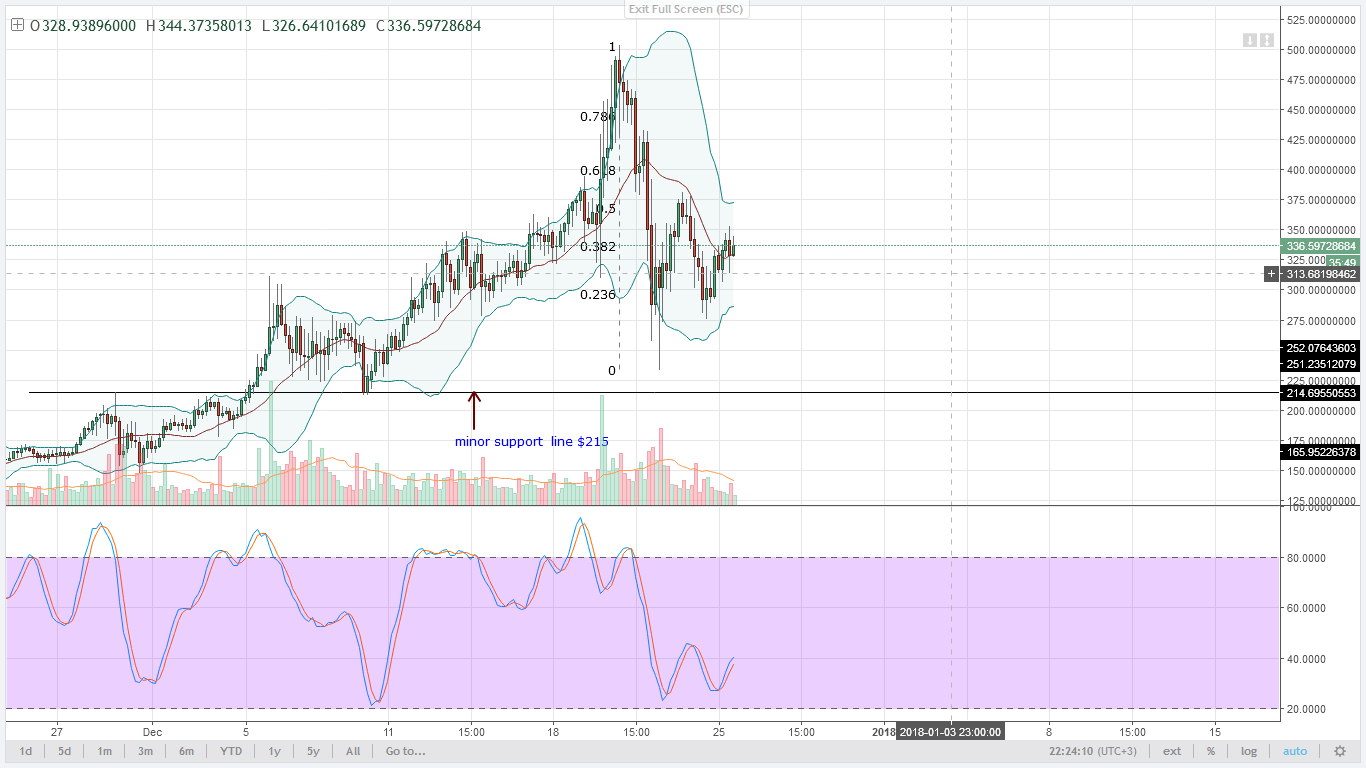 DASH and Monero prices are moving in sync and so the set up remains the same. This correlation is positive and now we shall continue with our bearish forecast.
As the weekly chart is bearish, a Fibonacci retracement tool will help during entries in the 4HR chart.
Our potential sell zone is between $400 and $440 as by the 61.8% and 78.6% levels.
Because there is no stochastic sell signal yet, we wait until it prints. Afterwards, we wait for prices to collapse towards $200.
Otherwise, if there is a close above $450, then this trade is null.
LTC MOVING WITHIN A $20 RANGE BUT SELLERS AIM $160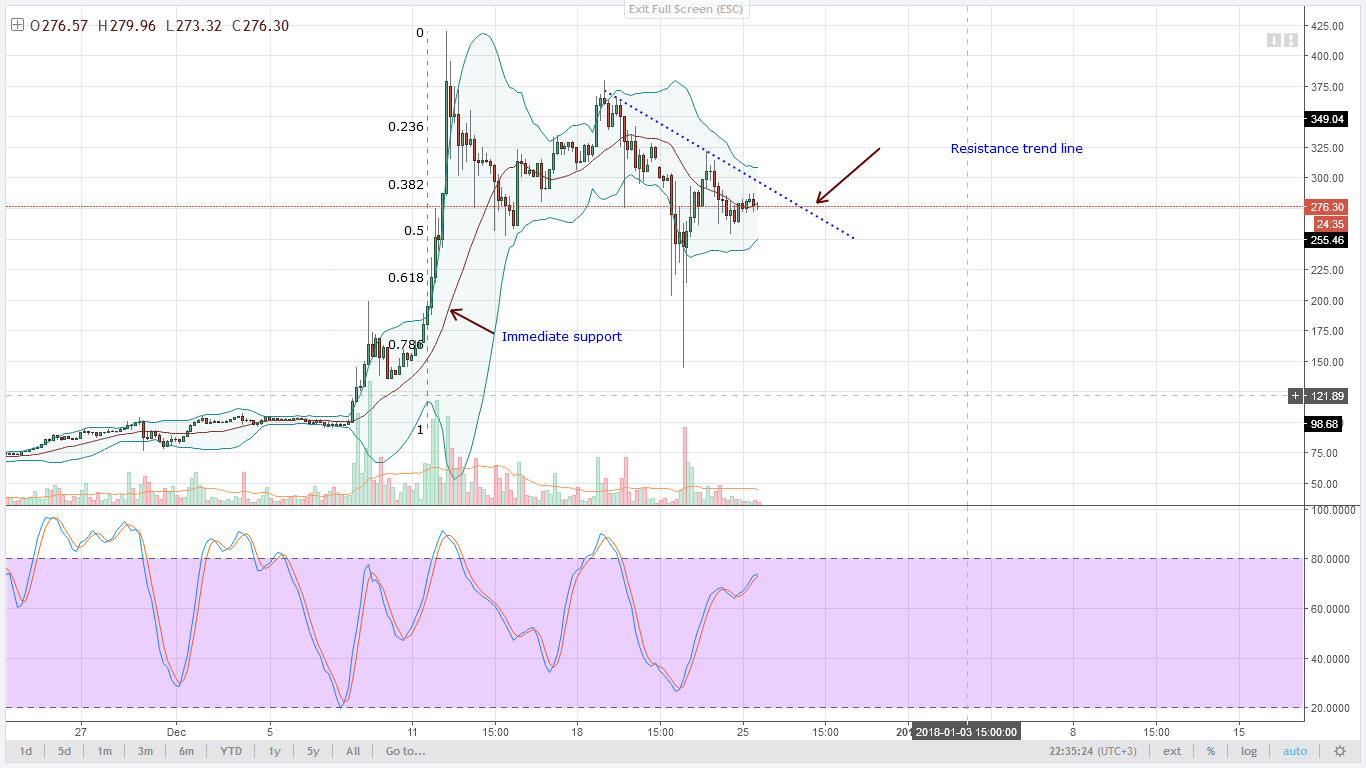 LTC prices are still moving within a $20 range. As it is, it looks likely to remain so. Unless maybe there is a close above the minor resistance trend line.
However, we expect the middle BB and the resistance trend line should continue squelch buy pressure encouraging sellers to get in and aim at $140 which is December 22 lows.
Therefore, until a stochastic buy signal prints, sellers are in charge.
All charts courtesy of Trading View