Almost all strong cap alt coins look over-valued and are due for correction. From the look of things and following last week's spike, NEM bears might temporarily drive prices lower towards $0.51.
Other BTC alternatives are also inching higher but December 22 highs remain definitive.
TEMPORARY NEM BEARS MIGHT DRIVE PRICES TOWARDS $0.51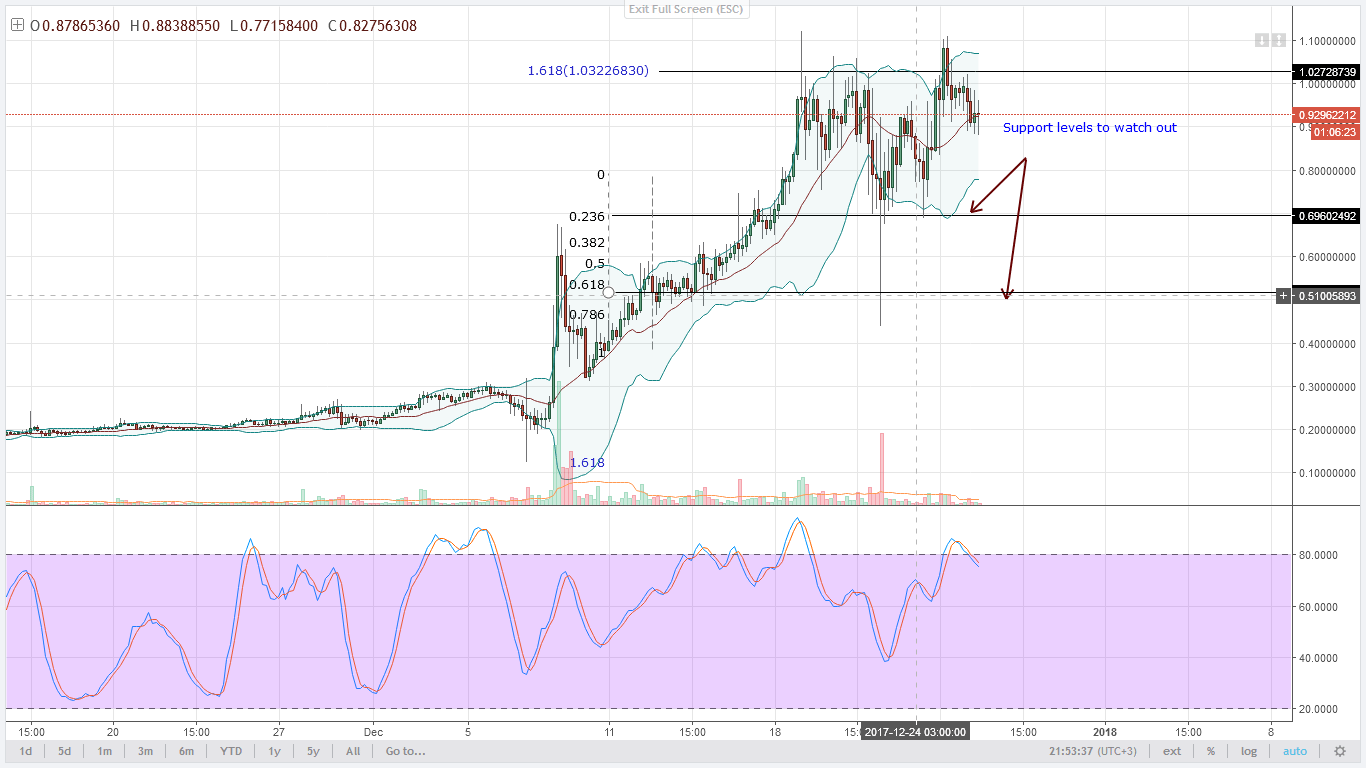 Undoubtedly, NEM buyers are in charge but with the current set up, I really think the pressure is fizzling out.
Technically, there is a little bit of an over-extension considering last week's close above the upper BB.
These lower lows we are experiencing is necessary to bring equilibrium as it is needed in any trade-able assets.
In line with this, since we are waiting for a buy signal to form, NEM sellers can scalp this set up temporarily and aim for immediate supports at $0.69 and $0.51 which as we have seen are Fibonacci retracement levels.
Of course sell pressure will be amplified especially if there is a close below the middle BB today.
DECEMBER 22 HIGHS IS DEFINITIVE FOR DASH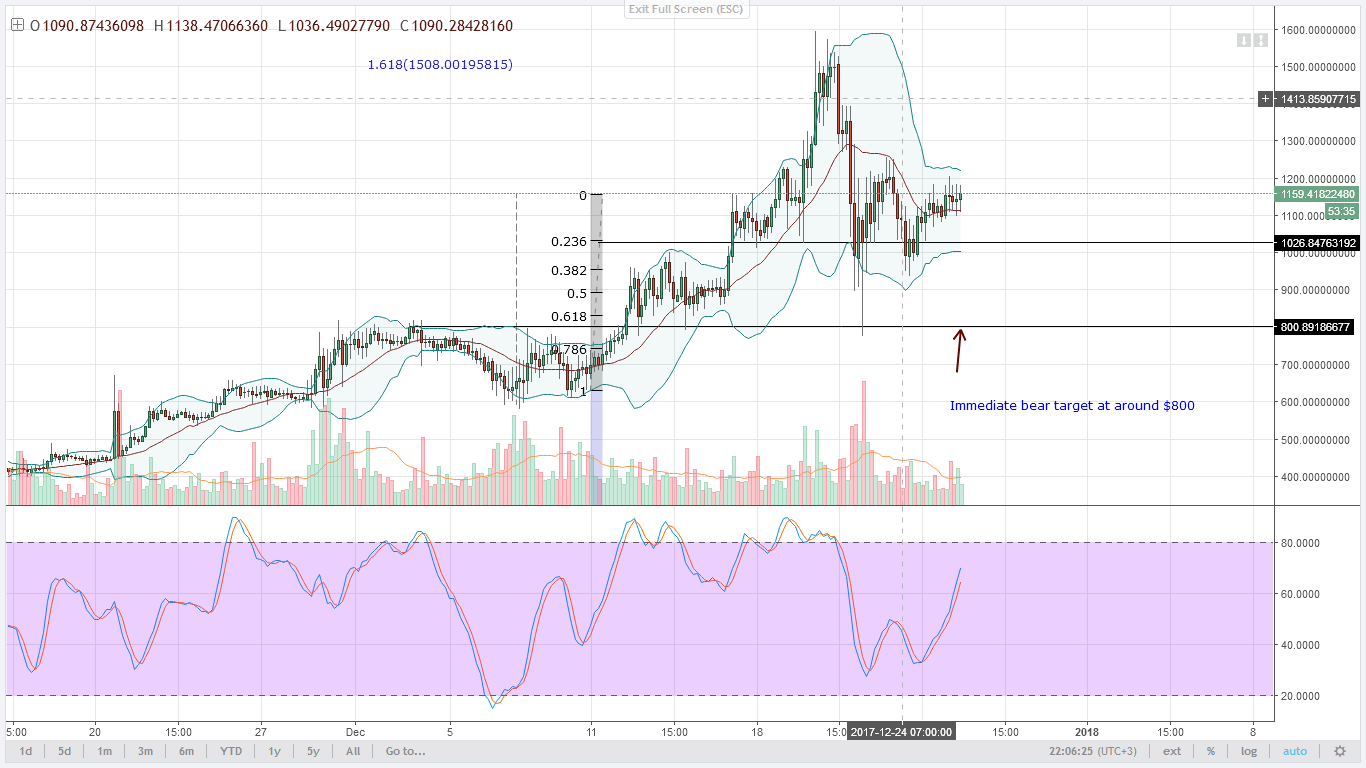 Guys, every time DASH inches higher, our sell zone becomes nearer. As stated yesterday, we shall be looking for sell opportunities only following last week's price over-valuation after a close above the upper BB.
Now, in our entry chart, there's a stochastic buy signal and after a period of zero movement relative to previous hot prices, buyers have pushed prices above the middle BB.
I'm not recommending buys unless of course there is an obliteration of last week's highs.
For now, let's see what happens at December 22 highs. Before then, let's just chill.
BORING IOTA—PRICES ARE FLAT!!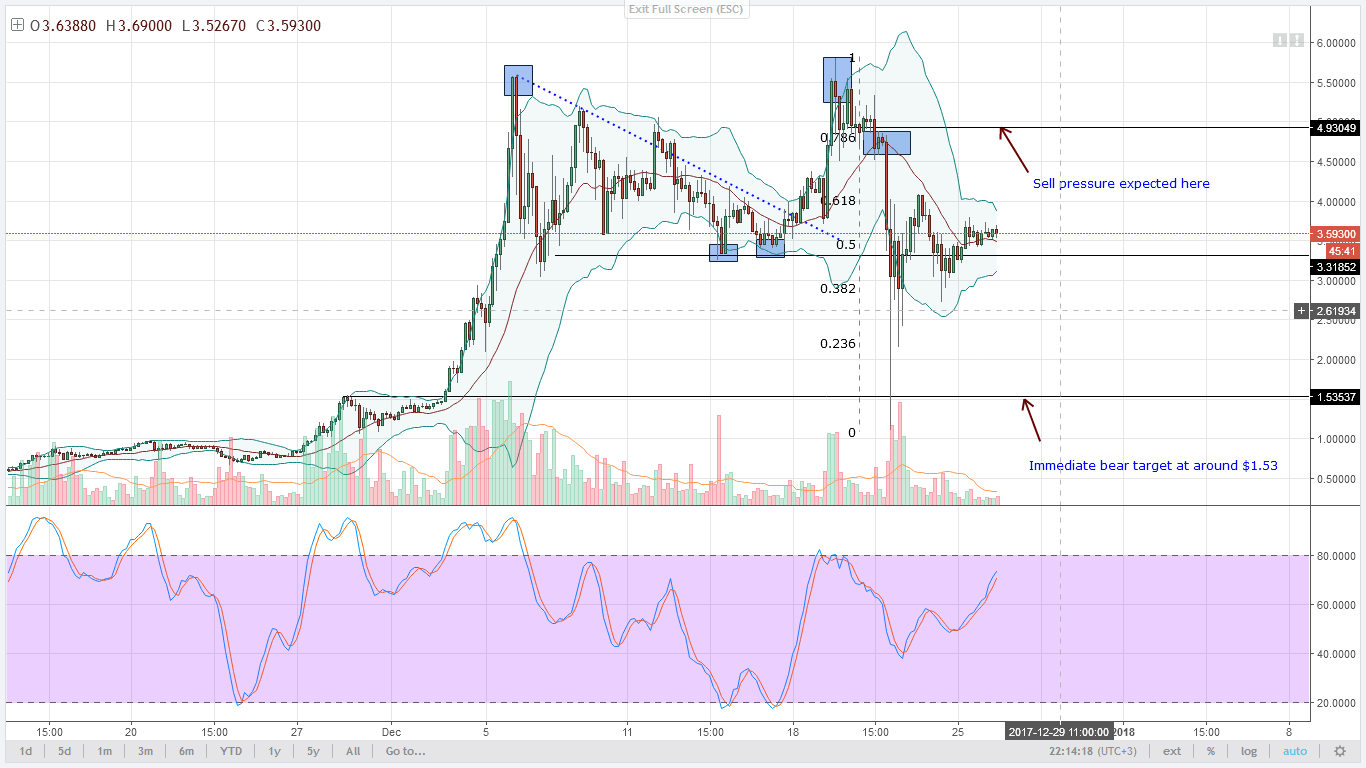 If you just got in following the hype then you got in late. IOTA prices are just straight boring. No action no nothing, in fact, if you are tracking this, you can as well as sleep and wake up after the holidays.
Now, despite the weakness, there is a chance of buyers pumping IOTA towards our smashing point, our potential sell zone. Why? Well, notice how the middle BB is acting as a reliable support over the past 36 hours or so.
In my opinion, we remain sellers because this pair is grossly over-valued-I don't know if I'm now part of the narrative-the sell brigade like when BTC was $100-but I stand to be corrected.
Any correction towards $3 is a perfect opportunity to buy.
MONERO SELLERS MIGHT JUMP IN AROUND AT AROUND $400 AND $440
According to yesterday's Monero's projection, we still hold on to our sell forecast.
From the chart, nothing has changed other than Monero higher highs above the middle BB and of course the accompanying stochastic buy signal.
MINOR RESISTANCE TREND LINE NEUTRALIZING LTC HIGHS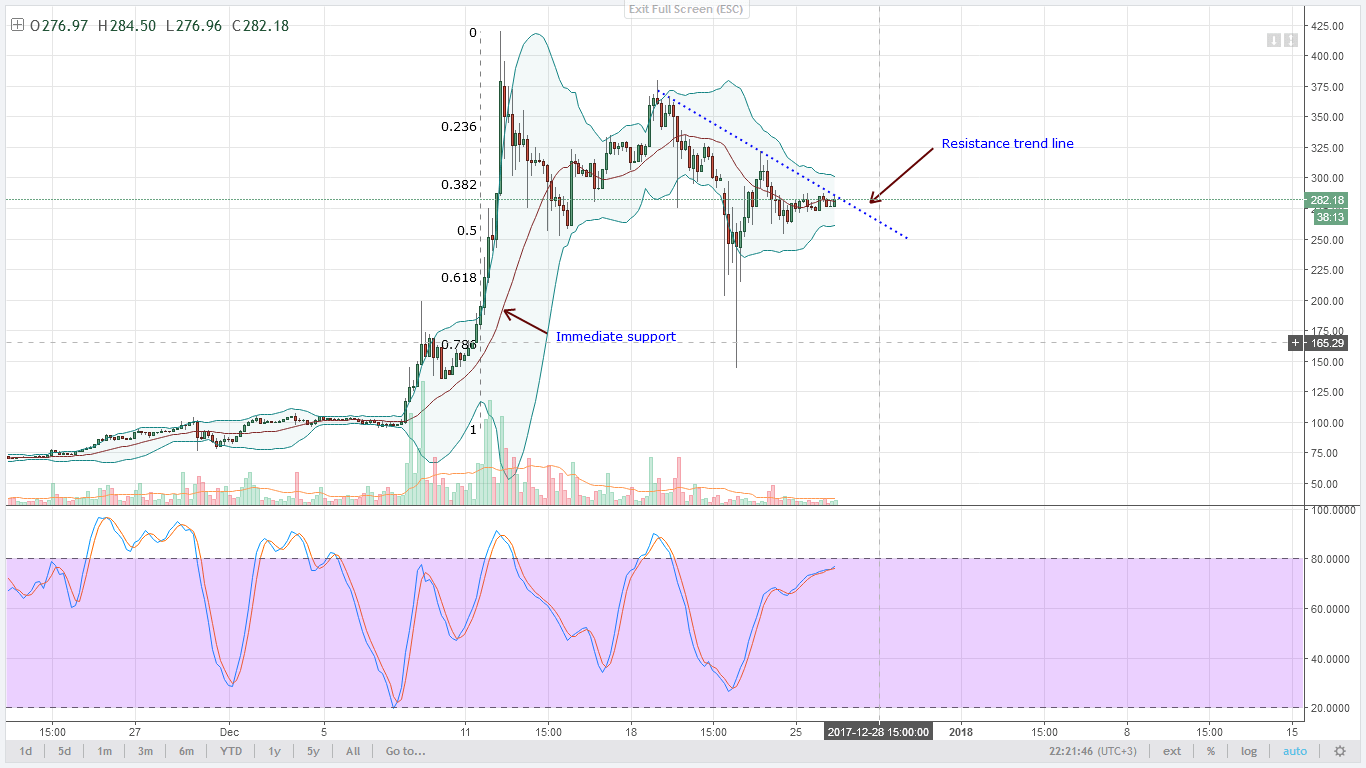 LTC continues to oscillate within a $20 range. As it is, it looks likely to remain so unless maybe there is a close above the minor resistance trend line.
However, we expect the middle BB and the resistance trend line to hold and this should encourage sellers to get in.
Therefore, until a stochastic buy signal prints or prices blast through the minor resistance trend line, sellers are in charge.
All charts courtesy of Trading View