NEM bulls seem to be on an encouraging path towards $0.36 and while at it, Monero has its mojo back.
In the last 24 hours, despite block speed and all technicalities Monero is facing, its price is slowly inching towards $250 first take profit level.
Let's look at the charts:
NEM BULLS $0.28 BROKEN NOW ACTING AS SUPPORT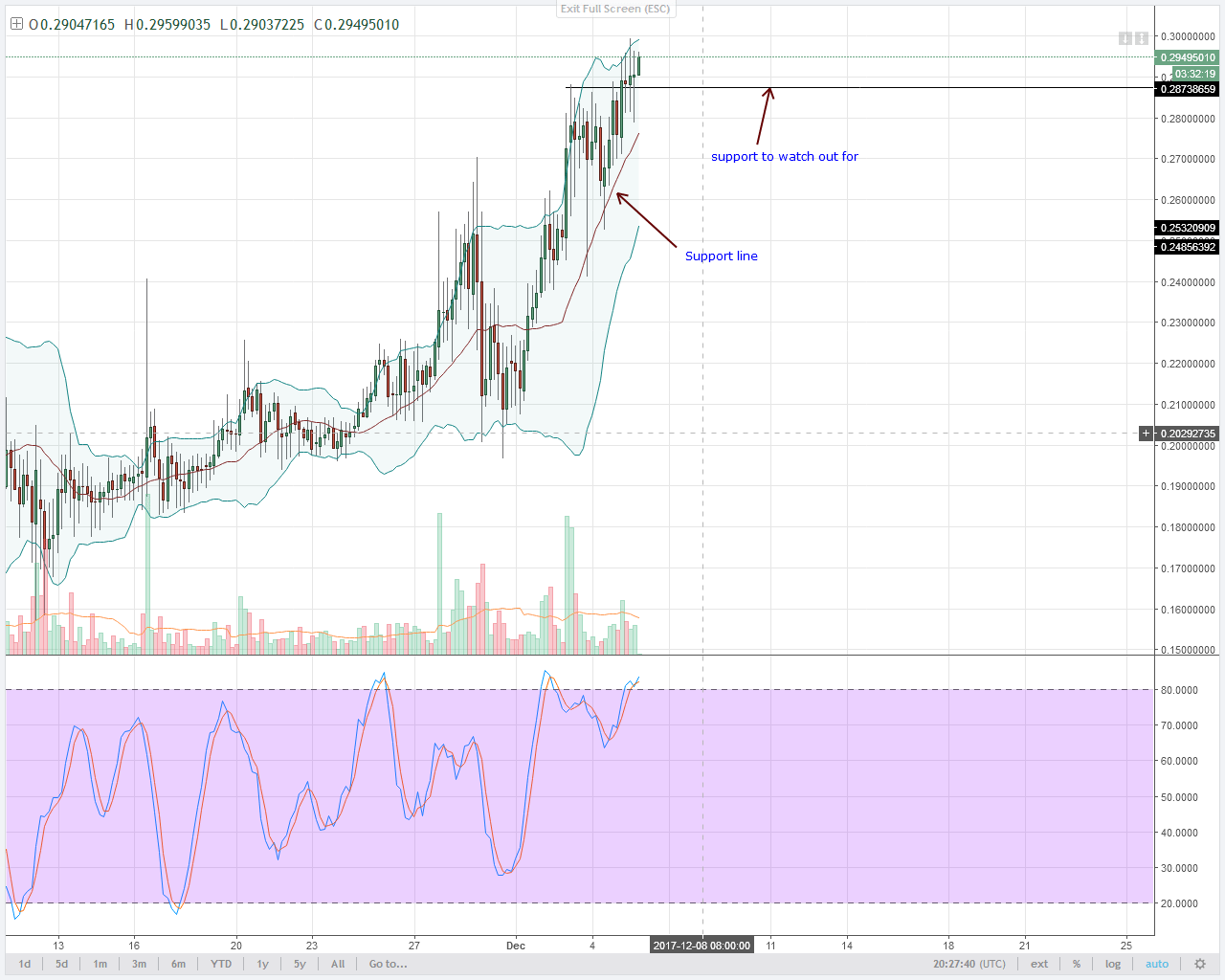 At the moment we see some NEM bulls pressure after that close above November 28 highs of $0.28.
We shall be keeping a close eye on the 20 period MA and see how NEO bulls reacts at it in the coming sessions.
Otherwise, with this surge, $0.28 shall act as our new minor support line with any move towards $0.36 ultimate bull target a welcome move.
DASH OSCILLATING WITHIN A WEDGE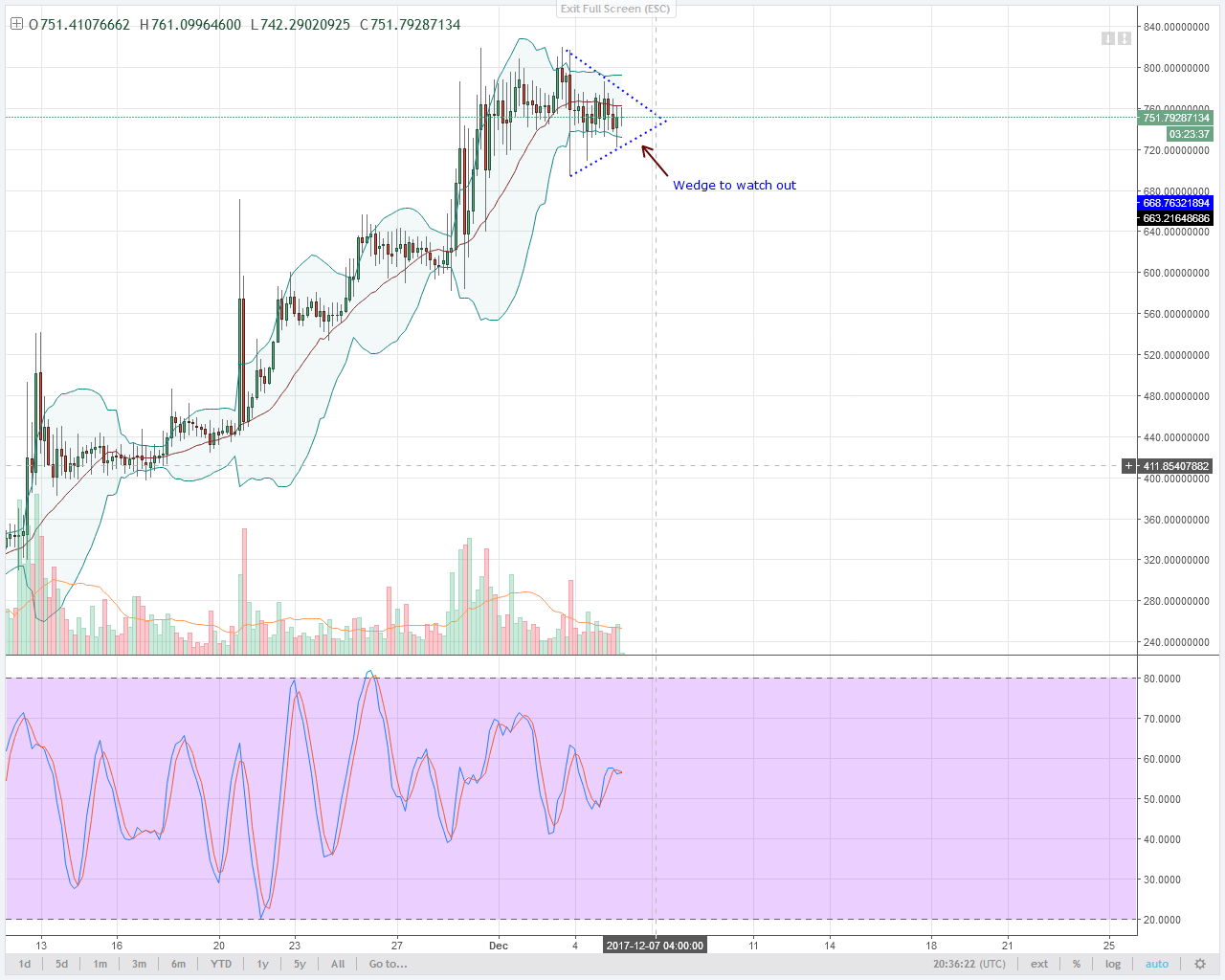 We note that despite the weekly chart being bullish, the short term trend DASH takes is largely dependent on the direction of break out in the 4HR chart.
Over the last 24 HRs, price action has failed to move lower despite closing below the 20 period MA.
In fact DASH is consolidating horizontally along a narrow $75 range and now the lower and the upper limits of the wedge will determine if bulls will rally or not.
Swing traders should withdraw temporarily and trade on a break out.
IOTA BULLS BLAST PAST SECOND TAKE PROFIT LEVEL AT $3.2
While we thought IOTA bulls might slow down and take a couple of weeks or even months before hunting $3.2 which is also another region of resistance and the second level of take profit, IOTA is showing no signs of slowing down.
It is currently trading at $3.5. Candlesticks are not outrageous but are short, normal but are inching higher along the upper BB.
For now, $3.2 shall act as our support and load line just in case IOTA drops.
AFTER BREAK AND CLOSE ABOVE $210 MONERO BULLS AIM AT $400
After this bounce and close above $210, Monero bulls are officially in charge. Like the daily and weekly chart, Monero bulls in the 4HR chart are inching higher and banding along the upper BB.
The 20 period MA is our immediate flexible support line. If there is a dip, bulls should look at November 29 highs and $210 for support.
Our ideal take profit level is at $400 which is the second Fibonacci extension level. We can easily project this because from current price action, Monero bulls can easily surge past $250.
NEO LOW AFTER TESTING $43 MAIN SUPPORT AT $34
After testing highs of $43 on November 4, NEO bulls couldn't break above $45 resistance. Instead, NEO moved lower according to the stochastics sell signal.
We now watch out and see what will happen to the support zone. This area is marked by the 20 period MA and the lower limit of a descending wedge.
Taking our cue from other alt coins price action, we expect to find support at around $34. This could be the case should our immediate support zone fail to prevent USD bulls from moving lower.
All charts courtesy of Trading View